Went to visit some family & friends on Florida's "Space Coast" this January. We used to road trip down here pretty much every winter and as a kid I would fish with bobber & worm, in pretty much every puddle or body of water we came across. I had no idea what I was doing as a kid, but it was always fun seeing the crazy variety of fish that bit, and dodging gators...
So I hadn't fished in FL for over 20 years, and this trip was an exciting opportunity to test those waters now that I sort of know what I'm doing. Got week-long licenses for both fresh and salt ($30 each) and fished every day for 7 days. I fished local ponds for bass, the St. Johns river (fresh) for crappie and bass, the Indian River and some of its tribs (brackish/salt) for catfish, sea-trout, red drum, and pinfish & whitings (for bait), and I fished the surf for bluefish, shark, or whatever else might bite. The most fun was standing in the surf tossing large plugs & poppers, though I kept missing out on the schools of baitfish coming by because swimming was too much fun, so I never got any action on this approach probably because of the poor timing. It was 87 degrees there when I arrived, but after a few days cooled down into the 50s, so I never got to spend as much time surf fishing as I'd wanted.
My caught-species list in the end was black crappie, largemouth bass, bluegill, speckled sea-trout, whiting, pinfish, puffer fish (species unknown), and hardhead catfish. Had the most success with hardhead catfish, and even hooked and allllllmost landed a big one (15 lbs is a low-end estimate). While fishing for catfish in the Indian River, I almost lost my rod as something enormous slammed the bait and starting peeling off while my rod was resting against a rail. I set the hook and after about 30 seconds, my 30# mono leader snapped, possibly sliced. I'm guessing that was a shark....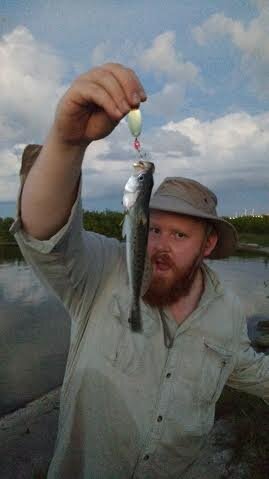 I long-armed the heck out of this little sea-trout! Just like in Oregon, I went heavy on the spoon fishing. They've got some sweet big spoons for red fishing down in FL stores and I definitely picked up a few for the next salmon season....But I think if other fish were around in the brackish water I could have had success with the spoons, but during the cold days I tried, all I caught were sea-trout.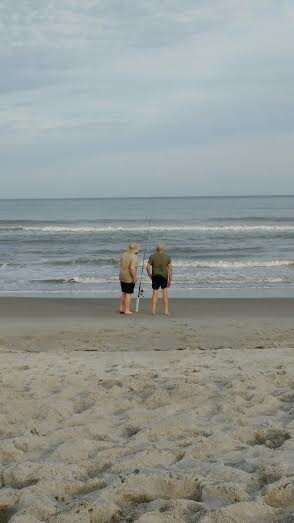 Showing my dad the ropes of surf fishing with bait/ Little does he know, I am actually quite clueless in this category...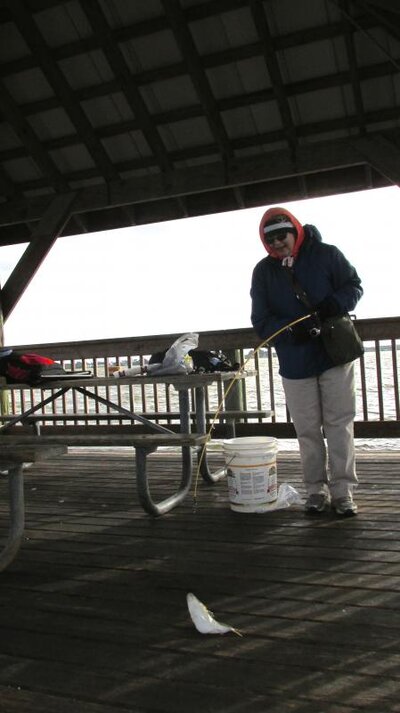 Was hoping for a sheepshead, but my mom's first fish was....a puffer....By the way, for those of you who don't know, pufferfish have crazy gnashing giant buckteeth that cut right through your line and, I assume, everything else in their way. Fishing for little baitfish with 6# test, I had to up it to 15# because these little ba$tards kept gnawing through my line...but then yep, they still gnawed through my line.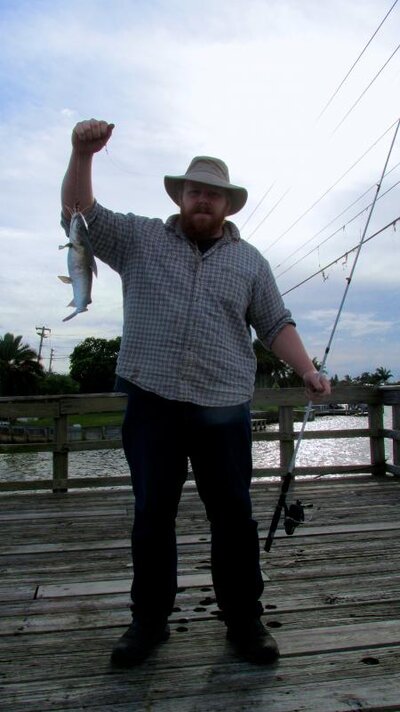 Me with a saltwater cat. The action was pretty good for these guys, and it was extra fun knowing you might hook a shark or a giant catfish and be in for an adventure.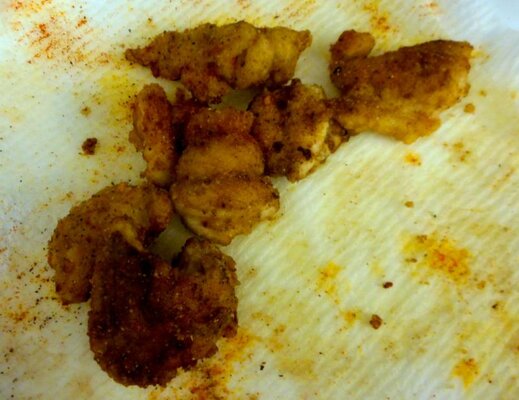 Kept some of the fish and one of the dishes I made was this, which I call Popcorn Cat.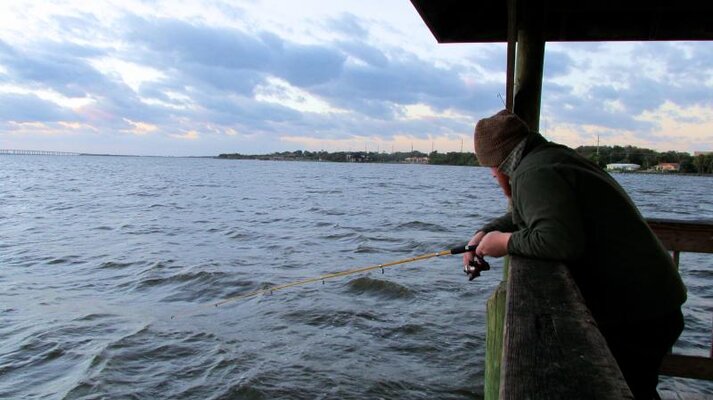 Overall it was such a beautiful place. A lot of habitation there was pretty stripmall-ish, but as soon as you get away from that, the natural areas are all unique and cool, and each has something different to offer. Fishing, as always, was an amazing way to explore these different areas, and some days I ended up just hiking and observing wildlife most of the day with fishing on the back burner. From this pier pictured above, each day I went there I saw dolphins and manatees, and more birds than I could ever hope to identify. Definitely excited for the next trip down there!