Sorry, it's not a post about fishing the Sea of Tranquility.
And……
This isn't a post about the Solunar Calendar that blessed the pages of Field & Stream magazine month after month after month.
This post is about a time tested way to predict when it will rain here in the fishing paradise we call the Pacific North West.
''The farther apart the sun is from the moon, the less likely there will be rain''. That statement isn't cut in stone and I don't know the percentage of reliability- But I have scheduled fishing vacations months and years in advance and found this piece of folklore to generally accurate.
For the last twenty-five years, a few local friends and I would fish the Necanicum River estuary (#65) in September for Silvers and chinook. Every year we would park our cars at the parking lot behind the High School before sunrise waiting for enough morning light for us to go fishing. We would drink coffee, tell stories and lie about the size of fish caught while looking at the full moon about to set in the west.
Never in all those years did we see a drop of rain during that week of fishing. It might rain before that week and surely after that week, but not the week of the full moon. Some years the fish were there in numbers. Some years, the silvers out numbered the chinooks. And most years (lately) we would notice the OSP watching us with binoculars from the 12th street bridge. ( The silvers are all native and unclipped. The chinook are all legal)
It's almost a total waist of time to bank fish up stream from the 12th Ave. bridge to the 1st Ave. bridge in Seaside unless you have a lot of time on you're hands and you like casting.
it's much better to fish down stream from the Ave B bridge. The fish congregate in that pocket before heading above tide water. Silvers are rolling and jumping all through that week.
Sorry for the side track!
A moon like this one says that the weather will be improving into the next couple weeks.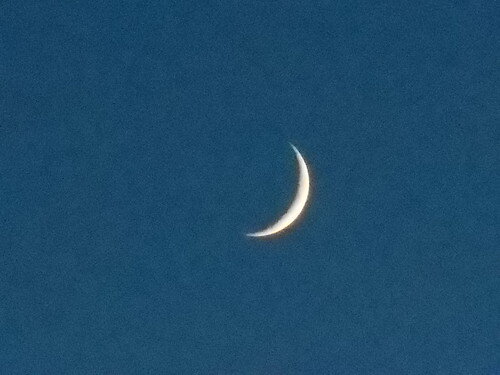 This is how the old rain and shine fable works;
From the last quarter, through the new moon and first quarter, (when the moon seems close to the sun, from earthling perspective) expect rain. And it very seldom rains (much) during the week of a full moon.
Don't shoot the messenger!
Thanks for looking!
Camo