So on Saturday, 05/07/2011, Brandon and I took off to a local stream/river to see if we could get into some of the native cut-throat and Rainbows.
The day was beautiful. The sun made intermittent peeks through the clouds in the morning and decided to come out almost fully in the afternoon. The water was just crystal clear as crystal clear can be. the level wasn't too bad considering that it had just rained the day or two before then.
The day started out with me getting up at 4:30am and feeding my newborn son and getting him to sleep again. I was hoping to get out of the house by 5am but I didn't get out until 5:30am
I stopped by and got some gas and then drove what is normally a 1.5 hour drive but took me only 70 mins, down to Dallas to pick up Brandon. He was the only guy in a pair of waders with two rods, in a credit union parking lot so it wasn't too difficult to locate him.
Then from there, we shot off and stopped by my mom's place to see how she was doing. She was cookin' up some bacon and toast. So we grabbed some bacon but didn't have time to wait for the toast. Then we shot off to the river.
We drove up into the local mountains/hills and parked off on the side of the road and from there hiked in about 1/4 of a mile to the actual river. We meandered upstream for the duration of the morning. There were so many perfect holes, riffles, pools, seams that one would think would hold some trout. But nothin'!! Not even a single indication of them being there. We each had a spinner setup and a fly set up. He had his 8wt and I had my 5 wt. And we were switching back and forth between them to see if we could get anything but nothing. But the lack of fish was made up by the beautiful vistas, the fresh mountain waters, the trees, the sun, the occasional shower, and of course, just being on the water was satisfaction enough!! :lol:
Here is brandon swinging hit 8wt around on a nice stretch of the river.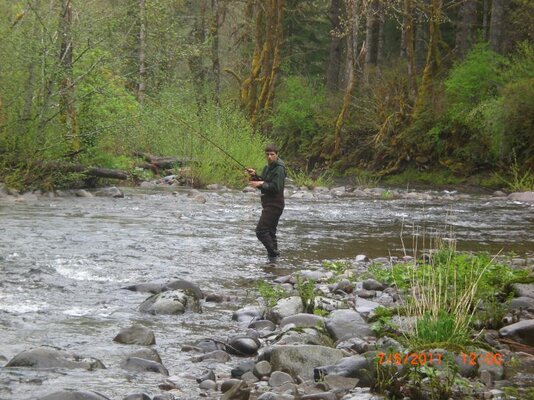 So, around 11:30-ish we turned around, got off the water onto the trail, and headed back down to where we had left our bags to eat some lunch. Then from there, we headed back to the car to head down stream. By the time we got back to the car, we had done about 3 miles of hiking already........ but we weren't done yet!!!!!
We drove down stream a little ways and then walked down to the. We couldn't have picked a more perfect location. Absolutely beautiful!!! (Good choice there Brandon!!!) So we started tossing some spinners but nothin, still. Then brandon decided he wanted to try a different spinner. So I let him use one of mine. At the time, we thought that it was a rooster-tail but now that I think of it, I think it was a bang-tail, but same difference, right. Anyway, it was a black body, silver blade on one side and black with red on the other. Red treble hooks, and little strips of sparkle hair for some flash. He started casting and moving down stream. Then he made his way over to the far side of the river where some small bushes and trees where over hanging. I turned my head from watching him to cast and then I heard the magic words: FISH FISH!!!!!!
I spun my head back over to see Brandon's pole bending over and this beautiful cut-throat come jumping out of the water. I thought to myself: Awesome!!! We finally got into some fish. Man, he could really use a net. Wait, I have the net!!!! Get your butt over there and help the guy out!!!
So I started rushing across the river with pole in hand as the other tries reaching for my net attached to my back. We got the hooks out, revived him and took a picture before we let him back into the water. The colors were just astounding!!! We were so excited and pumped that we finally got a fish. Nice job there Brandon!!!
Here is brandon's fish.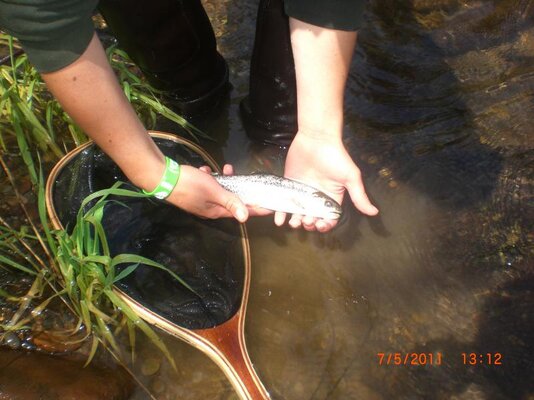 So now it was my turn. The pressure was on to not be out-fished, hehehe
I decided to see if I could get one with my fly rod. I had saved up for like months to get a fly setup and had done months and months of research before I actually bought it. I really wanted to get a fish on it!!
So I attached a small elk hair caddis and started casting out to some nice little holding spots behind some rocks. I don't remember how much longer it was from when Brandon got his fish but, I had been casting into the same spot for like maybe 10 minutes. I was trying some different techniques and trying to really hone my ability. I was skating the fly just on the water surface for a moment then letting the current take it for a second, then skating it again. Sometimes I would let it go under for just a second then pull it out to cast back out to that same spot.
Brandon had just walked over to where I was at and we were about to go head up stream a little further. I was literally pulling my rod back to pull the fly off of the water to move up stream when BAM!!! FISH ON!!! The crazy thing is that Brandon saw it way before I even saw it, hahahahaha. Like I said, I was pulling my line/fly out of the water to move on, I had just started to turn my head when Brandon saw the fish. It took me like 2 seconds to react but man, it sure felt like it was 5 mins!!! My head went numb and I thought for a second: I have a fish on? Wow I do!! Sweet!! this is cool!! I finally got one on my fly rod, AWESOME!! Oh hey, I had better set the hook and get it in!!!! YIKESSS! Don't want to lose it.
So we got it in. It wasn't as big as Brandon's was but never-the-less, it was beautiful. We let it go then headed up stream. Needless to say, we didn't get any more fish for the rest of the day but it was well worth the long wait to get those fish!! It was my first fish on my fly rod and it was heavenly bliss. And now we were one and one.
Here is my fish.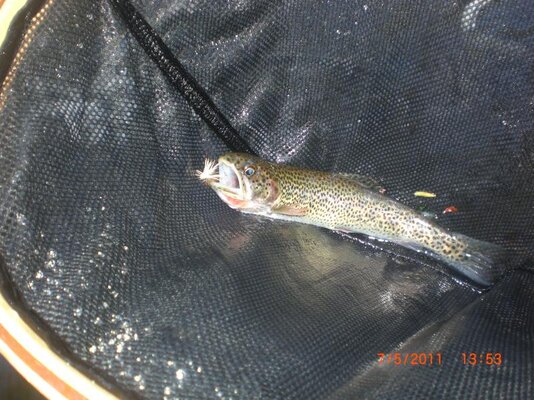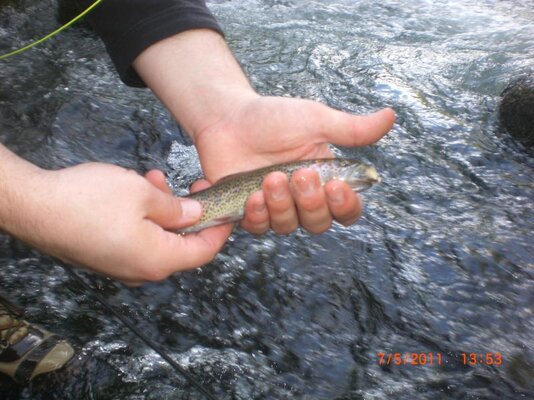 We had a great time. We want to hit the river again but hopefully get a few of you all to go with us next time.
Thanks Brandon for hittin' the water with me. When ever I am down in the area to visit my mom again, I will let you know and see if we can do some more fishing.
Take care every one.
-Spydey
Oh, and after I landed my fish, I guess I was still a little jittery because I lost my footing in fell on my butt and soaked my back and arms. hahahaha