and not in a good way. I've got a lil spot I've been plunking from the last two days on the big C. I get to sit and watch everything trolling around I5 and smile and wave. Can't say I did much of that today.
Couple hours into things I go to rebait for my 3rd time. Not really knowing what i'm doing, i've been alternating between shrimp & eggs and anchovies on a mooching rig.
I just start into my cast and *SNAP*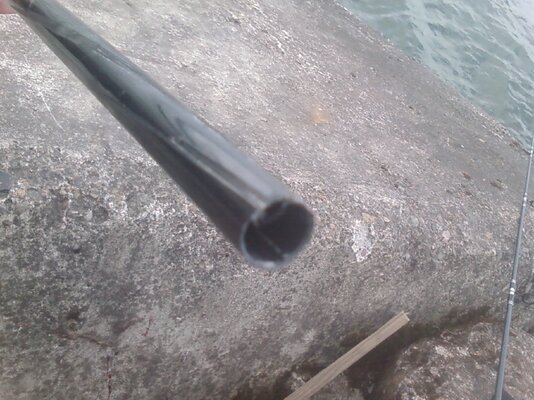 Doh. That's what a blown up Lami Surf King looks like. I felt sick. Never broke a rod, and certainly not while casting.
I pack everything up, run home to grab my receipt, and take my busted up, 3 week old rod to Lamiglas. They tell me right away that I broke it because it wasn't seated, and it snapped under load because that area isn't made to take any type of load. BS. I mark my rods so that I can see when they're seated (lower mark is gone completely). I wet things down before I put them together. There's no arguing with them, and they take the last $35 i had to give me a new half of a rod. Joy.
Only got another hour or so of fishing in before i had to call it done... lame...
Definitely wasn't impressed by anything today, especially Lamiglas customer service...