I hit the Columbia this weekend and the gorge was in fact gorgeous. It was a beautiful day on the water and the only things that would have made it better were more and bigger fish. It was not a terrible day, 11 bass with the big one being 17.75" and a big pikieminnow, but this time of year I feel like I should catch a 20+" bass every time out.
I had my chance right off the bat. I started out tossing a zara puppy and in short order a pig of a bass blew up on it. Not once, not twice, but three times on the same cast. That fish wanted to be caught so bad but somehow I was able to deflect all its attempts and getting hooked. I actually checked the lure after that cast to make sure it did have hooks!
Not the best start to the day. After throwing everything I had at the spot where I missed that fish and getting no response I headed downstream with nothing to show for my efforts. After that miss I did switch from the Zara puppy to a Berkley Choppo (my normal choice on the Columbia). I love the number of strikes I get on stick baits but man do I have a lot of fish strike those without getting hooked. Usually when they hit the choppo it is a hookup.
The next spot I hit was a small rocky clear spot surrounded by weeds. It is often good for a fish or two. I had a nice blow up on my choppo that stuck like it was supposed to and ended up landing a nice 17" bass.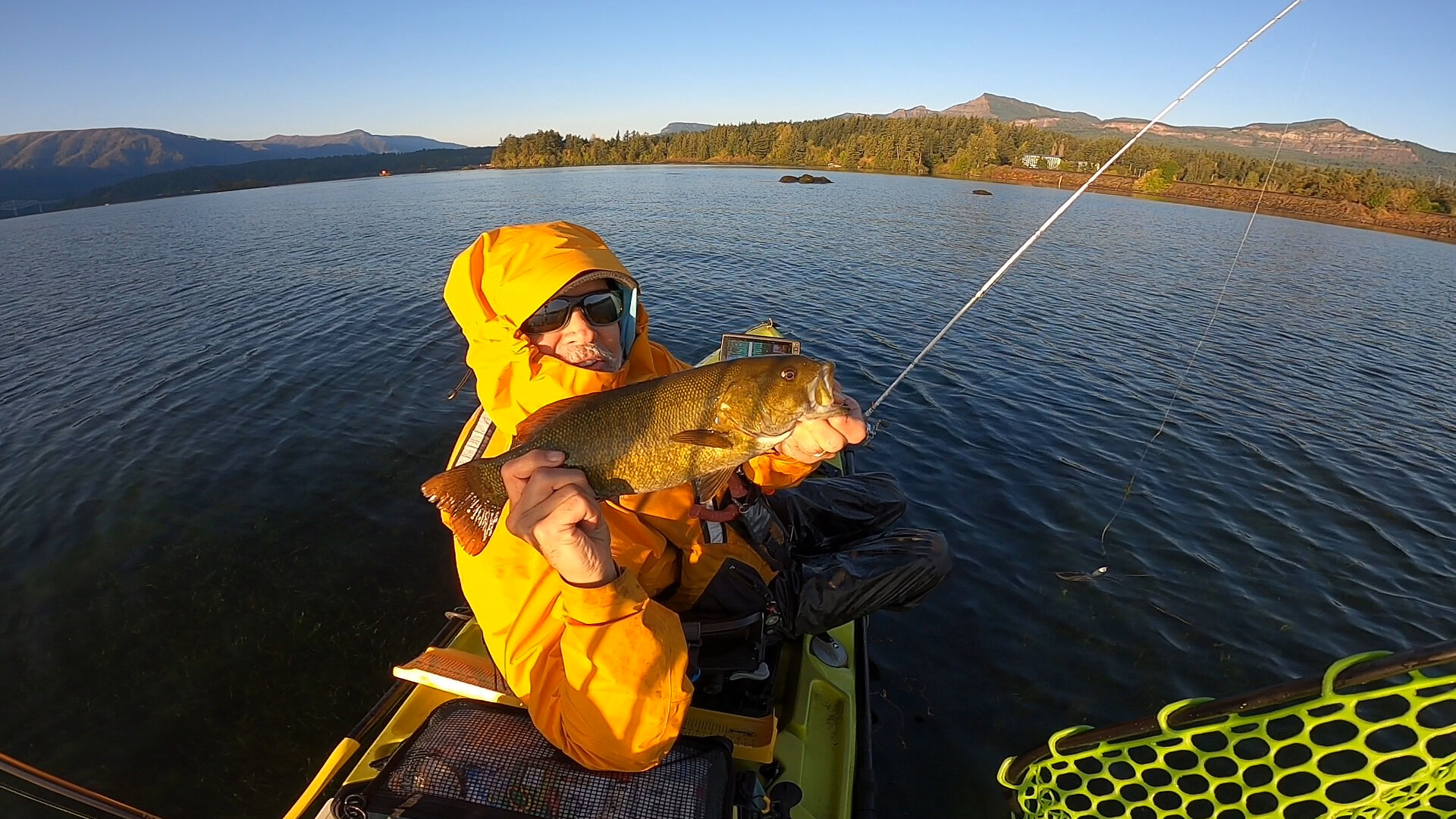 Now that's a pretty good way to get the skunk off. However that was the only biter I could find at that spot. The next spot ended up being a bust. The frustrating part was that a bass came through chasing bait but by the time I switched rods to my topwater and got a cast out there it was gone. I was amazed at how fast that fish (or school) was moving as they came up chasing bait in three different spots, about 50' between each one and only a handful of seconds apart.
After that I switched spots again and this one produced a nice chunky 15.5" bass and a smaller one both on a drop shot.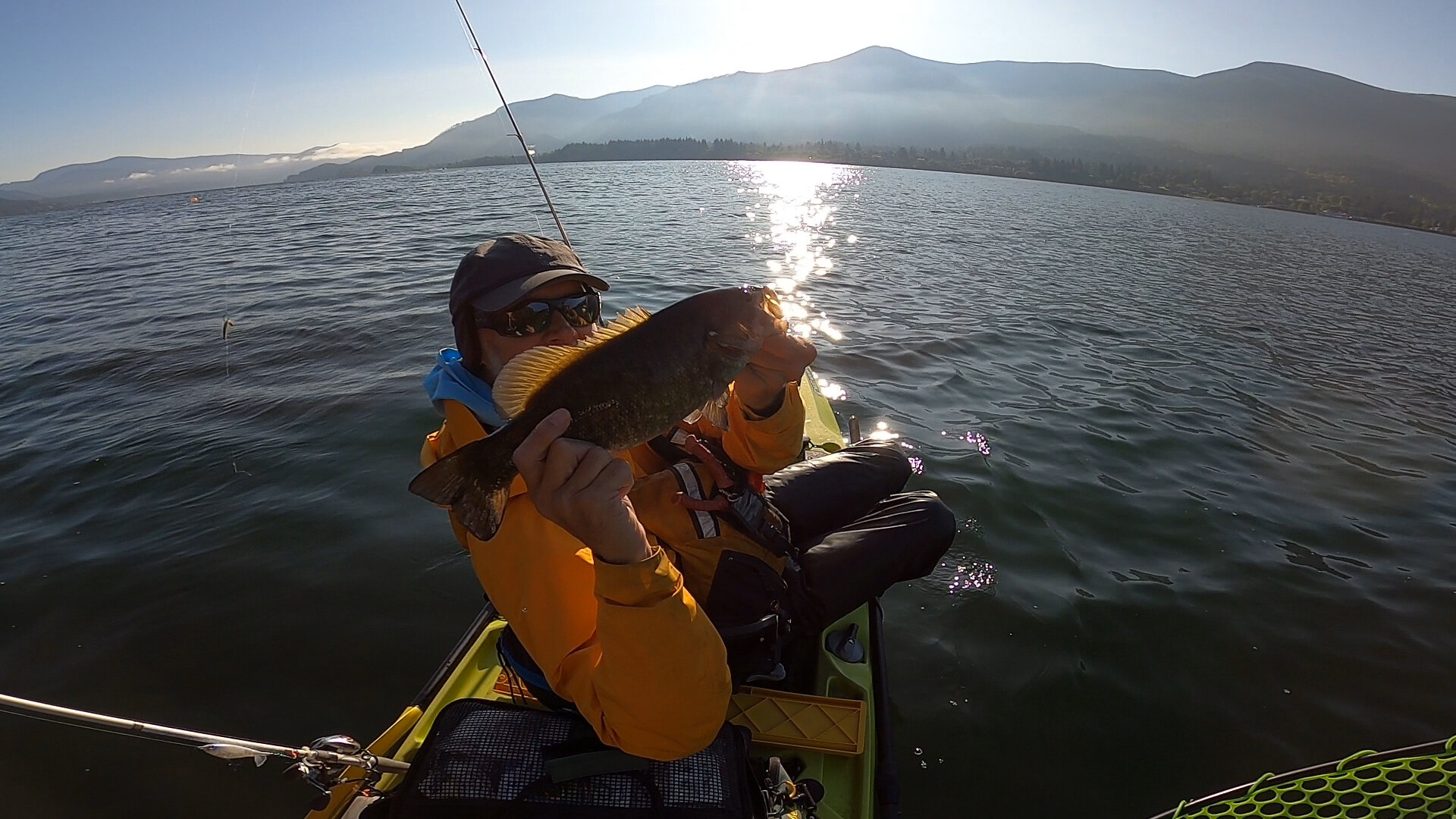 Those two fish came within a couple of casts of each other and then it was crickets so I moved again. The next spot was where my buddy and I did most of our damage last week. Within a half dozen casts with a drop shot I hooked a nice fish (best of the day) and after a good fight I landed a nice 17.75" bass (2lb 14oz).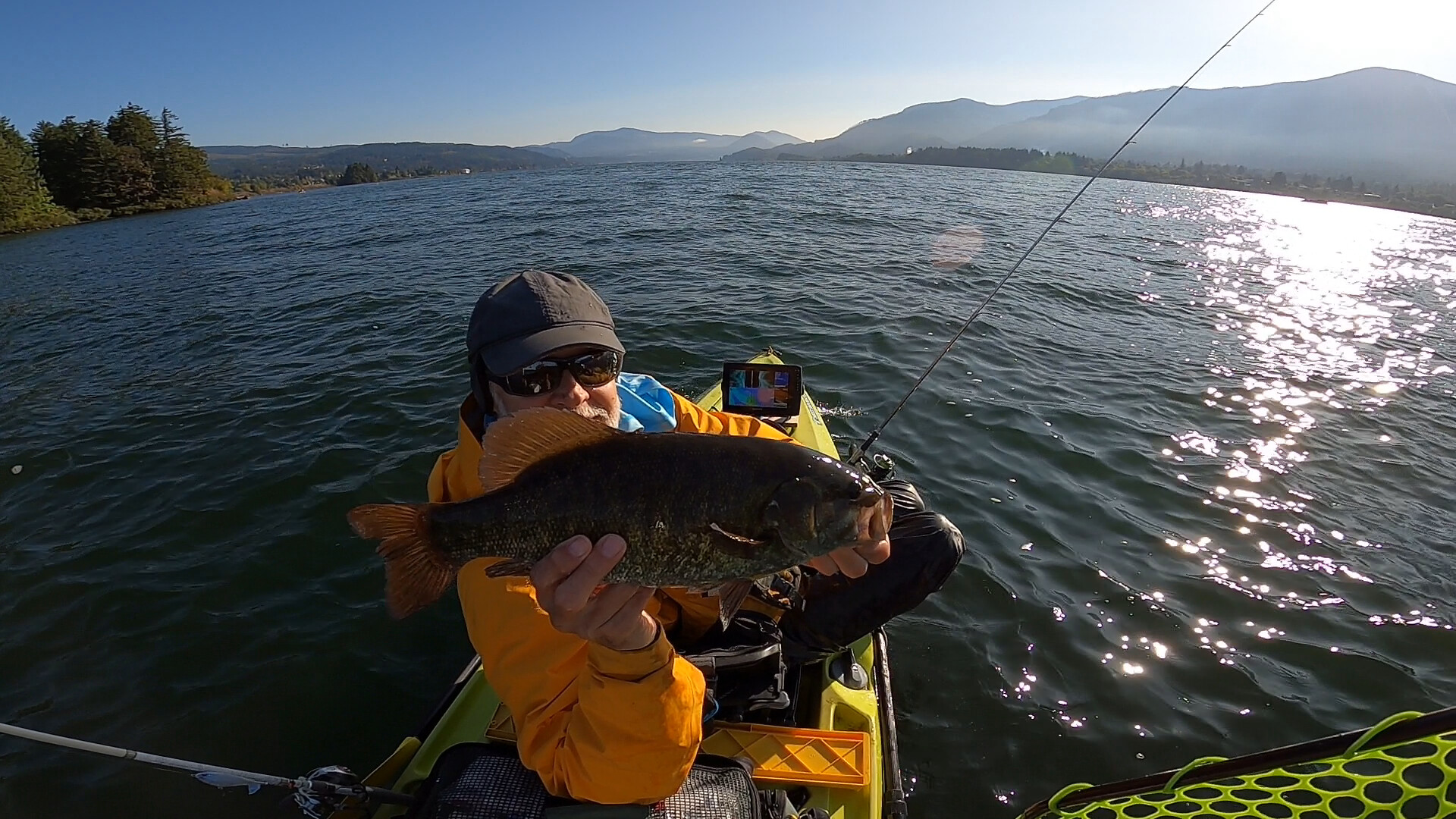 I figured I was going to have an epic day at that point on that spot but I could not buy another bite off that spot. I fished the heck out of that spot with several different lures for over about 2 hours without a sniff. I eventually realized this spot was not going to be the deal. Just kind of sad that it took me so long to figure that out.
So it was time to move again. I hit a mid-river hump that tops off at about 15' and is surrounded by 40+' of water. After fishing it with the drop shot for a while I decided I need to change things up. Searching with a drop shot is just too painstakingly slow if you are not on fish. I picked up my wobblehead rod and on the first cast I caught a nice chunky 16.25" bass. Maybe I was on to something!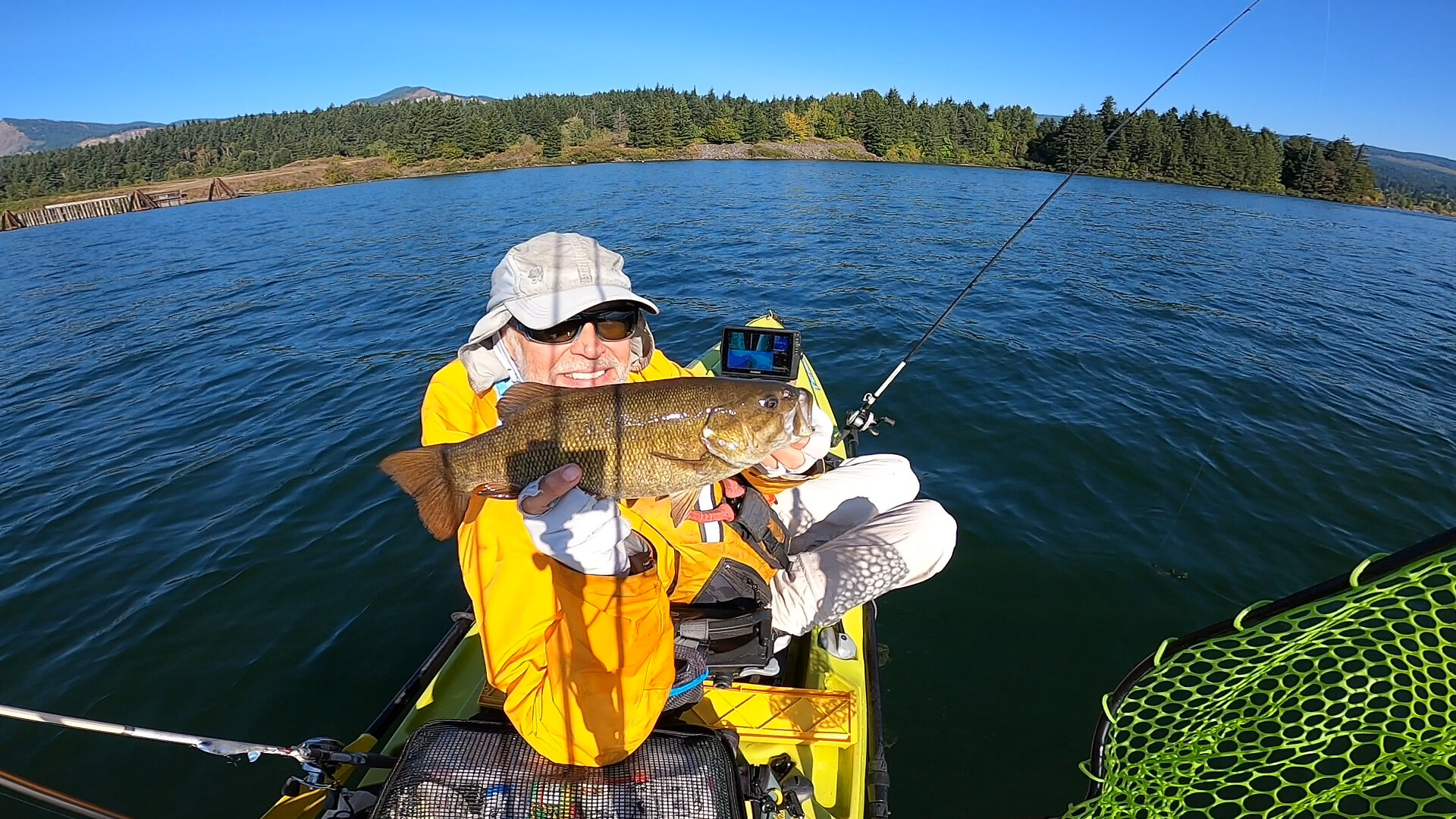 I fished with that wobblehead for a while and eventually picked up another bass but that was it for that spot. By now the wind was starting to kick up out of the West. I was happy about that because it meant that I would have the wind at my back on the pedal home. I was trying to decide where to fish when I made a command decision to make a big move and pedal an extra 1/2 mile downstream to where there are a few small islands. I had only been that far downstream one time before but I remembering liking that spot.
The only reason I mad that run down there was because I knew I would have a tailwind on the way back. So I pedaled my little heart out and made the run. I got to the first island and on my first cast (with the wobblehead) I landed a nice chunky bass.
I kept the wobblehead rod in my hand. A short while later I had a hard thump and could tell this would a good fish! After a good fight I was a little disappointed to see a 2' pikieminnow on the end of my line. Oh well. I went back to dragging that wobblehead around and picked up 2 more bass around that first island. By now the wind was starting to get really stiff so made a quick pass around the other islands and then headed back.
It was always fun having that strong tailing wind when heading back to the ramp. I was going about 3.5mph and the waves were passing me by. Each time they did they would give me a little extra push. It feels like someone is helping you
Once I was most of the way back I did stop and fish one spot because as I zoomed by I marked some fish. It was in about 25' of water and I was right over the fish so I picked up my drop shot. Within a few minutes I felt a thunk and some weight as I was bobbing up and down in the 2' waves. I set the hook and after a fun fight I landed a fat little bass. I decided that was enough for me and I headed the rest of the way back.
When I got to the ramp some folks on the dock asked if I saw the otter. They said it was right as I headed in but I was busy stowing gear as I pedaled so I missed it
It always fun when you get to see those guys but I guess this was just a day that started with an almost and ended with an almost.
Here is some video from the day: