Well, well...I actually lured a steelhead out of its holding spot yesterday; this was the first time I've actually seen one that was interested in what I had to offer.
Was reeling in a brass spinner and about 4 feet from me, saw a steelhead chasing it, but when it got within about 3 feet of the bank, did an about-face and retreated. Had a pretty good idea where it was hiding out, so I tried a couple more casts, switched to a drift rig, then a different spinner entirely, but I guess it spooked or moved on.
Closest I've witnessed that my efforts have been even mildly interesting to those critters
I'll credit Damon for getting me to actually look in the kind of spot I found this one...before, I would have likely passed by the type of water as being way too fast/choppy, but those big fish can find all kinds of cover in there.
And of course, obligatory trout...I'll credit Damon for that too...I went from 0 to now having caught literally dozens of stream trout (only lake stockers before) after going out with that guy...perhaps I learned the wrong lessons? LOL!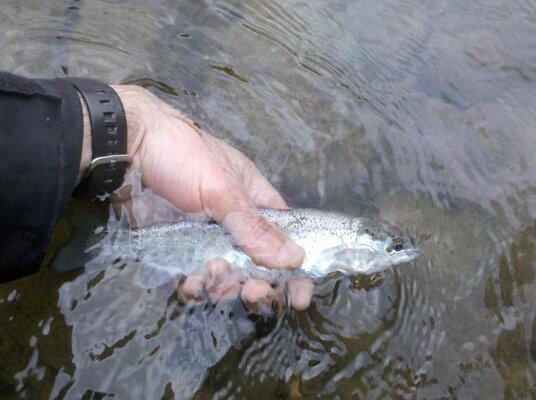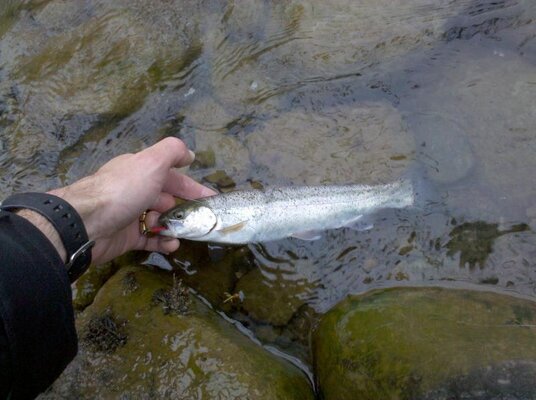 P.S. That bottom one was really stout for its length and apparently quite agressive; thing struck the spinner the second it hit the water, like it had ESP or something and just 'knew' something was gonna drop from the sky to chomp!
Last edited: