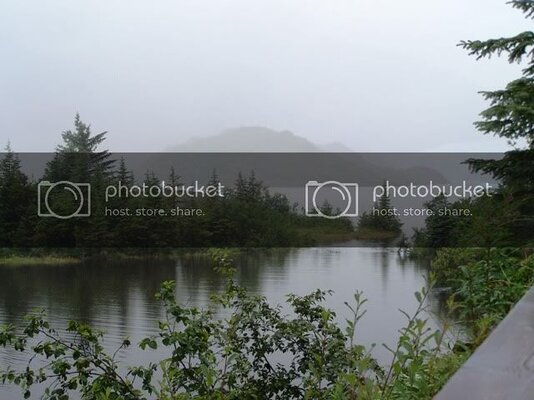 Sue and I just returned from a great Alaskan vacation in which one of the highlights was a half-day fresh water fishing outing that was guided by Cape Fox Tours out of Ketchikan. This particular trip caught my attention because along with the usual fly-fishing, included in the description was the term SPIN-CASTING!
There has been a few folks that have used my Bow Series Spinners in Alaska and they have sent me back glowing reports, however no matter how great the reviews, I am never completely satisfied with my product until I can use it and feel it in action, this was a great opportunity to throw Super Bow spinners at some tough Alaskan Salmon.
At 5:30am Ketchikan was beautiful, Ketchikan was cloudy, Ketchikan was wet and drizzly, and Ketchikan was 52 degrees. At 7:30am, Sue and I met a bus at the dock, and it carried us along with a dozen or so folks out into the Alaskan wilderness, all the afore mentioned conditions remained constant.
The bus took us out to a shack where we met our guides and were fitted with waders, shoes, rods and reels. We were able to purchase the necessary license here as well.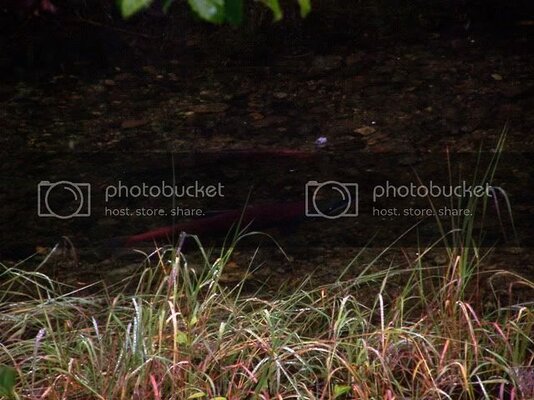 The fish activity fluctuates throughout the seasons so you take advantage of what is biting at the time and today the Pink Salmon would be our main prey, with an outside chance of char or chum salmon.
The guides divided us into two groups, our group had two guides. We didn't wade the river in the same manner that I am used to here in Minnesota, instead the guide just positioned us in a large semicircle around a large pool and let us cast.
I started out throwing a Golden Rainbow and on the third retrieve things came to a sudden stop as if I had snagged onto a log, but the line throbbed indicating the head shakes of a large fish. My rod doubled and the reel buzzed off about six feet of line, stopped, buzzed off another several feet of line, and then went slack. I had just had my first encounter with an Alaskan Salmon, he won, I lost.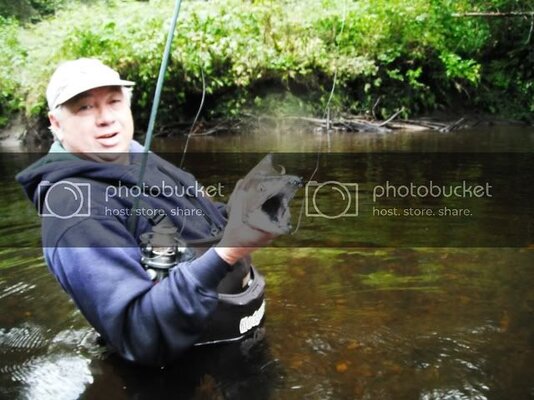 It was only a cast or so later that I was locked solid onto another good sized humpy that didn't get away, and just before I landed that fish, a fellow angler on the other side of the pool was busy landing a nice fish on fly tackle.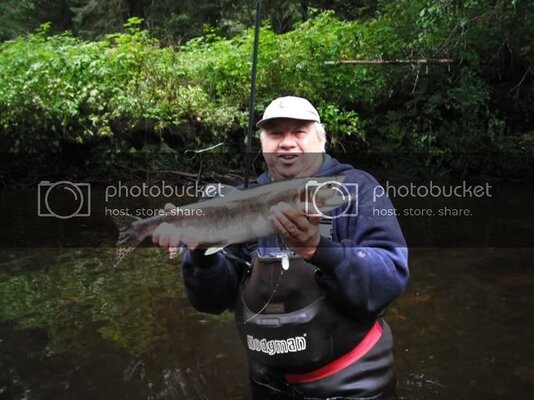 Things went from fast action to pandemonium as everyone in the group began catching fish. The two guides were kept busy running back and forth through waist-deep water landing and unhooking large Salmon. There were eight anglers in our group, and at one point every one of us was landing a Salmon at the same time.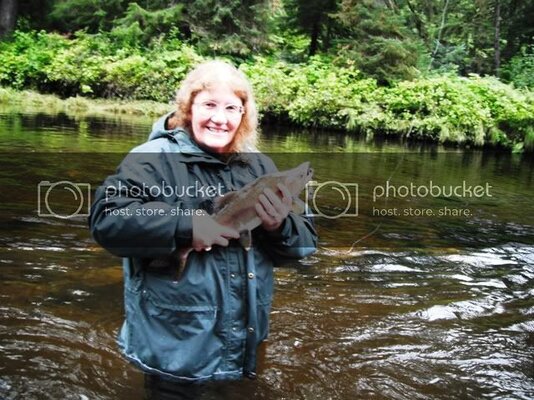 I was getting into some hard fighting fish, often needing both hands on the rod it became difficult to use my camera, so I just tossed it over to the guide and asked him to get some photos of Sue and me.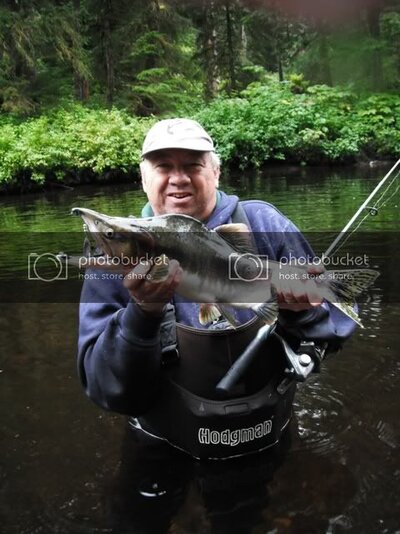 While the guide was helping me land a particularly stubborn Humpy, he informed me that this was my sixth fish and that I was about three fish behind the lead angler, so I decided to try stepping up production. I wanted to test my single hooks to the max, so I tightened the drag a little and went to my good old basic Silver Super Bow.
First cast magic! The line stopped dead and the reel buzzed as if I had turned the drag control in the wrong direction. I announced that I had a fish on and the guide was soon standing by my side. After explaining to him that I had increased the drag to see if my hooks would take the strain without straitening, and also to tire the fish faster, he said that from the looks of the situation, he was a little more concerned about his rod.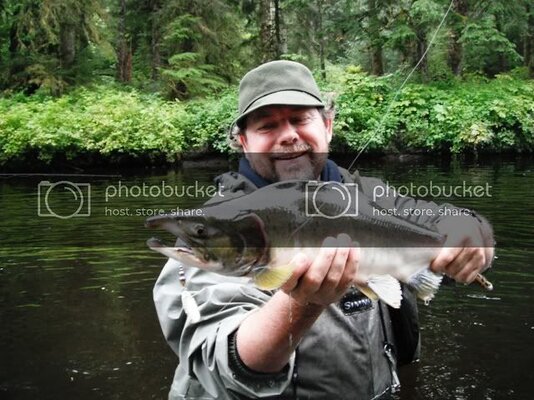 It was a good fight, the rod survived, my hook held, and after some amount of splashing and laughing the guide held up large kiped-nose, humped back critter which he seemed to be a little excited about.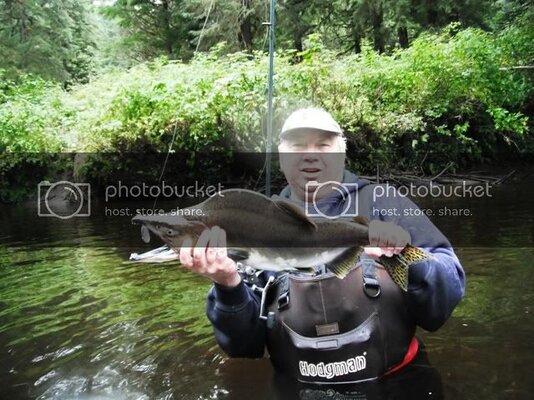 He told me that this was easily the largest Pink caught this season and would go well over ten pounds. The Silver spinner seemed to be pounced on at every cast, on several occasions I and the angler next to me were almost dancing around each other in order to keep the fish that we were playing from tangling our lines.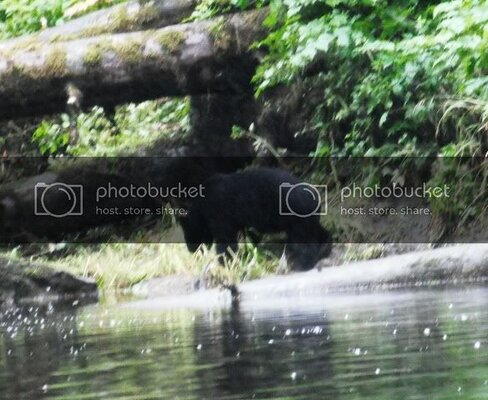 If the fishing wasn't exciting enough, a Black Bear appeared some distance downstream and made his way toward us. He seemed to be curious about all of the splashing and advanced to within about thirty yards, our guide was armed and positioned himself between us and the bear, however when he seen the size of our group the bear turned and soon disappeared into the brush.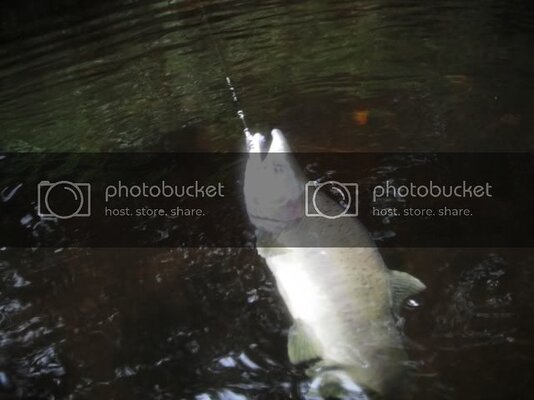 Time ran out and we had to get back to the ship. Though this was a four hour outing, after transportation, getting outfitted and instructions, only about two and a half hours were actually fishing, but in that short amount of time, I don't think that there was more than a few minutes that I wasn't locked in battle, or landing a fish.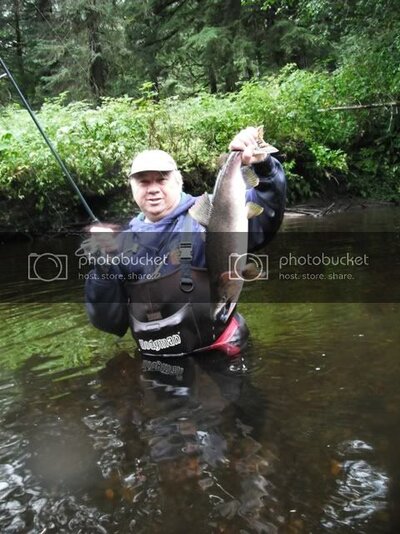 Using the Silver Spinners I only fell short by 1 fish from catching the most (12 fish), but without question, landed the largest, none of my fish landed were under 5lbs,and Several of these were real trophies.
This trip was on special land and was catch and release only, so single hooks were mandatory. The weather was wet; the water was in the high forties, making it much like springtime fishing in Minnesota. We were about a fifty yards from our bus and just waded a short ways out into the river and started casting without moving from our spot, so the whole process was fairly easy and fun.
With everyone on the outing catching fish, and very few of these fish going under 5lbs, I would recommend the folks from Cape Fox to anyone.
I'll be going back, and I won't go without my Bow!
Spindoctor.
Today's hot spinners
.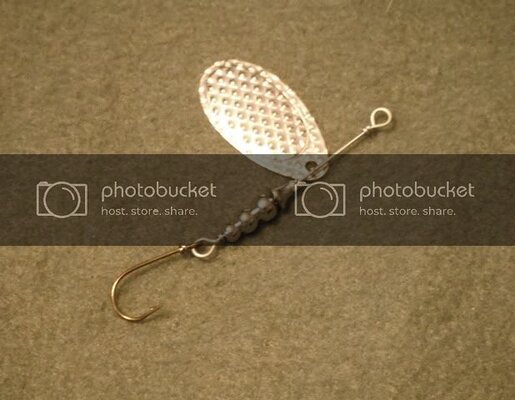 Silver One-Der Bow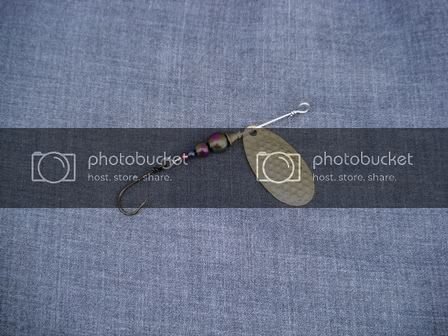 Golden RainBow
Last edited: