So, this post has been a long time coming. I feel like a birthday boy this weekend, and here's why...
My family has held a reunion every Labor Day weekend for the past 58 years. From 1954 - 2010, it was always held at Odell Lake, but last year, due to construction on the traditional site, we moved over to John Neal Memorial Park on the Lower North Santiam River.
On our way out there, my wife and I stopped by a Fred Meyer to pick up a few camping supplies, and on a whim decided to pick up a couple of fishin' poles, some worms, Power Bait, a few spinners, and a tackle box to round things out. All-in, we probably spent about $75. (We're pretty fancy folks, as you can tell. ;-)
That weekend, we caught nothing. There's a bass pond out front that took a few hooks on zero bites, and the river claimed almost every spinner I took out there. We had no clue what we were doing, but had a good time none-the-less.
Upon returning home, I thought to myself, "If I just knew how to fish, I bet I would have done really well out there..." And so my journey began.
I started looking up stocked trout locations and picked up a couple at Hood River Community College in October, then a couple more out at Hagg Lake before Thanksgiving. I took the holidays off for a little family & travel time, but come January 2nd, I hit the Sandy River with an upgraded rig, a few corkies, yarn, and a lot a luck, and I'll be damned if I didn't land a 15lb 36" winter steelhead. It absolutely changed my life. And the next two I *almost* brought to hand cemented my newfound passion. I was a fisherman, and I had nowhere to go but up.
Still though, I kept thinking about this next year's reunion, wondering if my newfound abilities would actually pay off, or if I would end up empty-handed just as I had the year before.
Just to up the anti, I decided to take up fly fishing with some unexpected Christmas cash. I started with a 9' #8 for steel, and then a 9' #5 for trout, once Spring rolled around.
I caught my first fish on a fly somewhere around April, and my first on a dry fly on the Lower Deschutes during the Salmonfly hatch in May. Another life-changer (and the moment captured here in my avatar).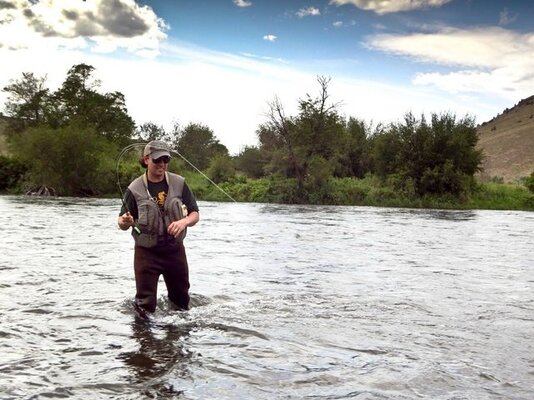 And my first brown trout, caught with a nymph on the Merced River in Yosemite in July...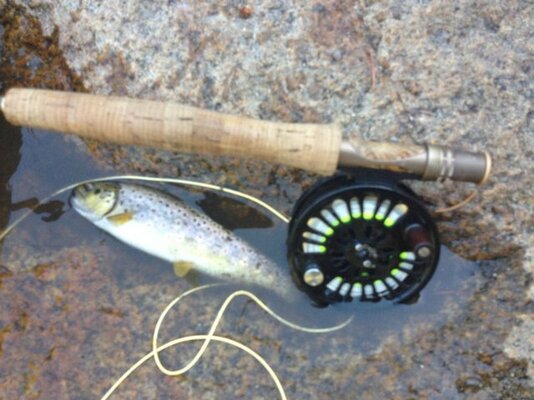 But alas, the weekend of September 4th was a ways off. I still had time to practice.
My most prolific week came at a golf course, of all places. My wife's parents live on a course out in NW Arkansas where they happen to stock the ponds, yet nobody fishes them. Zero pressure, high population, and boy let me tell you, some big old hungry fish - a 25" channel catfish being my largest take of over 100 on the week, something I had heard about but never expected to catch on a fly myself.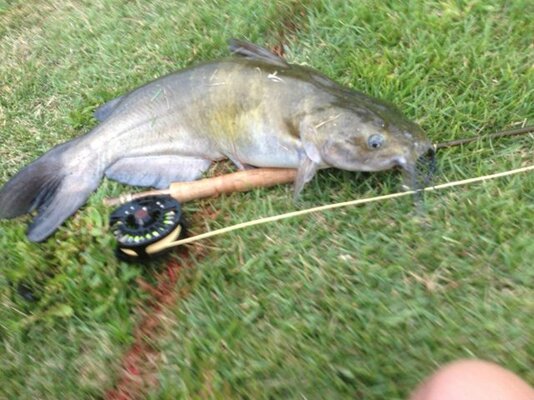 I then went on to explore small streams and tributaries within about a 2 hour drive of Portland. (I had a really nice day on the Mollala just a couple of weeks ago.)
This past Thursday, the big trip was finally upon us. The 58th annual Cole Family reunion on Labor Day weekend. I came armed to the gills. #5, #8, vest, flies... even the original spinning rods "just in case." And on that night - this past Thursday night - I achieved my highest goal. I landed an 8" bass with a Sneaky Pete on that pond out in front of the park, with my dad on hand to record the moment.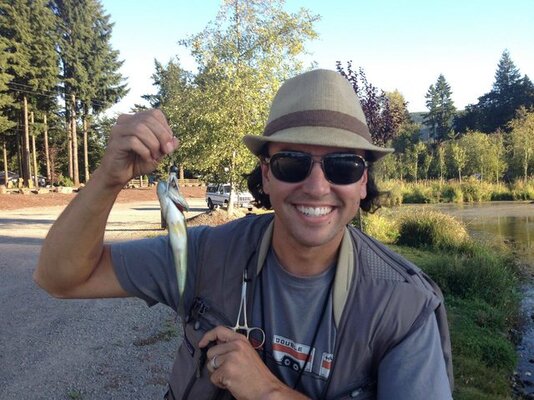 It was by no means my biggest fish of the year, but it was absolutely, unquestionably, my favorite.
With that long-anticipated moment in the books, I could relax and explore the beautiful North Santiam in all her glory.
Ladies and gentlemen, I took 15 more fish on the weekend. Mostly small trout on caddis flies, some on nymphs and one on a larger stone fly, and I feel like a million dollars. Not only did I return to the very place that ignited my passion for the sport this time last year, but I came away with multiple fish in-hand every day I went out.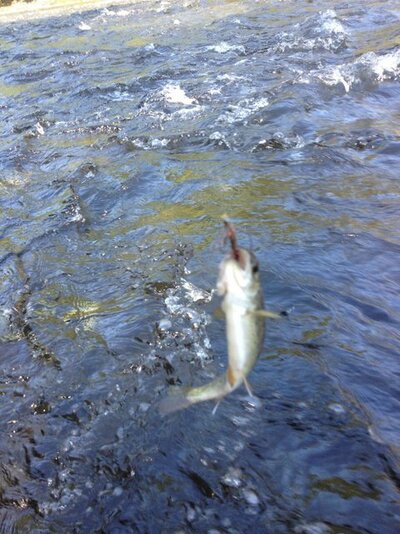 Just as I did the day I caught that mighty winter steel, I wanted to send a heartfelt "THANK YOU" to everyone here on OFF for the many great lessons I have learned along the way. Spinners, spoons, leader lengths, line weight and otherwise, there is always someone here with the right advice if you know how to ask.
I do still have a few questions about the Santiam herself, which I'll post in another thread - but for now, it's been a great year, folks. And it's an honor to share this momentous occasion with everyone reading this on OregonFishingForum.com.
God speed, and tight lines!
-Pinky Gonzales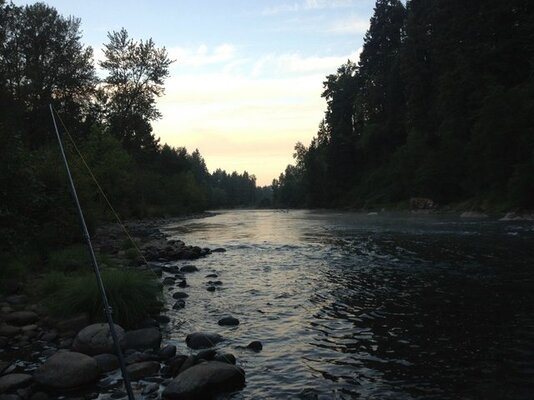 Last edited: