Ariel&Jared12
Member
Joined

Mar 29, 2011
Messages

122
Location
Today, we had gone fishing with "The Salmon Kid". Jared's never been fishing for Salmon before so Chad went with us to teach Jared. We got to the hatchery around 5:00AM. We all didn't expect as many people to be there this morning but we were SO wrong! There was around 60-70 people. Chad hooked into a Salmon around 5:30AM and passed the rod off to Jared so he could reel in his first Salmon and hopefully land it too. The Salmon put up a fight for sure. Jared went down the bank quite a ways and finally Chad netted the Salmon after about 10-15 minutes. It sure was a gorgeous fish weighing in around 15-20lbs. Later in the day, Jared hooked into another one but then lost it
There were plenty of losses today but we can't thank Chad enough for helping Jared and coming with us. Thank you AGAIN, Chad! We can't wait to get out there &hook some more!
Sorry for such big pictures... Not too sure on how to make them a little smaller! :think: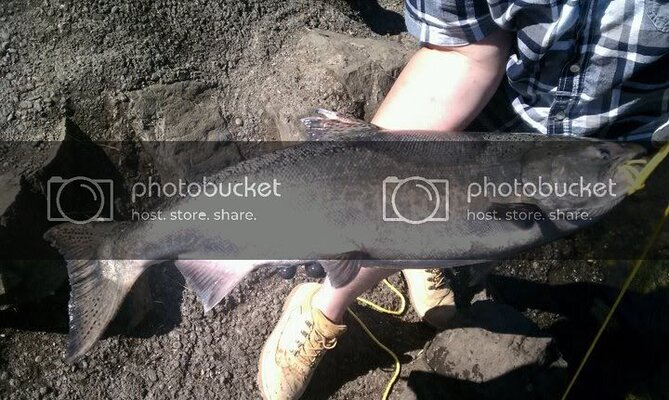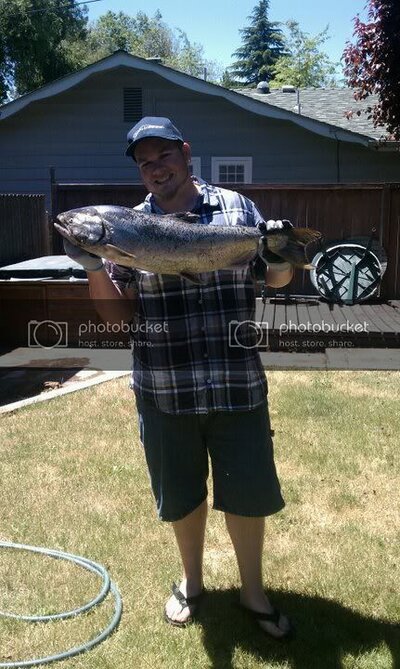 Chad and I trying to fight a HOG. Chad hooked into the Salmon &passed the rod off to me so I could have a feel to how big the Salmon fights can be. Thanks Chad for helping me when you knew I was iffy on reeling it in! Lol. After the Salmon jumped and Chad saw how HUGE it was, he took over and the Salmon put on a huge fight down the bank. After about 5 minutes, it snapped the 45lb line. DARNIT! SO close!