Trillium Lake Fishing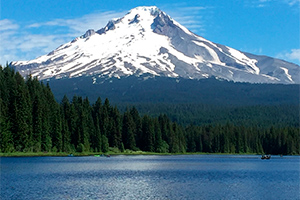 It is pretty good fishing at Trillium Lake. Float tubing or other non motorized boat makes it a little more fun. Bank access is good though. I have only used my fly rod up there but nothing better then fishing there with the Osprey catching more fish then you and Mt. Hood right in your face. I don't know if it will be snow free by then though.

Trillium lake can be a fun place to fish. It depends on the crowd. If the weather is warm the place can fill up with all kind of inner tubes and floating devices to the point were you have a hard time finding a place to get your line in. The best bank fishing is down by the dam. Since Trillium lake is such a small lake it can fill up on a weekend.
Related Topics