Barney Reservoir Fishing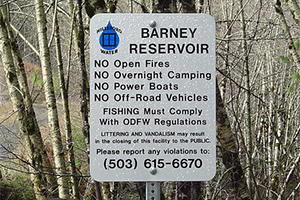 Barney Reservoir is a catch and release fishery and no bait allowed, artificial lures and flies only. Extensive logging has been going on in the area and caution must be used while traveling the roads during the weekdays.

Barney Reservoir has wild cutthroat trout that can be fished for catch and release. You must follow a maze of logging roads that might be gated depending on the season. Barney Reservoir is quite large so a small boat/pontoon would be helpful. I am almost positive that only electric motors are allowed.

If you are in to finding new uncharted areas, go to the forestry department and purchase a map of the area you are interested in, I think they are $10.00, I have found quite a few little spots way off the beaten path a largely overlooked by mankind. I recommend carrying a weapon with you when going in to some of these spots, real likely Mountain Lion and Bear areas.
Related Topics