Estacada Lake Fishing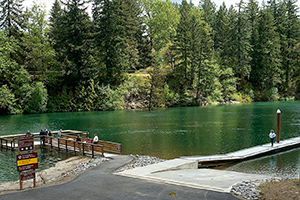 The most popular species caught at Estacada Lake are Rainbow trout, Chinook salmon, and Steelhead. The lake opens to trout fishing in May. Anglers can keep hatchery steelhead and hatchery salmon. Any trout longer than 20 inches are considered steelhead in a bag limit.

Catching steelhead from the bank of a lake setting is really difficult. There's no current to work with plunking rigs. The steelies go round and round and you have to have just the right bait/lure in front of them at just the right time. If they're in the mood they'll strike. Remember: they are not feeding at this time, so you have to trigger an opportunity strike (bait like any raw shrimp that reminds them of what they've been eating for two years) or a territorial aggression strike (spinners etc).
Related Topics