The next few days it should be on up and down the coast! Be ready!
We hit a coastal river yesterday and went 4 for 8. Things started slow, my son hooked a hog of a fish that fought like it was possesed and finally pulled free early on then things got slow until around 11:00. We had pre-arranged plans and had to be off the river at noon, at that point we had only hooked the 1 steelhead. We had fish quite a good stretch of river looking for new fish and by 11:00 were back in the hole we started at, I was fishing a jig under a float and just couldn't get the thing to fish the tailout of the hole properly so I resorted to the old fashioned method....drift fishing! Perfect for the tailout of this hole, just lift my rod a little and glide my rig along the ledge. There is 1 rock in the middle of this particular tailout and sure enough as my slinky and roe approach it I feel a thunk and my rod begin to load, I lift quickly and nothing. I think maybe my weight tried to wrap around the rock as it drifted by but man, that sure felt fishy! The next cast as my bait approaches the rock I feel, thunk, thunk, load....fish on!!! No doubt about it! A nice buck about 31". While I am fiddling with my fish and tag and gear I tell my son to run some roe and show him where the steelhead was laying in front of the rock, sure enough, 1st cast he hooks a hen that was laying out there with the buck! But, it broke off after a short fight and he admits that he knew he had a nick in his leader! Running short on time we hurry down to the next hole, which happens to be his favorite on this river....It fishes perfectly with a float. He immediately hooks and lands a small, bright buck, now we've got the smoker going! A couple of more minutes and it's noon, got to go! Damn!!! Just when the bite came on!
We finish our business at the coast in a couple of hours and realize that if we hurry we could get 1 more hour of fishing in before dark. We arrive at the pullout and one of the locals is standing by his truck, he tells us that he has just fished the stretch and never touched a fish, I share the fact that we caught 2 and lost a couple others that morning so maybe we fished it out. He leaves and we head down to the 2 holes we hooked the fish in that morning. The 1st hole is the one I caught my fish in, we give it 15 minutes with no results and then head to the 2nd hole. I let my son have it and head to a small hole just down below. After 10 minutes I begin walking back up to meet my son and see him backing up the river bank trying to reach the net with one arm while holding his rod with another just as a bright hen leaps 2 ft into the air, I tell him I'll get the net just worry about the fish. We get it in the net and he informs me that he has just hooked 2 fish in 5 casts. He tells me to take his rod because it is set up perfectly for this hole and shows me where the fish are holding. On my 3rd cast I run the float down the far seam along a log when the float goes down hard! My son had picked up my float rod saying he would tie on an egg leader for me when I announced "I'm on!" Only 27", but it was a stubborn little buck! Fought hard! 3 times it tried to take me under the log on the other side of the river and I had to thumb the spool and bring him to a dead stop! A fun fish!
So, just a little fishing story with some value. We do believe that by 11:00am the river had warmed enough that the bite came on late. I like early in the morning myself but you have to fish when the bite is on! The water was up with a little more color and the fish were laying somewhat outside of their normal lays, tailouts and the bottom 3rd of the holes seemed to be the ticket today. No one technique for steelhead fishing is best! you can have a favorite way to fish steelhead, We carried float rods and drift rods yesterday, hell...I even threw a spinner in a couple of flats yesterday just because the fish will hold in them when the water is up, and I really don't care for spinner fishing!
A nice day overall, blue sky, lot's of critters out, fresh fish in the river! What's not to like about that!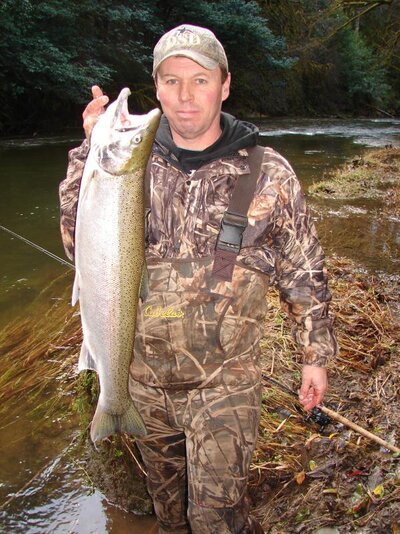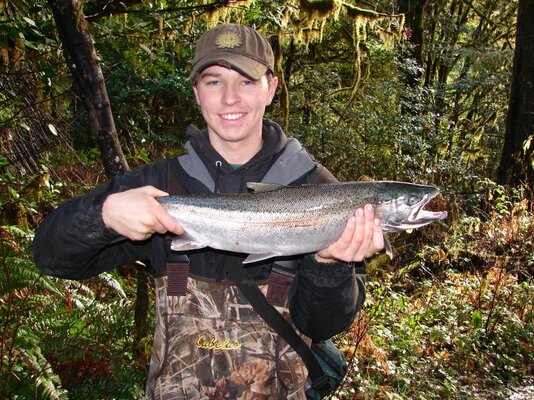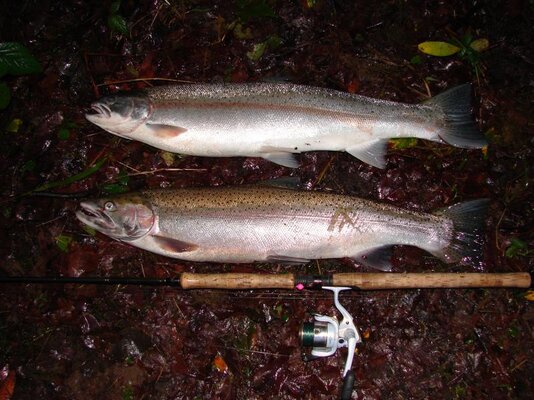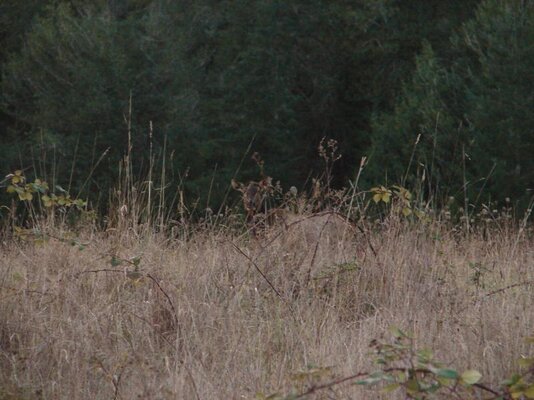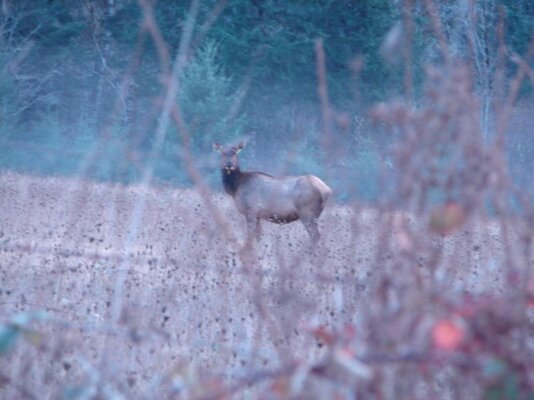 Last edited: