Hit the Wilson with my fly rod today for the first time. I've spent a lot of time around this river but never fished it.
Started out at Elk Creek which was dead as a doornail. The only thing I caught was the attention of a cop checking fishing licenses! Fortunately, I'm legal.
Then I moved down close to the Forestry Center and the action heated up. First couple casts at the bottom of a riffle (above which several kids were swimming) and WHAM - fish on! He fought like a champ and I was surprised to see he was only 8" when I got him in.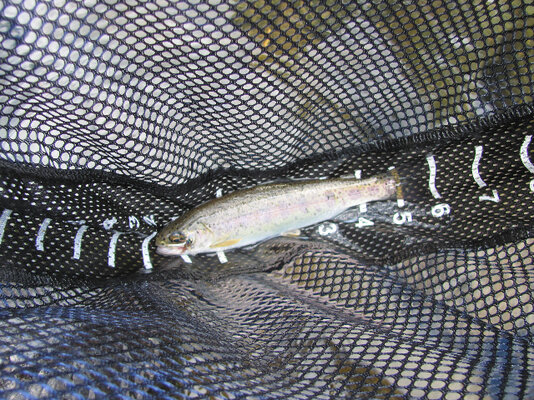 Moved a little further down river and hooked up with another 8" prize fighter. These native trout really pack a whallop! I've landed 12" and 13" pellet heads before that didn't have as much spirit as these 8" firecrackers. They'd jump, yank, even strip line - very fun.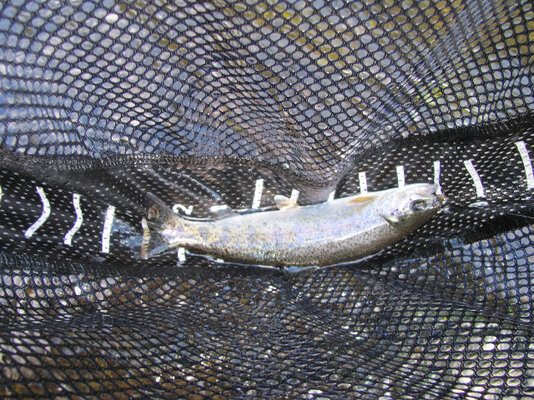 I started landing one fish after another, most of them 8" (if I hadn't been moving I'd swear I kept reeling in the same fish! LOL). The smallest was 6", but most were 8" and by the end of the day I had at least a dozen fish. I quit snapping pics after a while. Until...
Mid-afternoon I hooked into the fish of the day. He hit the fly hard but they all had been so I assumed he was another 8"-er. But then he took off like a rocket! No lie, this fish took me 3/4 of the way to the backing! :shock: :dance: :clap: He was stripping line like crazy, and every time I'd get him in close he'd see me and then turn tail and strip half my reel again! We repeated that dance at least 4 times, and I probably moved 30-50 yards downstream while fighting him. The fight lasted more than 10 minutes. I haven't had that much fun fighting a fish since catching a 20 lb. Chinook in the ocean several years ago. When I finally got him in he measured out at 14" - BEAUTIFUL fish.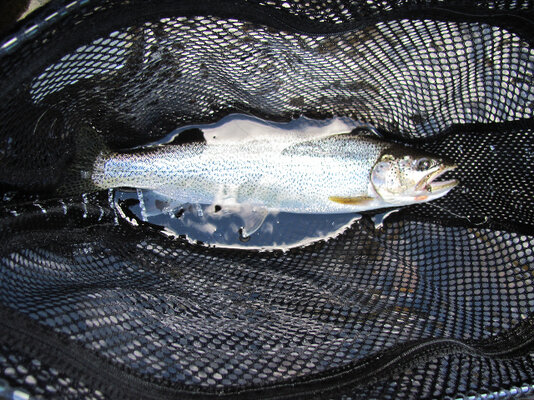 I really thought about making him dinner, but I decided he deserved to fight again another day, so I let him go. He was totally exhausted. I watched him cruise in the current about 10 feet offshore reviving himself. After almost 15 minutes of waiting for him to take off, I finally moved on. He was still swimming strong.
Fantastic first shot at the river, gorgeous weather, and great fishing!