With a hot, breezy and certain to be insanely crowded weekend coming I decided to get a ahead of the game and take a day off of work to hit Hagg lake. I got to the lake early and was fishing by 6am. The day started off cold with temps in the 40s. The really great thing about a cold morning is that it makes it really easy to discover that your waders have a leak - my lucky day
I started out fishing along some weed edges and after cycling through a few different moving baits I caught my first fish of the day on a wacky rigged 4" senko. Just a dinky smallmouth but it is always good to get the skunk off early. I decided to stick with that lure for most of the day, occasionally trying to force a moving bait on them but with very limited success. Even though tossing a senko is not my favorite way to fish it is a lot more fun than not catching them.
After a couple of knot failures (I don't know what I was doing) I finally connected with a good fish and man are they fighting hard in the warmer water (60-64F).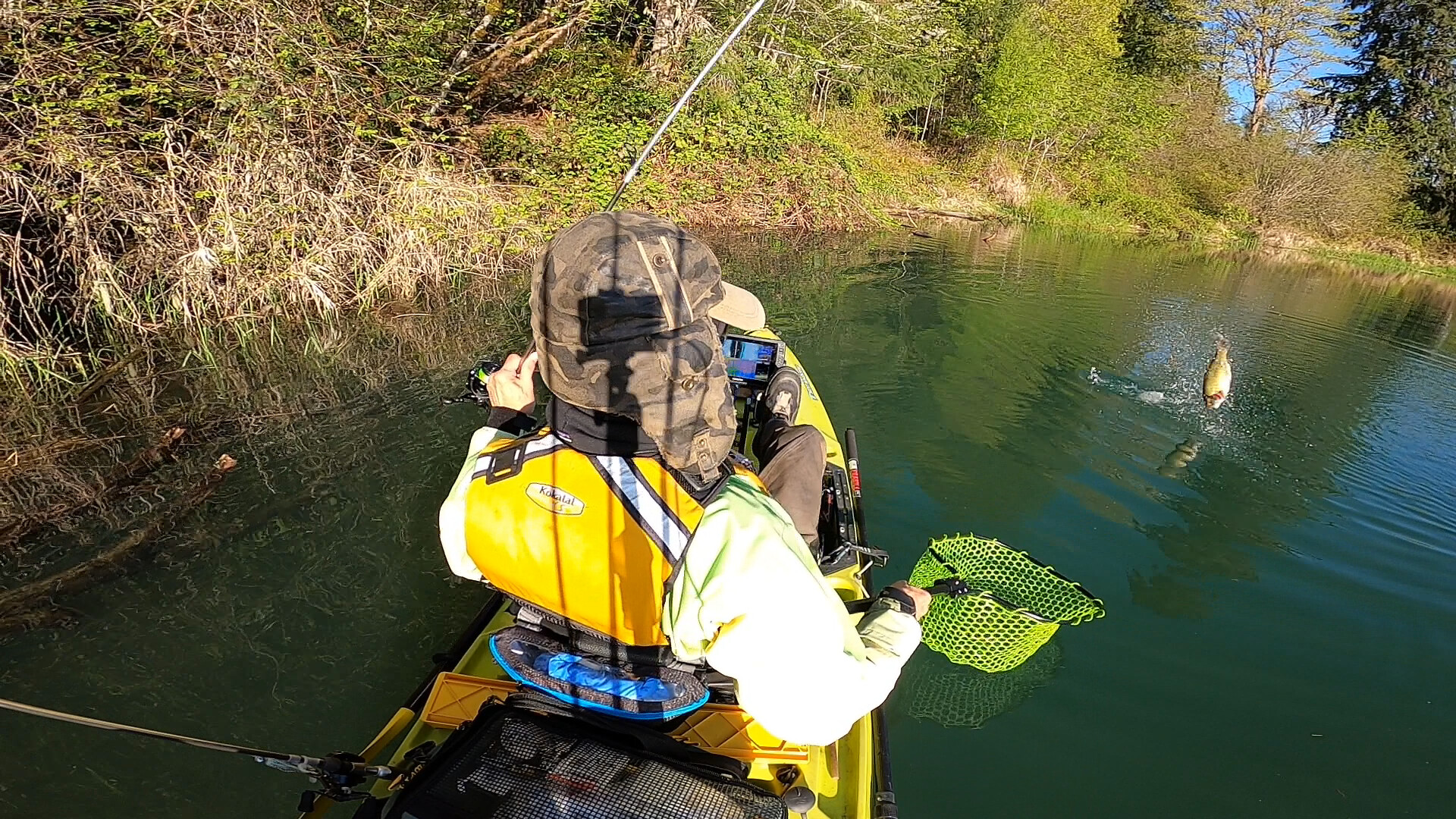 It was nice 17.5", 2lb 9oz smallmouth. Not a giant but a solid fish.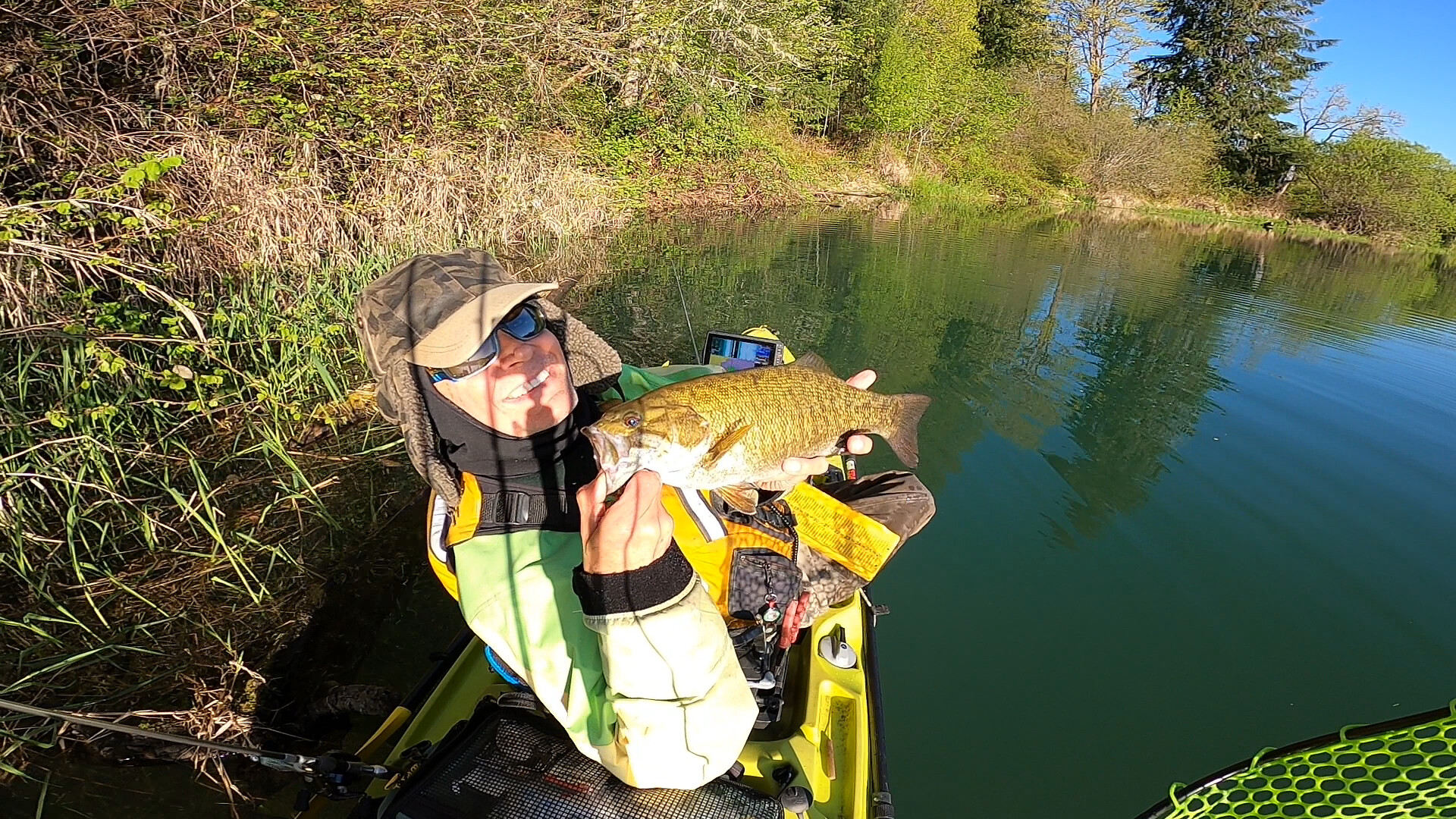 That was my best smallmouth for the day. I ended up catching a total of 18 bass, about 1/2 largemouth and 1/2 smallmouth. Most were caught by fishing a weightless, wacky rigged 4" senko painfully slow in 1-6' of water. I would occasionally pick up a moving bait and fish it when I just couldn't take it any more but eventually I would resign myself to tossing that senko around. About 1/2 dozen were dinks and the rest were all well over a pound.
I did catch one on a vibrating jig, one on a swimbait and a couple on a Ned rig but the wacky rigged senko was definitely the deal. The day started out with more smallmouth than largemouth but starting in the early afternoon it was mostly largemouth. No giants on the day. My best fish was an 18" 3lb largemouth that came out of about 1' of water. I tossed the senko up shallow thinking that I would work out a little deeper into a more productive depth when the line just jumped. I set the hook and it was game on. A nice little fight on that spinning rod in the shallow clear water where I could see the fishes every moved during the fight.
I am just a little bummed that I did not get it on video. I had forgotten to delete the footage after my previous trip and so the camera filled up and stopped recording around lunch time. I suppose there is a way to delete some of the videos off the camera while I am on the water but I was not about to waste time trying to figure that out while the fish were biting. I did take a picture of that fish.
It humped up a little when I took the picture but was a hair over 18" when lying flat. Not a big fish but a solid one.
Overall I ended up with a handful of largemouth over 2lbs, but only the one smallmouth was over 2 (although I did catch a 1lb 15oz as well). That size fish on the spinning rod really give a good account of themselves with plenty of fish jumping, although the 17.5" smallmouth definitely spent the most time out of the water.
The frustrating part of the day is the number of fish that I missed or lost after a brief tussle. A lot of the hooked fish felt really solid. I am not sure what was going on. I would hook a fish, it would peel some drag and then pop off. That was one of the reasons I kept trying moving baits. Fishing so painfully slow and then losing multiple fish in a row was almost more than I could bear.
A really nice thing on the day is that I was about leave around 2pm when the wind died and it became glassy flat. It just felt so nice out on the water I decided to stay. The weird thing is that the largemouth bite really picked then. Usually I like a little ripple on the water but on Wednesday it was like the largemouth were waiting for the breeze to die down to fish in earnest. I think part of my success might have been because it became so much easier to fish that weightless senko. I did not have to use my paddle to hold my position while trying to fish that weightless bait. Plus the kayak is really stealthy and I don't spook the fish even in the shallow clear water.
Overall it was a good day. If I had done a half decent job of landing fish that bit I could have easily been over 30 bass but some days are just like that. Here is some video from the first part of the day.
Thanks for reading (and hopefully watching).