Another good morning! I got David out and on a bunch of fish so he could continue his streak of catching a steelhead every month of the year....10 months in a row now. I let him have the good spot, I went 3 for 4 there yesterday! About a half hour into the morning he calls and tells me that he has one fish down and is gonna keep his 2nd and go home....he's pretty beat from bowhunting elk this week and had to work tonight, so I kind of knew he was hinting it was gonna be a short morning! About 15 minutes later I see him fighting a fish that winds up being another hatchery so I slide into his spot and fish a close seam I know he didn't hit....2nd cast and I'm on! The fish winds up being a small native so I release it, I make a few more casts with no results so we drive downriver to a hole that I know had a half dozen fish in it the day before.
As I'm setting my gear down David see's a steelhead leap into the air in the closest seam. Two casts later and I've got that fish hooked, it's a small hatchery so it gets tagged for the smoker. I can see at least 2 other steelhead in the hole and I alternate between gear and flies but they don't budge! The sun is beginning to get on the water and I am nervous to be the first to get to another spot before anyone else fishes it....we pile back into the truck and drive to the new hole. We get there and see a half dozen or so steelhead scattered around the hole. I fish the close ones first without any interest then switch to some fish that are holding tight to a rock ledge. A couple of casts and I hook a bright one that gets under the ledge and breaks me off....The *******!!! I switch to a clear float with roe and a splitshot under it and hook another, this one I get away from the ledge but it throws the hook when it gets down in the tailout....been having a tough time landing fish that I hook under a float this summer! I switch back to drift fishing and hook a nice fish that swims upriver free of the ledge by his own freewill! She's a big wild gal and puts up a good stubborn fight! We get a quick pic and put her back....it's 9:30 and that is a good note to quit on!
David with a couple of hatchery culls.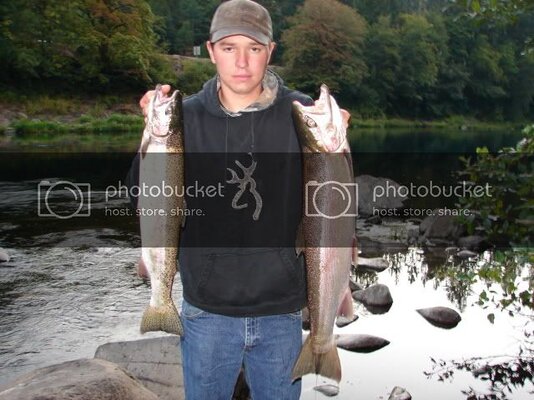 Small nate.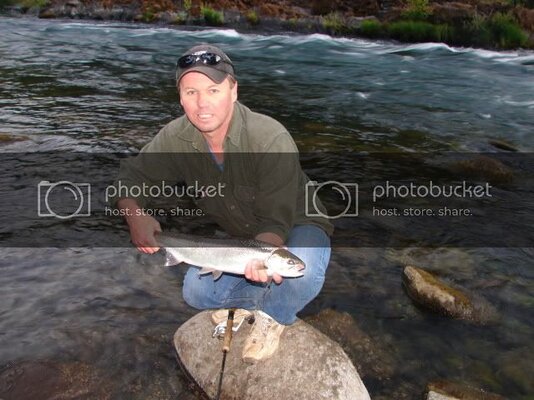 Small hatchery hen....a nice bright september fish!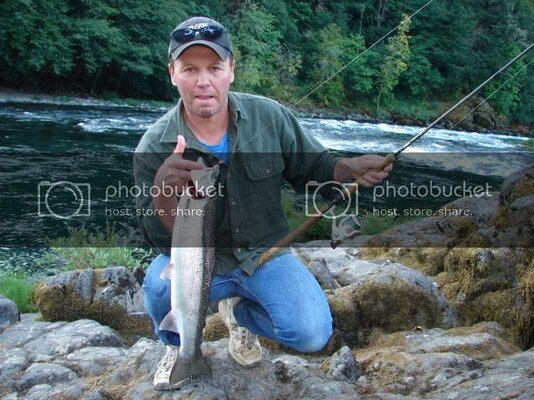 Big wild gal.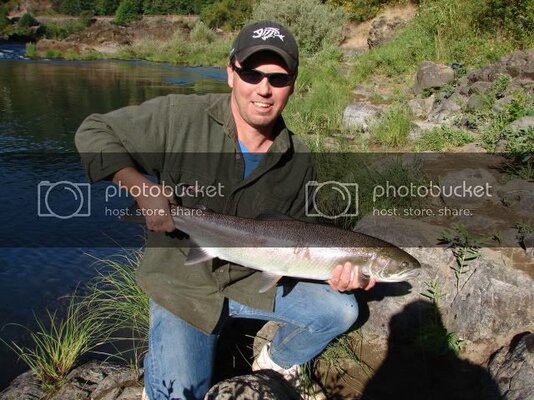 Last edited: