This past Saturday the bite on the Columbia river was on fire all day long. The bass were hunting in wolf packs and hungry. How good was it. I caught bass on back to back casts several times during the day and once even caught them back to back to back casts. I had a fish hooked and the lure pulled out and went flying through the air, when it hit the water another bass grabbed it and I landed that one. I had a double (admittedly both dinks) on a spy bait.
Fish were puking up shad fry all day long. They were just in a feeding frenzy. I would catch fish after fish so stuffed with shad fry that they were sticking out their gullets. Nothing better than fishing over insatiable fish. Not tons of big fish (only two were 18") but lots of fish in the 1.5 to 2.5lb range which are just a lot of fun to catch.
The day would have been perfect except that the reverse broke on my Hobie drive (which is annoying) and I lost a pig at the kayak again. Once again I got this huge bass (pushing 5 lbs) right to the kayak and when I was trying to pull it up to net it the hooks just pulled out.
Even with those setbacks it was still an awesome day on the river. I had checked the gauge before going out and the river was several feet lower than my last trip from 2 weeks earlier. I got to the river at first light and the two weeks of weed growth coupled with the river drop made a lot of the spots I like to fish completely choked with weeds. It was tough starting out because I could not really see very well and spent a lot of time fishing over top of weeds that were within inches of the surface. The day did not start out great.
I abandoned my usual starting spot and headed to a long point that I knew would be weed free (if I went out far enough). I started tossing a topwater and quickly got my first fish of the day. I thought I was going to slay them out of that point but that was my only bite. By now there was enough light to see so I decided to try to fish in the gaps in the weeds up shallow. I quickly hooked a good-sized (2-3lb) fish but lost it at the kayak.
After that I went back to the first spot (which seemed completely weed-choked in the low light) and now I could see where the weeds weren't. That spot produced a handful of topwater hits and a nice 18" bass (that was kind of skinny at only 2lb 11oz).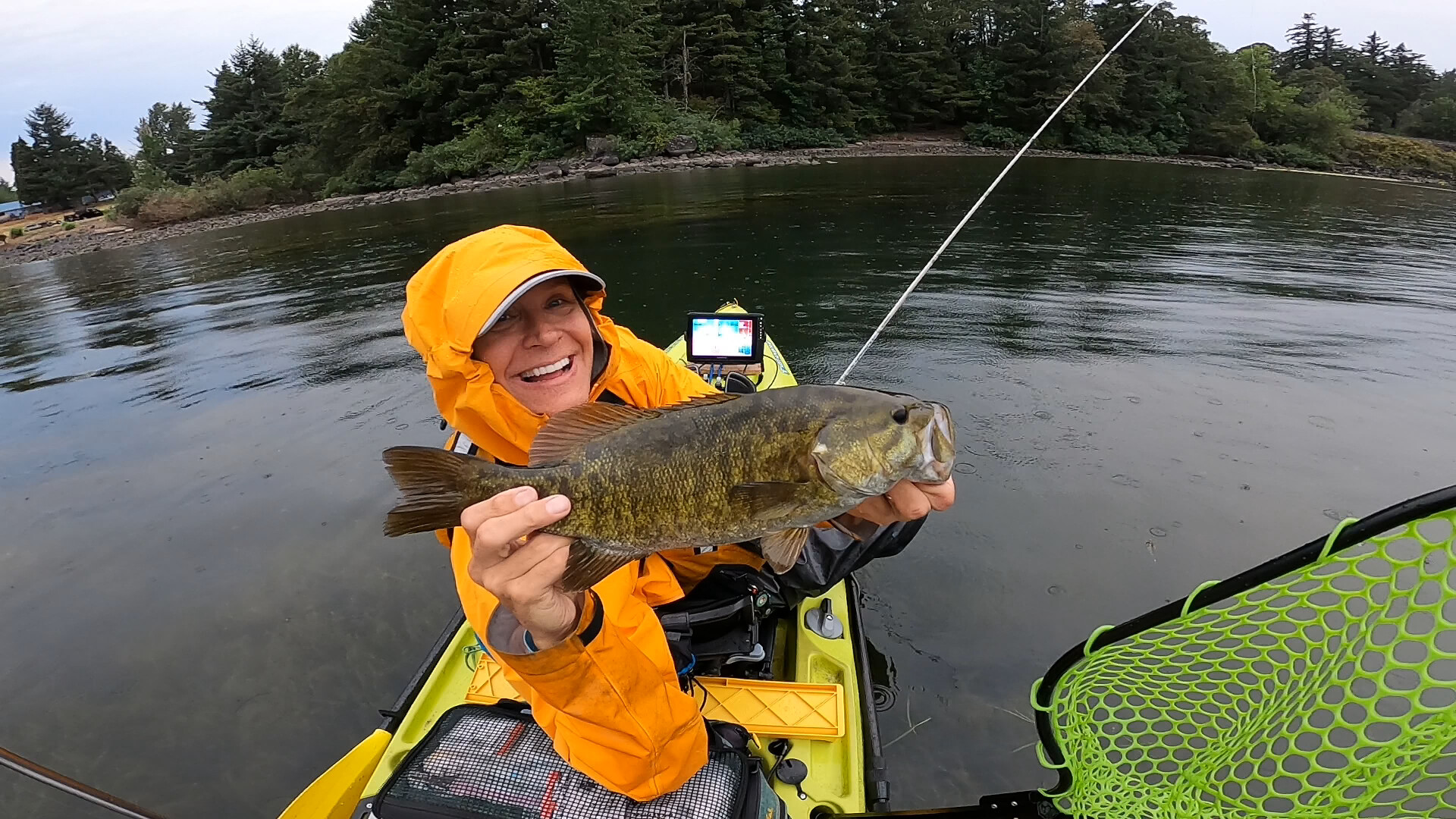 Even though that fish was skinny its strike was ferocious and it fought like a demon. I was starting to feel better about the day.
I then went down to a spot I have not been able to fish for a long time because someone is always on it. As I was getting there a boat from across the river beat me to it. I decided to fish just a short distance downstream from the spot I wanted to fish on another spot that is also usually pretty good.
I got to see a really interesting site when I got there. An osprey was dive-bombing a blue heron. I thought there was bad blood between rod and reel fisherman and the netters but they had nothing on that osprey and heron. The osprey would swoop down the the heron would croak. Eventually the osprey looked like it actually hit the heron. At that point the heron decided it had had enough and took off. That was a pretty cool thing to witness.
After watching that I started fishing and within a few casts I had an explosive topwater strike about 10' from the kayak. I nearly jumped out of my skin it was so viscous. After a great fight I landed a nice smallmouth of several pounds. I beat that spot for about 1/2 hour and picked up another 5 bass of that spot (another on topwater and 4 on the Ned rig). It was a mix of decent and small fish. The day was looking better and better.
After that I fished a few spots that I had mixed feelings about and they all turned out to be duds. The good thing is that I did not waste a lot of time on them. I would cover them with topwater, spy bait and a couple of casts with the Ned rig and then move on.
Eventually I made it to one of my favorite spots and that is when the magic really started happening. The bass were definitely hunting in wolf packs. When I caught one bass I would catch several. Sometimes on back to back or back to back to back casts and sometimes it might be two or three bass over half a dozen casts. I was mixing it up with the Berkley Choppo (which I often call a whopper plopper on accident) and a spy bait. It was good one-two punch. It seemed by switching things up I was able to catch more fish than if I just kept throwing one or the other.
The fish were not quite as big as two weeks ago but in addition to the two 18" bass there were a lot of 16" and 17" fish. There were certainly dinks mixed in as well but I caught enough good sized fish to keep me happy. Here is the big fish from the day (3lb 1oz).
Not a monster but a nice fish.
I spent a ton of time on that spot for two reasons. First, they were biting. Second, every other spot I wanted to fish nearby had a bass boat on it. It turned out OK because I would work my way up the hump and fish upstream of it a bit and then slowly pedal down to the bottom and repeat. They key was to give the fish enough time to regroup and start chasing bait again. Seeing a school of bass chasing bait around really gets my heart pumping. I have to admit there were a couple of times when I threw into a group of feeding fish and did not get bit. I actually felt shocked when that happened because for the most part the fish were voracious.
The example I cited earlier really defines the day. I hook a good fish on jerk bait (which I eventually worked into the active bait rotation to give me a rotation of 3 baits) and the hook pulled out when the fish was about 1/2 way in and near the surface. The lure went shooting through the air about 10' and as it hit the water another bass smashed it. It was like the bass just could not feed hard enough, and that was OK by me.
Of course there were some lulls but just when I would think the hot action was over they would start back up. The only time they really stopped chasing bait at the surface completely was for about 45 minutes or so when the sun came out a little and it was really calm. The bright sky and slick surface was a no go for the active fish. I quickly recognized that though and picked the Ned rig back up and fished deeper water out in front of the hump and was able to consistently catch bass doing that.
I may have been able to do that all day long but why would I fish painfully slow if I didn't need to. Fortunately, after a short stint of slowly fishing that Ned rig the wind picked up and it even clouded back up a bit. Those two things were like ringing the dinner bell again and the active bite started right back up!
I did eventually get to fish one other spot (that had been fished pretty hard earlier by some boat anglers). That is where I lost my big fish on the day. I had caught a nice fish or two of the spot when I had a light tap on the spy bait that I missed but then it hit again and it felt like I was setting the hook into a cinder brick. You jerk back really hard and the rod tip barely moves, all you accomplish is to put a deep bend in the rod. I fought that fish hard and I was not going to make the same mistake I had made on my last trip there where I eased up a little when I went to net the fish and it allowed that beast to shake the hook. I kept hard, steady pressure on this fish and did a lot of just hanging on as it seemed to effortlessly peel out my drag.
I knew I was doing everything right and eventually I worked the fish next to the kayak. At that point the fish just dug deep. I would gain a little line, get the fish within a couple of feet of the surface and then it would dive down and take all that hard gained line right back. This happened several times until the last time I was trying to work the fish to the surface and the hooks just pulled out. I could not believe. I just screamed "No, No, No" over and over. It was pretty heartbreaking.
I do think the lack of reverse hurt my in landing that fish (if you look up fisherman in the dictionary the second definition is anyone good at making excuses
Really though, the wind was pushing me upstream and the fish was dogging downstream. I could not get below the fish which really helps lift them in the current. I am still annoyed but I am not sure I really did anything wrong.
Losing that big one really took the wind out of my sails. I did keep fishing for a while longer and picked up a few more fish but I never really could fully refocus after losing that fish. Overall though it was still an amazing day. I ended up with 38 bass and two big pikieminnows. My big on the day was a 3lb 14oz pikieminnow. I know folks hate them but the big ones are really fun to catch.
Here is way too long video from the day: