As many of you currently know, I have been battling a horrible addiction to Breaking Bad.:lol:
Things went down hill for me about 2 and a half weeks ago, when I took my truck into the auto shop for repair. Sadly I have taken this truck in many times, but never have I had a longer turn around then 2 or 3 days.
Well,19 days later, I got it back! My addiction spiraled so far out of control, that I watched an entire season (4) of breaking bad in a day and half! Stuck cooped up in this house. Fished a few times during that span, but was at the mercy of my friends who decided to go fishing, en-route passing my home.
Now being clean of breaking bad for all of yesterday, I started suffering withdraws.
Forced to start the steps to recovery. I bumbled out of bed this morning at 5, but stirred around the house since daylight isn't until right around 7!
6:40 rolls around, and I start the long commute, and get stuck in a traffic jam consisting of a yellow school bus, and a SUV that had a PETA sticker in there back window. GREAT.
Soon enough, im around them and scooting along. Finally reach my fishing hole at 7:15! (only seen 2 other rigs on the side of the road on the way)
And the place is a ghost town.
Needless to say, I went to work, with good results. Go 2 for 2 on my first section of water, landing a nice 28'' keeper chinook, and catching and releasing a silver fish.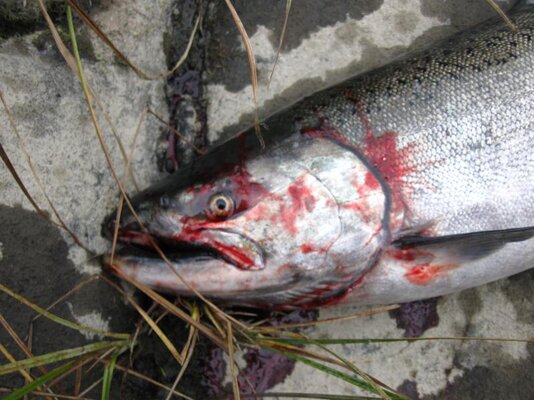 Noon is approaching, and so I decide that its time to head back, but I have plans on stopping at one of my top producing slots on the way home near the deadline, just hoping to tie into one more fish, knowing that most will be dark that high.
As soon as I pull in, another car pulls in from the other direction, a father and son, and we all pile down the hill to the waters edge.
We talk for a few minutes, then I go to work, and with my first attempt, I hook into a small chinook. Father and son come down with there net, and first thing that comes to mind was
NWKiller
's recent post of them handing the rod to a little kid.
And thats exactly what I did.
The boy had never even seen a chinook in real life, let alone faught one.
I hand the rod over, and most of the fight was over before I remembered my camera.
Here he is with his trophy. Its a true darky, but who could complain for a first salmon. Some catch and release. Happy customer.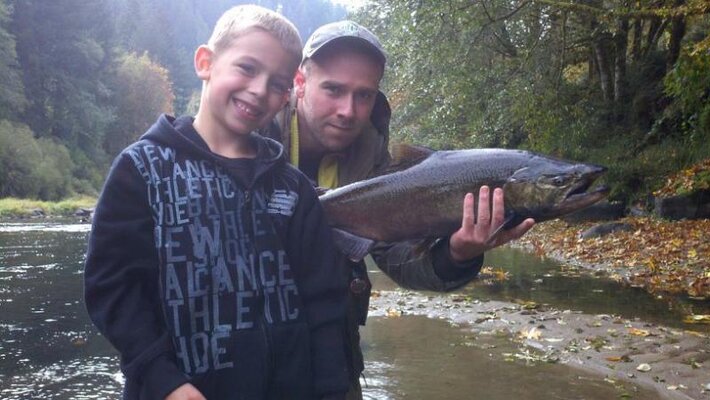 Last edited: