This is my first run at ever attempting to make a lure for Bass. I was unsure if I had the ratios correct (i.e. length of the spinner wire in relation to distance form the Jig)
Shortly after twisting the first one last night , I raced out to the backyard pond to test the action.
I was amazed at how well it worked. The larger Cascade (#3) blade humms along while the #2 Colorados turned very smoothly along the wire w/o effecting one another.
Actually looks like small fish running with the jig unit.
While both blades qualify as medium water blades I was quite impressed at how slowly a retrieve it took to maintain the spinning action.
I jigged the heck out of it breaking the surface tension, letting it dive and then retrieving it back to the surface again... The action was spot on!
All that awaits are field trials.....
The first two created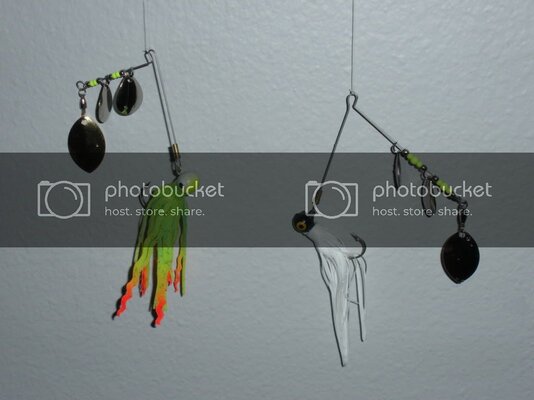 A group shot including "The Egg Pooping Leach" (EPL) in a spinner bait configuration using my personal fav half painted french blade.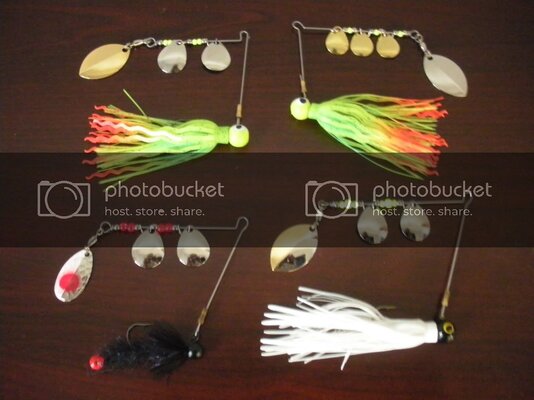 Since I am sooooo new to Bass fishing I was unsure of the "best" jig configuration so I opted to make it so I could change out the jig part.
I used the lower sleeve portion from Blue Foxes I took apart some time ago. It works quite well as a wire lock keeping the jig snugly fixed into position.
I have a feeling this might be a killer Koke set up too.....
Last edited: