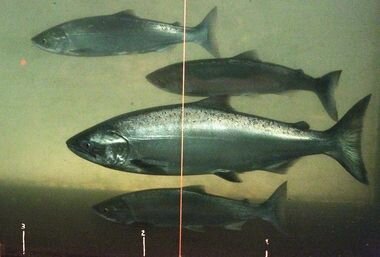 In June 2012, returning sockeye salmon were joined by a chinook at a Bonneville Dam viewing window.
Rick Bowmer/AP wire photo​
Sockeye salmon, forecast to be about a fifth of 2015's monster run of 512,500, are crossing Bonneville Dam at close to double last year's rate for this early in the season.
By June 5, points out Joe Hymer of the Washington Department of Fish and Wildlife, 3,409 sockeye were counted at the dam; compared with 1,949 for the same date in 2015.
The 2015 numbers were the third highest sockeye counts since record-keeping began in 1938. In 2014, a record 648,361 sockeye were counted, but by June 5 of that year, only 489 had shown up at Bonneville.
Hymer said the sockeye count at the dam typically peaks July 1.
Last edited by a moderator: