Took my friend Ryan out to do some Steelhead fishing on the weekend of the 12th. We hit Cedar Creek hatchery. The first time I had been there and only the fourth or fifth trip ever for me. Ryan is a pretty seasoned Steelie fisherman. He has been at it for well over ten years. His home river is the Rouge and surrounding Southern Oregon rivers. We hiked the 3/4 mile down to the water from the hatchery Pkg lot and picked the first open spot we came across. Ryan had to put is rod together but I was already set to fish. I had a Blue Fox number 3 orange tied on with no swivel. I was using my new Berkely Air 9 ft rod with a decent Okuma spinning reel. I had 10lb mono on. I cast once and the drift felt pretty good. Then once more and then a third time and BAM!!!!! I had one on. We had been there five minutes and I had one on already. I couldn't believe it and neither could Ryan as he thought I just snagged. After ten to fifteen minutes of reelin in and then loosin line I tired her out. A bright cromer hen 27 inches and 7.8 lbs. I was stoked and so was Ryan.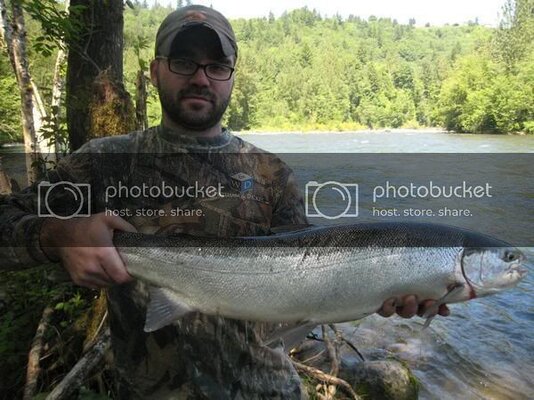 <a
The rest of the day was slow with a few bites and misses. Ryan wanted to go back the next day so we decided to roll up early on Sat mourning. We arrived to the river at around 530 or 6. We fished hard and eventually Ryan had on his first Sandy River Steelie. Another Chromer hen weighing in at 7.2 lbs.
Later Ryan had a hog of a Steelie on. It was a least a ten pounder! That dang thing spit the hook right as we got our first look at him. The one that got away! Overall it was a great weekend and a ton of fun fishing with one of my good friends.
The water was high and very cold, but the fishing was good.
Last edited: