The last few weekends I've been on a quest…….. To nail some early fall nookies, coho, and the occasional steelhead. I usually wait till the runs are further up the Columbia. But, having heard the stories and seen the pictures……. I had to get a piece of this fishery hot out of the salt. Well, technically were fishing the marine band just inland from buoy 10. It is still salt water.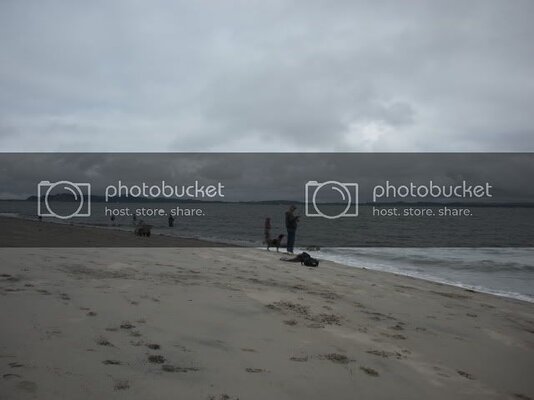 2 weeks ago, my alarm goes off an hour late. I fly to seaside grab Andy & Andy and head for the beach. Two other friends expecting to meet us early… get to fishing….
6:15 am Low slack and a 35 lb Chinook chases a #6 blue fox over the shelf and into the shallow surf……. Kabooom… Or so I am told, as I was friggin tardy to the show.
We get to fishing as the tide began to turn. Soon, every cast becomes snared in sea weed / grass. It was a flood tide, no definable seams and junk drifted everywhere.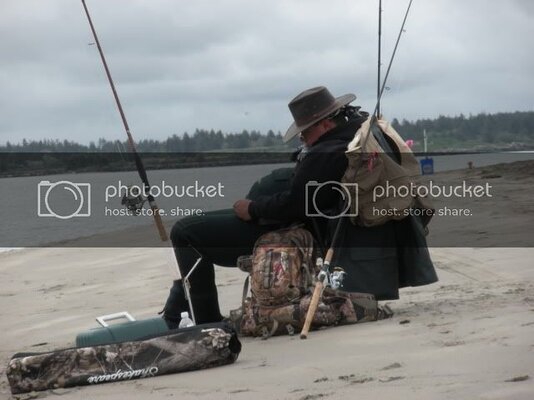 A lot of folks hung out to fish the incoming tide as well. To no avail, nothing happened for hours on end.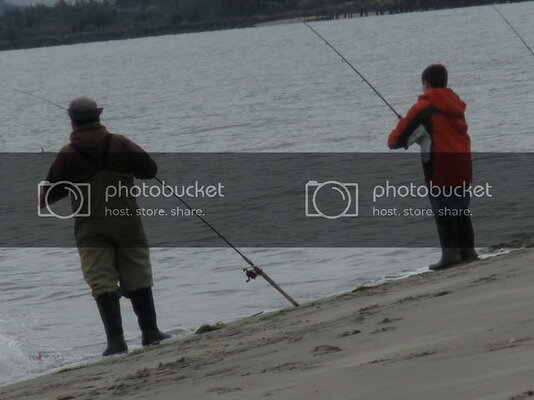 Little Andy was running out of patience. I figured there was only one thing that was gonna save the day.
A huge hole in the sand.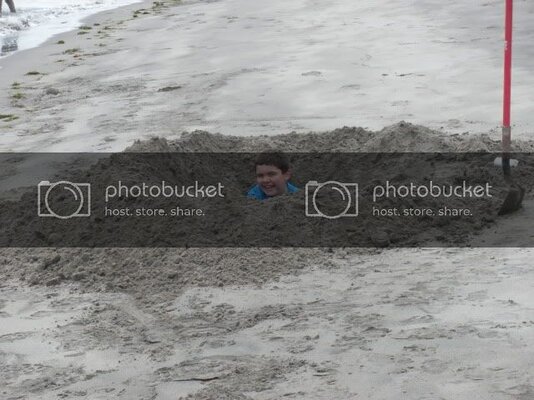 For 6 hours we dug at the high tide line. We finally breached the wall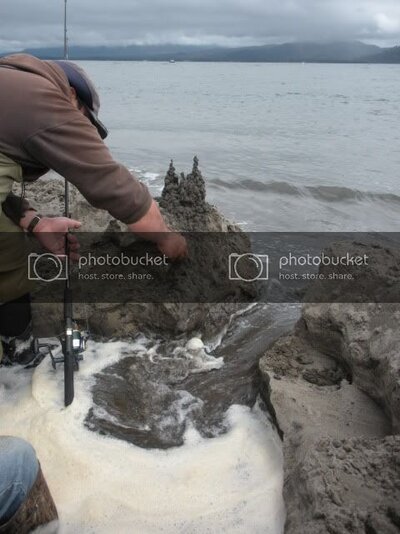 and created "silly sand"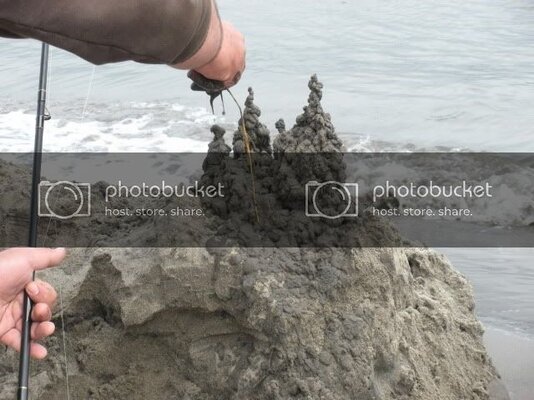 Perhaps two hours later up strolls our friend Dave. He's disabled and moves kinda awkward, easy to id from a distance. Andy mutters under his breath, " watch, he's gonna hook one. Dave checks our gear and ponders his color selection, goes with red & nickel.
Slack high tide, 10th cast, Dave is under attack. Just like earlier it followed his spinner up over the ledge on the tail out of his drift, and wham!
Except Dave can't move that fast. Had he stepped back he could have had the surf beach the fish straight away. But that's not what happened at all….. It turned tail and booted. Were guessing it was perhaps a 20 lb silver or big steelhead. It was chrome bright when it broke water, did a head shake and broke his leader.
Andy was right, he hooked one. A violent attack in 3 feet of water.
We did find two eels in the crab traps.
Creepy. Thought OH NO….. Snakeheads……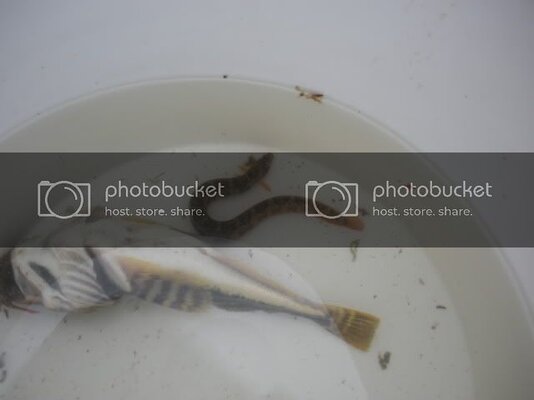 So…….
Last weekend I return……… Thinking……… It has to be on soon….
Low slack 10:30am……
I……. Am ready, been twisting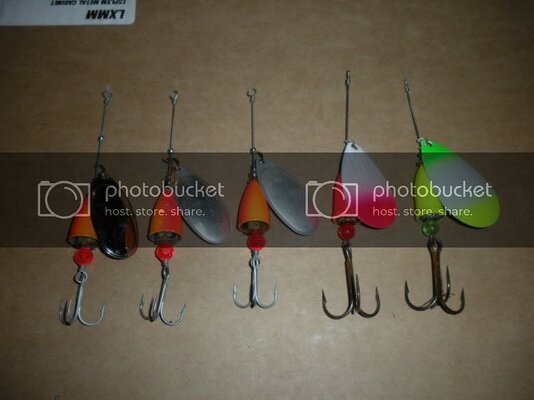 All #6 some with liberated blue fox parts.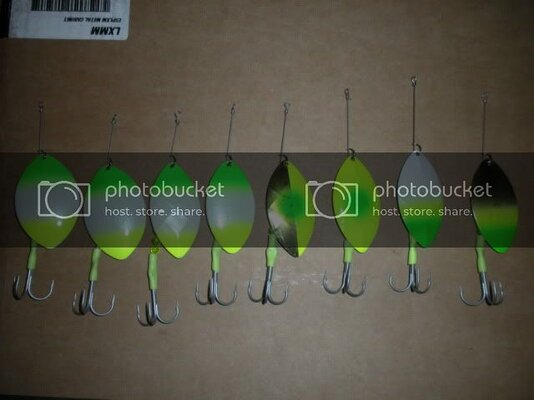 Greens in mostly 7's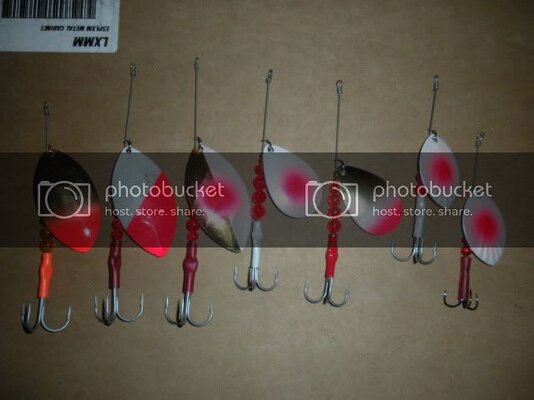 Reds 5's – 7's
Beach is packed….. Not shoulder to shoulder but, folks have gotten "their" spots….
We picked a fair location, considering….. Casting away, finding the ledge, no weeds, just waiting for the slammmmmmmmm. Nada…
Andy moves down the beach and slip in between two squatters. Of course they say something, " your not gonna fish here are you". Yes… I am. 2nd cast bangs a modest steelhead and I mean right at the guys feet. ( He dose that all the time, especially at Dodge park)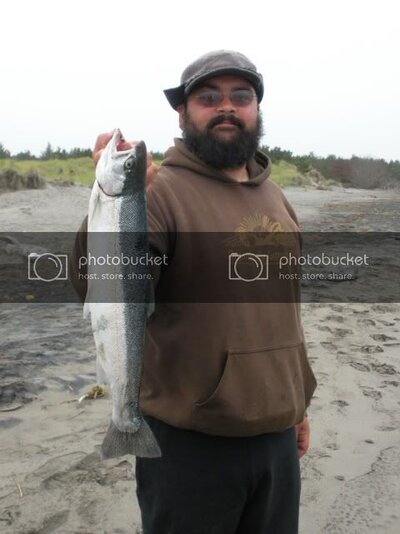 Two more rods down the beach go off and then nothing…….
Hummmm
So how do you top last weeks hole….. ?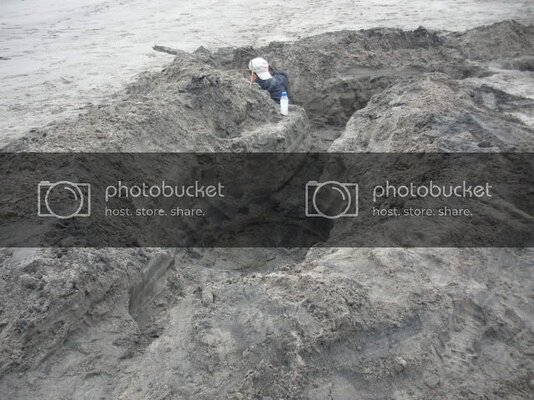 With a bigger hole.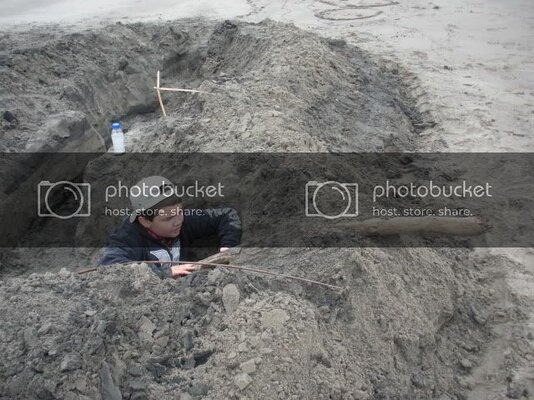 One worthy of bunker status.
I'm getting tired of digging holes… Time for these fish to start moving….
Last edited: