The day started off slow and weird for me. There was some kind of mini bass tourney going on (just 6 or 7 boats) but between people fishing the shoreline and the non-boaters I got the last non-trailer parking spot in the parking lot and I was there before first light.
By the time I got unloaded those guys had blasted off and were all long gone. The day looked perfect. Cloudy, cool, threat of rain. I mean I was even feeling the urge start pigging out on crawfish
I started out throwing a topwater because that is ALWAYS good on a day like that. Always except on Monday. I even switched up topwaters a few times but I did not get a sniff. I was quite surprised and actually a little mad. I switched to a spy bait. Nothing. Swimbait. Nothing.
Finally I picked up a jerkbait within a few casts I had a good strike and the fish was pulling nicely. Whew! It turned out to be this pretty little largemouth, which was a cool surprise.
A short while later I caught a second (dink) largemouth and the a small smallmouth. After that I stopped getting bit on the jerkbait so I started moving along and cycling through my rods as I did. I picked up a little pikieminnow on a swimbait but that was it.
I had been on the water for close to 2 hours and only had 4 small fish to show for my efforts. I could not believe that the fish were not in a chasing mood. Eventually I picked up a drop shot and caught a few fish. Then I tossed out a Ned rig on my new rod and caught my first fish on the new rod (just a little one). I was only catching dinks but after catching nothing it was welcome.
As the day progressed I kept trying to force the moving bait bite. The fish kept telling me know but I just knew any minute they would start slamming my spy bait, jerk bait, crank bait or topwater. I was stupidly stubborn on that front. After a while I would realize I had not had a bite in a while and pick up either my drop shot rod or my Ned rig rod and catch some fish. Occasionally I would catch one that was a little better in the 14" range but for the most part it was a dink fest.
Around 11am I stopped to eat lunch. I turned off my camera while I ate and thought. I realized I needed to just give up on moving baits and focus on slowing it down with soft plastics. I figured I could at least catch a bunch on my new rod. Well, it seems like that is what the fish gods were waiting for me to figure out. From that point on my fish quality went way up! I still caught plenty of dinks but now there were a lot of nicer sized fish in the mix.
I started fishing a hump after lunch that produced 3 bass in between 16 and 16.5" and a handful of dinks off the downstream side. I moved to the upstream side and hooked another nice one. This was a 16.75" 2lb 2oz bass. As I was holding up to the camera (like I did all the others) I realized the camera was still off. Doh! I turned it on and at least got a picture of this guy.
From that point on I pretty much I kept that new rod and Ned rig glued to my hand and the bite stayed pretty hot for the rest of the day. A short while later I got another 16.5" bass.
A short while after that I caught my longest fish of the day a nice 18.25" 2lb 8oz smallie: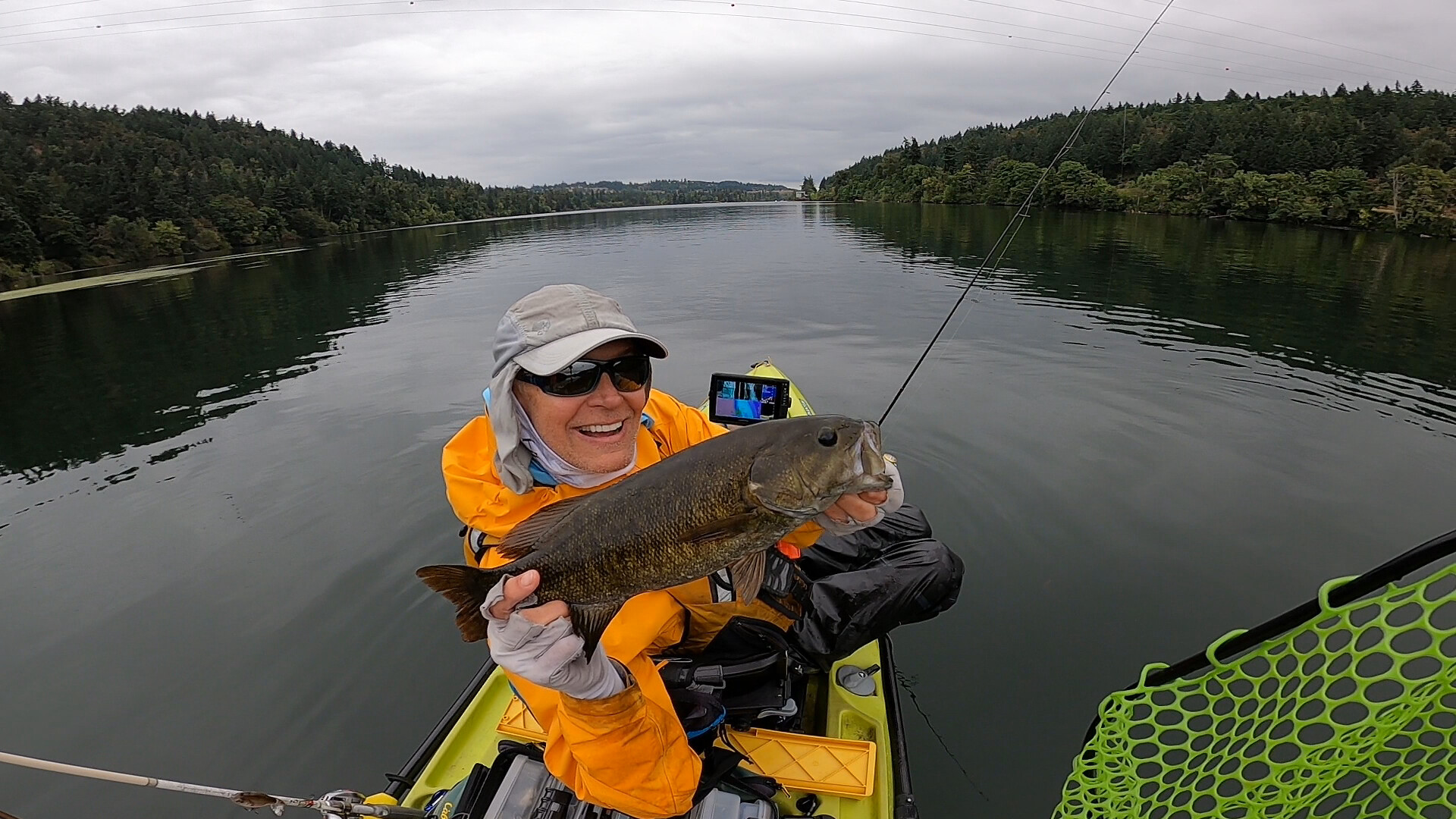 I was loving the way that rod fought those fish. It bends so deep down the blank which is just perfect for fighting a fish in the kayak. The smooth flex in the rod absorbed every surge that fish made. I could still hear those angels singing!
Not every fish I caught was a nice one but I was catching fewer dinks and the small one seemed to be more often in the 13-14" range. Something about that spot just held so many nice sized fish. I am not sure why since it really looks similar to so many other spots. I am just glad I fished it!
Eventually that spot petered out and I worked my way upstream trying spots here and there. I would occasionally catch one in the 15" range but there were always a few dinks for every decent fish. Still I was having a blast and just loving the new rod more and more with each fish.
I moved from spot to spot. Catching some fish and then leaving when the bite slowed even a little. I eventually made my way to one of my favorite humps. It produced like so many of the other spots. A few nice fish and some dinks. I worked my way to the upstream end of the hump and tossed my Ned rig out into a little deeper water. As I took up the slack as it sank and tumbled downstream I saw the line jump and felt a thunk. I set the hook and I was into another really nice fish.
That fish tried every dirty trick in the book. It dove under my kayak and came up jumping on the other side:
Again and again that fish would dive under the kayak and rip out drag but that new rod was the perfect weapon to counter every move that fish made. Eventually I landed what would end up being my heaviest fish of the day. A really nice 17.5" 3lb 2oz bass.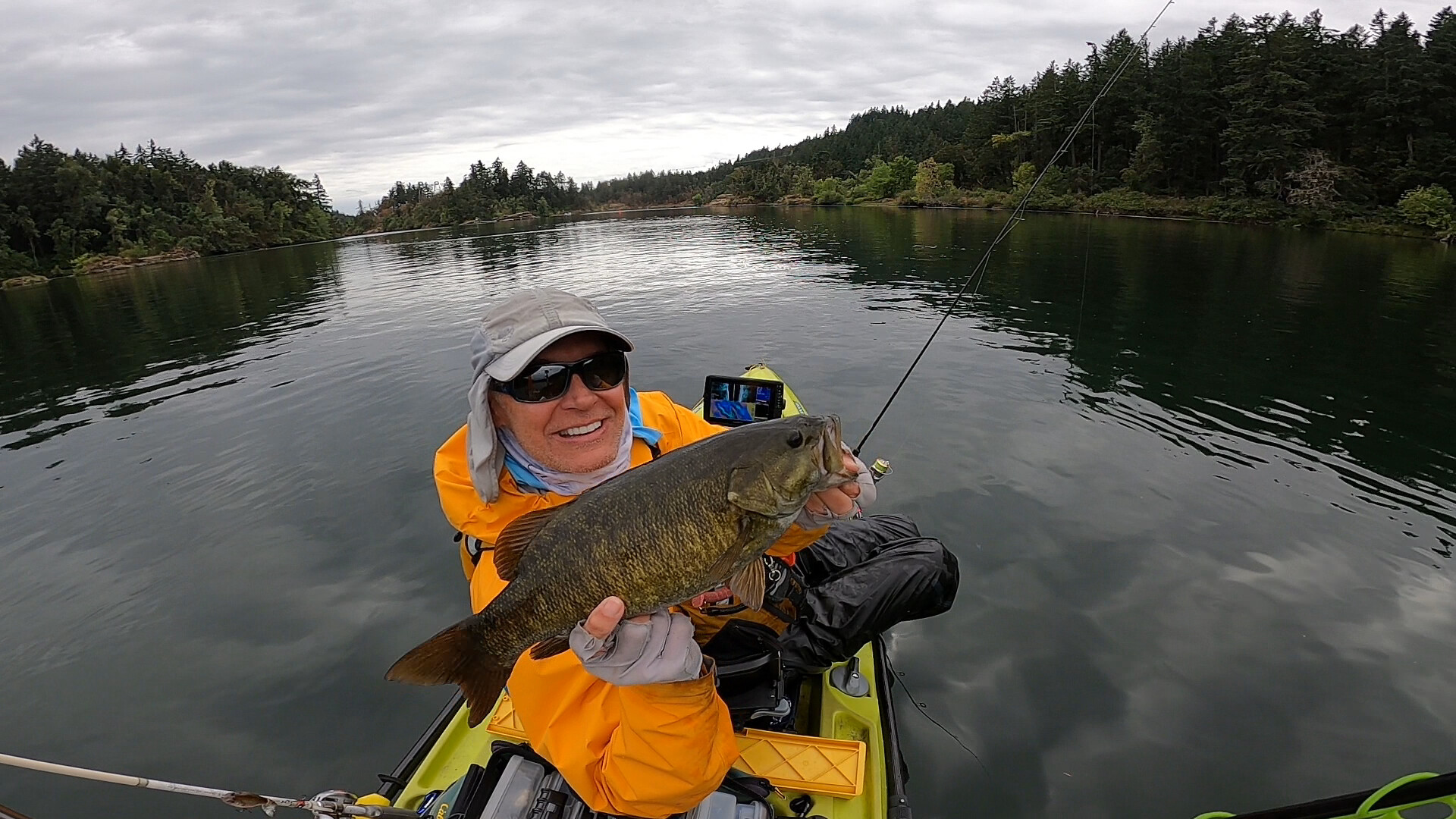 After the slow start to the day and the early dinkfest this was turning into a pretty amazing day! I fished for a bit longer but after that fish I decided it was getting late and so I decided to head back and fish a few spots along the way. I was up to 49 bass on the day but I really wanted to get to 50.
I went back to the first magic hump and picked up a nice fish almost right away (which got me to 50, yay!). After a few casts with no bites I went to a different spot and picked up 2 more small bass.
I was just going to head back when I thought. Let's try one more spot. All I can say is that when your luck is running good it is running good. On my second cast I felt a thump on the line and set my hook. I could not believe it. Another really nice fish!!
This fish also put up an incredible battle and got some serious air: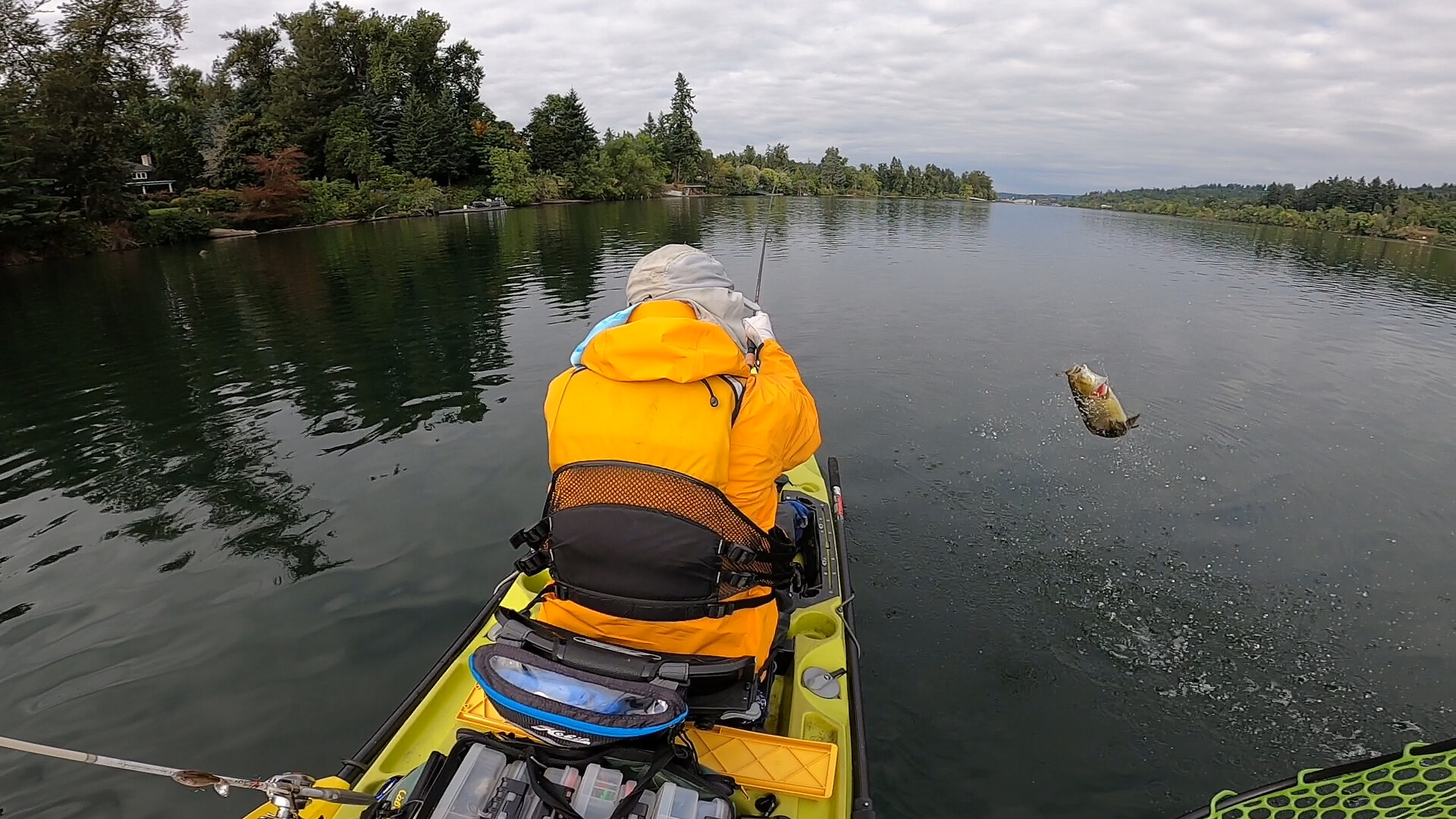 Here is short of that jump with a slomo replay:
Eventually that fish too succumbed to the beautiful constant pressure I could apply with that new rod. Turned out to be an incredibly photogenic 17.5" 2lb 8oz.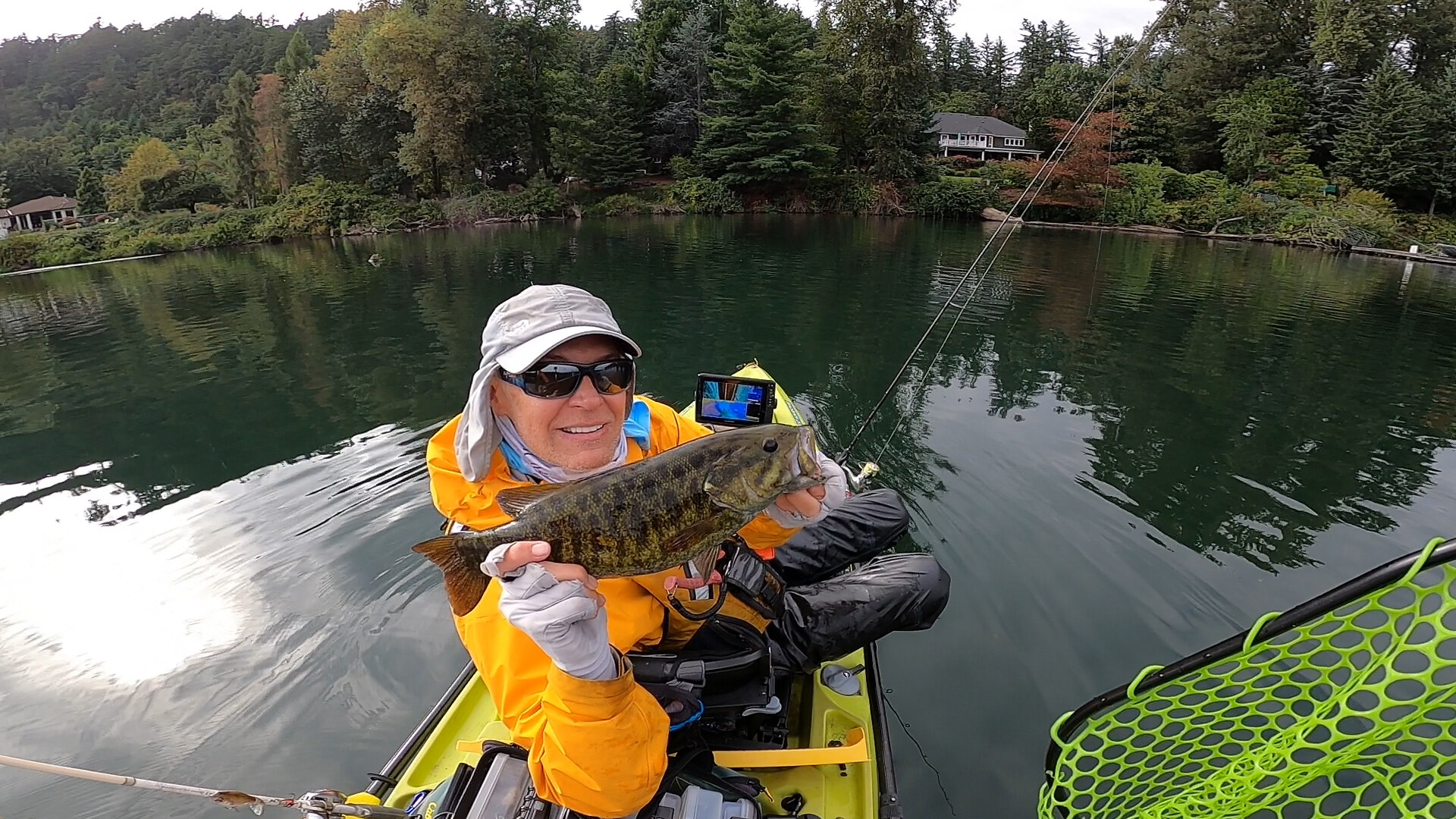 The markings on that fish were just amazing. I decided that should be my last cast of the day. What a way to end an incredible day. That new rod really got a great workout. All 5 of my best fish were on that rod. My best 5 totaled 86.25" which is a pretty awesome day for the Willamette (at least for me). I ended up with a total of 53 bass (including the 2 largemouth) and 1 pikieminnow. I probably caught at least 3/4 of those fish on my new rod.
Here is some video of the day. It is a lot of dinks but there are some nice ones mixed in.