Can't give it up!!! My brain is telling me to salmon fish but I am just having too much fun steelhead fishing this summer! I passed half a dozen or so rigs pulling boats heading west this morning as I was going through the Burg....threw a little doubt my way as to what I should be fishing for! :think: I got to my spot and rigged some leaders and a fly on the float rod and started fishing a few minutes after legal. Never touched a fish and only saw 1 roll in the first 45 minutes....doubt was creeping in!
Finally, I hooked a bright fish that came to the surface thrashing around and came unhooked after about 10 seconds....DAMN!!! I rebaited and moved back out to my rock, by now I noticed that it was getting light enough to see the rocks on the bottom of the river. About 20 ft. out from me I could see a couple of salmon laying over some gravel. I watched 1 of them turn sideways and undulate forward digging a redd....Hmmm....interesting! I haven't seen a salmon in this hole in at least a month. They are laying right in front of a rock that the steelhead like to lay behind so I flip my bait out there and watch it drift past the salmon, it gets about 5-10 ft. downstream of the salmon when I feel, thunk, thunk, so I set quick and I'm on! Instantly I know it's not a steelhead, it turns out to be a small dark hatchery buck springer not much bigger than a jack, probably about 25"-26" or so, fought like hell on the Rogue 4-8 lb. steelhead rod though! Cool! At least I caught a fish this morning!
I rebait and head to the bottom of the tailout and run my gear along the ledge in the choppy water. It's a fairly long cast to cover it and on the 3rd cast I get hammered and a nice steelhead clears the water instantly! He is a real bugger to handle on the long cast but I finally get him under control and land him downriver from the hole, he is a nice 6-7 lb. wild fish so he goes back. My watch says 7:15 when I rebait and head to the top of the tailout. I get to my rock and the 3 salmon I saw earlier are laying over the same spot of gravel, they look like a big hen of 34"-36" or so and a couple of smaller darker bucks. They are really active and I am amazed at the amount of energy they spend moving around chasing each other, love is in the air....or water! I make a couple of casts into what the boys and I call the trough and hook my 4th fish of the morning, a real jumper! It gives me a good fight and turns out to be a 27" hatchery hen so I club it!
I rebait and go back to my rock and within a couple of casts I hook #5 of the morning, another nice steelhead! Turns out to be my best fish of the day, a wild fish of about 7-8 lbs., I slip the camera around my neck as I fight it downstream and get a quick pic. as I am reviving it! My watch says 7:47. The next half hour is uneventful, I eventually hook another salmon about 8:30 which turns out to be another hatchery fish, a jack about 18"-20", it fights decent considering it was doing it's best to try and mate the bigger salmon judging by the milt trail as I unhooked it!
At 9:00 I head to a different hole and see 2 steelhead jump in the first 10 minutes I am there, one is directly below me hanging on the lip on the tailout just above a rapid. This fish won't look at anything I run by it so I concentrated on the area where the other fish rolled. It takes me a while but eventually I feel him tugging on my roe on the far side of the river! He's a smaller hatchery buck and gives me a decent but short fight. It's 10:15 and I've got business back in the Burg so I keep him and quit for the morning. Nice little morning overall, 4 for 5 on steelhead and a couple of small springers....fun!
1st keeper of the morning.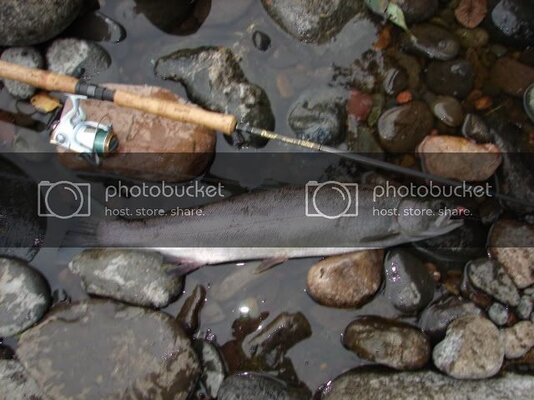 Nice nate.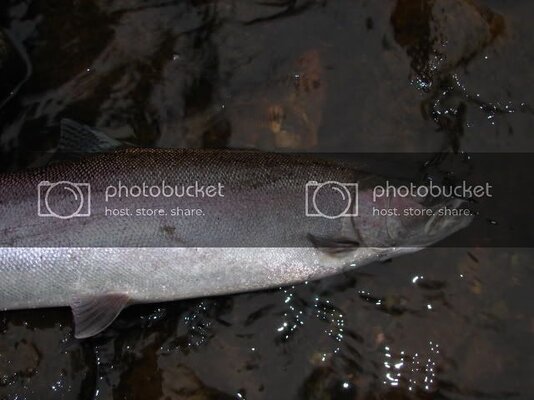 2nd keeper.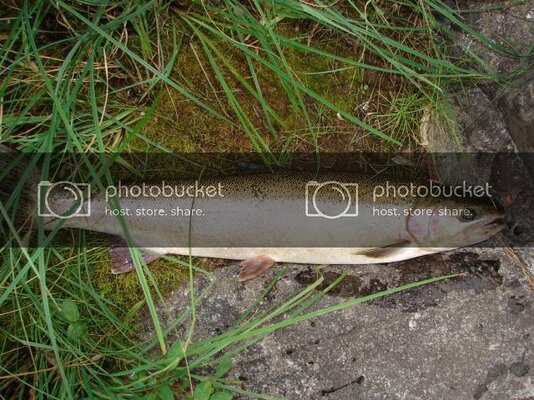 Both fish at the house.