Went out with Tanner aka Steelmonkiller and his friend Jerry near the cost on Saturday, 11/1. Glorious day, felt colder than a witch's proverbials when we hit the water a little after 6 am, but it turned out great. Soft sunrise changing into a bright sunny day, just cold enough, fog on the water and rolling over the hills and all that poetic stuff. It was hard keeping my focus on the rod/bobber while ignoring the scenery even though I was after blood. Not a prize winning photo of Tanner and the river below, but it kind of gives you an idea.
I got my kick out of landing my first two kings. Real big ones too for me, I can still feel them, I am a bit sore even now.
Tanner hooked the first one when he was showing me how to do set-up for back drifting. Tanner told me it was a king, but when he gave me the rod almost immediately I was a bit disappointed. Could not even feel anything, I thought it was a small trout or something and I actually said so to my regret later. Then it exploded, at least that is what it seemed to me and the line started to sing. I was so taken by surprise that I actually kind of hurt my shoulder. Clueless as usual on what to do, Tanner goes on about not reeling in agains the fish, lift the rod tip, bring it left/right/down and I follow. Fish fights on, for a while my shoulder really hurts and I think about giving it to Jerry. Pride wins, I hold on and after what seems like a very long time I get it close enough for Jerry to net it. My first king, and it felt awesome. Motivation comes from the strangest things, I am getting tempted to build some muscle in my 38th year to catch fish. Never been an outdoors kind of guy, we don't get too much chance of that in India; but I read a lot and I've always wondered what catching a big fish felt like. Now I am beginning to understand, it seems to be a mixure of a big shot of adrenaline and a nice kick up the backside. Tanner estimated this fish at high teens and kindly agreed to say it was close to 20 lbs. It turned out to be about 32 inch when I measured it at home, didn't weigh it.
Jerry hooks the second one, under a bobber I think, and graciously gives it to me. Coho, but it was awesome getting the fish to the boat. The kings gave me a lot more trouble, but this chap was like something out of the world for a few minutes. Rolling all over the place right at the top, it was great to watch. Still, managed to get it close enough for Jerry to cut the line, it was a wild one.
I, all by myself for a surprise, hook the next one on a kwikfish. Hate those kwikfish things, always gives me the impression that there is a fish at the end of the line and I can't relax at all when I have those things set-up. Then the rod actually goes down. This time it was a real fish, but it got itself freed after a short while. It sure felt like a big one, you all know about the one that goes away much better than I do.
Next one was a king again, that was a lot of fun. I had no clue what it was initially, but it went crazy for a few minutes. The reel screams, and Tanner throws in a few comments about it being a very smaaaalll one. I won't be taken by that again, but for a moment I wondered if I had gone nuts. I do my best to reel it in, but it just does not move sometime. Here's the fish testing me to the end of my limits, and there's Tanner calling it a small one. Nicest bit of leg pulling I suffered from in a long while, I'd probably have given upthe rod away without it. Longest fight of my short fishing career, the fish hurts me a lot, keeps dragging line out quite a few time when I thought I had it close to the boat. Thankfully a happy ending after a good while, no pun intended, and Jerry netted it for me.
I declined Tanner's offer to fillet the fish for me. We eat almost every part of the fish and I do not want to waste any of these ones. Bad mistake. I get home, and dang, there is almost no place where I can cut them up, they are almost too big for my countertop. I live in an apartment with some very sensitive neighbours below who actually started banging on the floor as I was hacking away at the fish. Took me almost 3 hours to get the two fish ready for cooking/freezing. I had never handled any fish larger than a medium sized coho earlier, so it was a bit challenging to be honest.
BTW, I am planning to go out with Tanner in the last weekend of November. I'd love to share the boat with another OFF member, I'll bring the beer.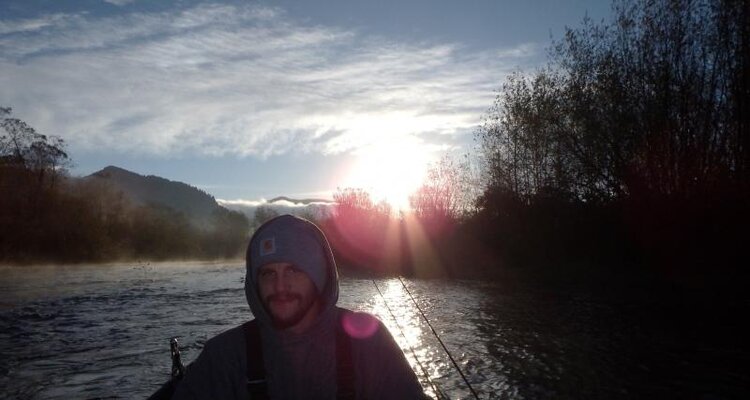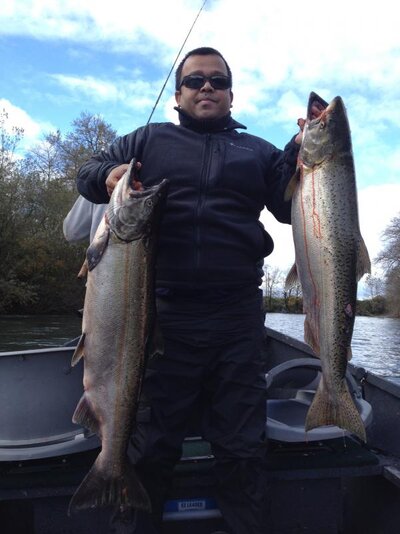 Cheers
M