I hit Hagg with my regular fishing buddy on Saturday, October 29th. The plan was to mostly target bass but maybe troll for trout for a while as well. We got to the lake a little before sunrise and started fishing. The first thing we tried was to see if there might be some bass up shallow chasing bait. We gave that heck for an hour or so but that turned out to be a bust so we resigned ourselves to some deep water, soft plastic fishing along the creek channels.
There is this one great spot I know of on Hagg but a bass boat was fishing it so we went in search of another spot (later they invited us to fish near them which was really nice!!). We started looking for brush and spider blocks along the creek channel coming out of Tanner creek. We tried a handful of spots and I caught a couple of dinks. Eventually the nice folks in the bass boat invited us over (and they actually took off about the time we go there).
That was definitely the spot that was holding a lot of fish. We had watched the other folks catch some nice fish off that spot but I all I got were dinks about 10" long (maybe one was a foot long). My buddy did better than I did for size and got a couple in the 14" range. Not monsters but when you are catching 10" fish those look pretty nice
A little after noon, I suggested we troll for trout. He said he was going to leave and just troll back to the ramp. I decided I was feeling good enough to keep fishing so I started trolling towards the dam end of the lake. I started out with one rod with my trusty roostertail+1/2 nightcrawler and the other rod had a micro crankbait. In the first hour of trolling I had caught one fish on the rooostertail and had a few drive-bys on it as well. l had not had a sniff on the crankbait. I switched both rods to roostertails and kept trolling doing my normal 1-1.2mph pace. Eventually I picked up another fish doing that but it was fairly slow and I felt like I really had to coax the bites.
I was close to the Southern bank and not quite abreast of boat ramp A. I decided that the trout fishing was not going to be lights out so around 2:30pm I decided to turn around and head back to ramp C. I decided I would go kind of fast but leave the lures in the water. That turned out to be one of those "better to be lucky than good" decisions. I started back and within short order a had a good hard bite and landed a nice trout.
I at least realized that this was the thing to do and kept my speed between 1.75 and 2.25mph after that. When I got near the no wake buoys I had a really vicious strike and the battle was on: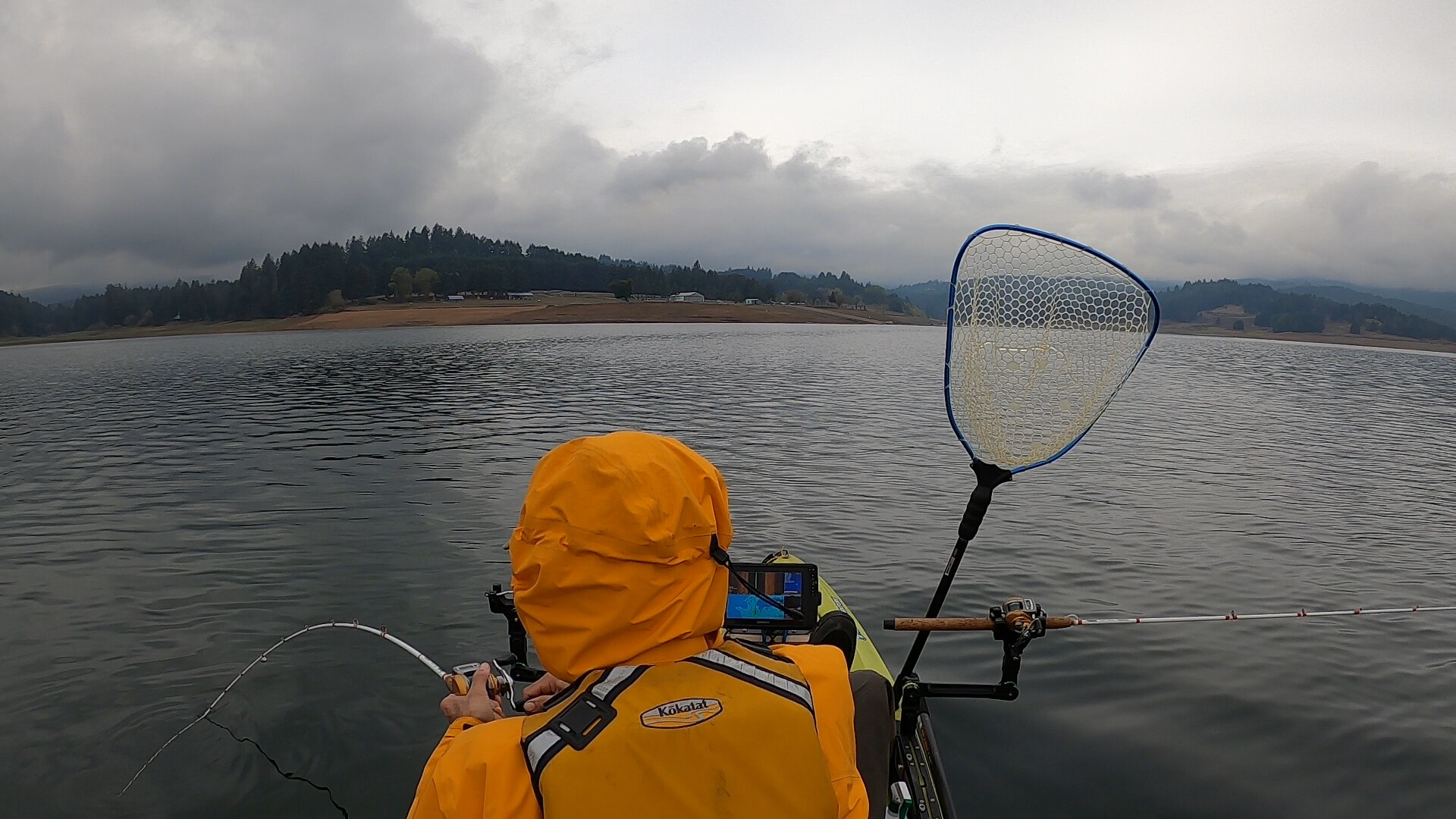 That turned out to be a big slob of rainbow that I would guess was about 20". After a nice fight I was able to land that fish. I unhooked him and was going to measure him but decided that I should reel in my other rod first (so I did not snag). Well that was one smart fish
While I was reeling in the other rod he flopped out of the net and back in the water (which is where he would have ended up anyway). I bet he tells the story about he was staring death in the face when he summoned all his strength, overpowered me and then swam away, letting me live because he could see the fear in my eyes
You can watch the video and judge for yourselves.
I kept up my high speed (for me) trolling for the rest of the day and that was the ticket. I still had a few drive-bys but most of the bites stuck. I was even rewarded with 2 crappie while trolling, which was a fun surprise. Overall, I ended up with 6 (small) bass, 7 trout and 2 crappie. Not on fire by any means but once I started speed trolling the bite was good and steady. I caught 3 trout and 2 crappie in the last hour and 15 minutes which was a pretty good bite. However, by 4pm I was exhausted and made my way back over to ramp C and called it a day.
Not my best day but any day I can get out and fish these days is a good one in my book.
Here is some terrible video from the day (I had my camera off when I thought it was on for part of the day and I guess I bumped the camera when mounting it because it is aimed too high). Well, better to have a bad camera day and good fishing than vice versa
Overall