I took a break from my quest to figure out the upper river sturgeon and decided to partake in the easy lower river sturgeon fishing today around George Rogers today. I was anchored up and fishing by 8am. I knew the outgoing did not start until around 10am but I figured the fish should still be pretty active anyway. 2 hours and 4 moves later and I had not even gotten a bite yet. I was starting to feel pretty desperate.
I made my 5th move back to where I started the day. I was still marking a ton of fish (same as at the start of the day) but the good news was that they had started feeding. I threw out my anchovy without a lot of confidence and then felt that familiar tap, tap, tap. I reeled up to set the circle hook and had a nice fish on. It ended up being a really nice keeper in the 4 foot range. What a great first fish!
I now felt really good. I rebaited and tossed back out. A few minutes later another tap, tap, tap. I set the hook again and this time the drag just started ripping off my reel! Oh, yeah. This is a big fish.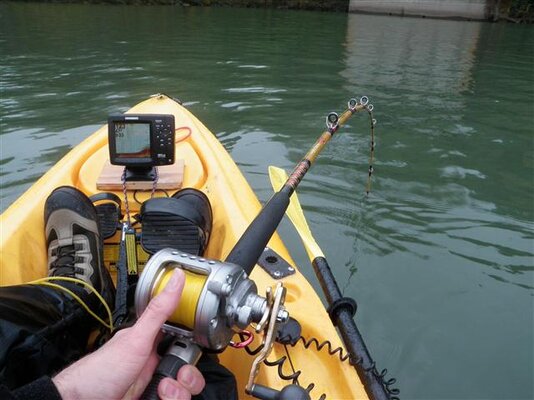 After a tough 23 minute fight I was able to finally wrestle this ~6.5 footer to the side of the yak.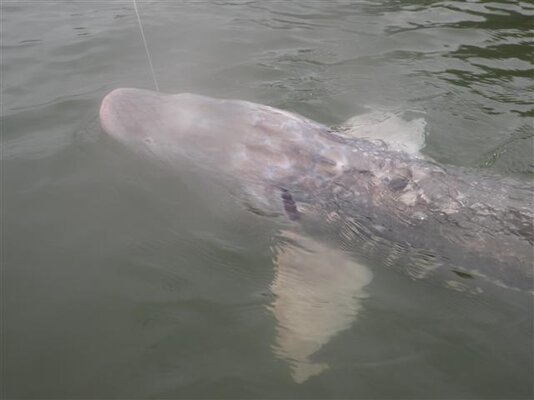 There were quite a few sea lions around today so I only took a quick pick of the oversized, dragged her for a few feet to resuscitate her and then let her go.
Next fish was another big keeper in the 4' range. Then a few minutes later I hooked another big fish. After about a 10 minute fight I was able to get this 5 footer to the boat.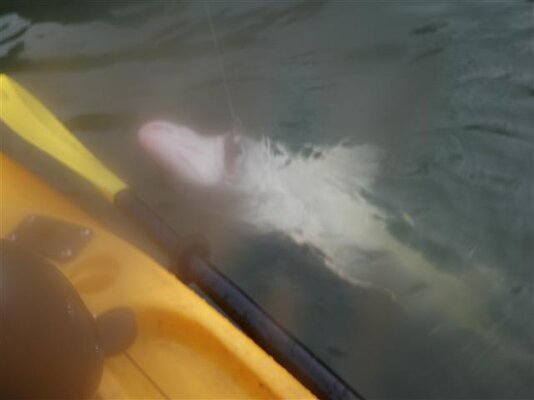 So, my first 4 fish were 2 oversized and 2 big keeper sized. I have never had a day start like that! I ended up with 18 sturgeon before I ran out of bait. 2 oversized, 6 keepers and 10 shakers. About 1/2 the shakers were near bottom end legal, the other 1/2 were dinks. The other keepers I caught were in the low 40s.
The bite was so good once it started I did not get to eat lunch. There were tons of jumpers all day long. Water temp was 47-48. I did see one salmon caught by a fur bag - none by humans. The sea lions were around me all day so I tried to do most of my fighting pretty inconspicuously. That worked since even though I fought many of the fish near them, they never came over to investigate.
I posted this next pic on another thread, but I liked this guy. He just sat there most of the day and never bothered me.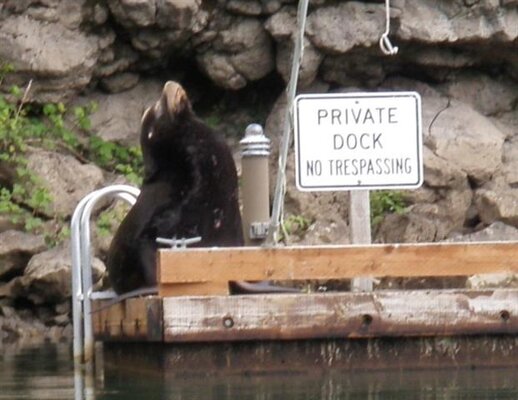 With my last anchovy I caught this nice keeper: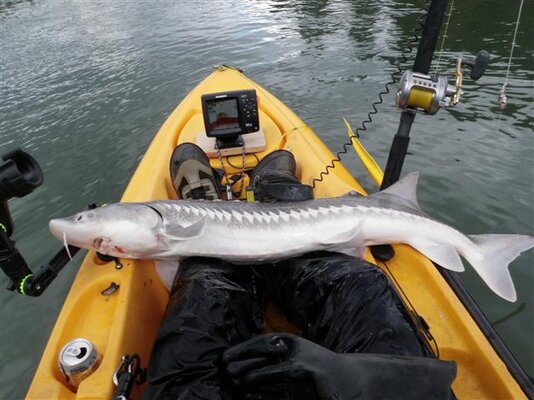 After that I decided to just go home rather than staying to torment the bass. When I got home my wife met me in the garage and asked how my day went. She assumed I came home early because I was having a bad day - I have never left early on a good day before in my life. I told her I came home because I ran out of bait. She gave me a huge smile and said that is not a bad thing
I showered ran to the store and bought some steaks and red wine for dinner. What a great end to a wonderful day of fishing on the river.