Fellow OFFer Dun and I went out with Kolby Lewis today, and it went a lot better than I expected.
Met Kolby at Mills Bridge at 6:30 today, our first time with us. My thoughts were like "Dang, I have more blood stains on my pants than he has on his waders and boat, this guy is not catching any fish for sure." Probably the only mistake I made the whole day.
To keep it short we ended the day at 4:30 pm with a king and a steelhead in the boat; a coho that I am pretending I let go and a SRC released. For an in between season day, I'd take it anytime.
We mostly fished with eggs under bobber for kings, and bead under bobber for steelhead. Dun had a bite I think on his first cast, missed a hook set and that kind of set the tone for him for the day. He has a few bites, no luck hooking one. I have to wait a while for my first one, an hour and a half, turns out to be a very bright and feisty Chinook. Only about 10 lb at the most, but a pretty good sport. My first one this year, so that in itself makes it a good day for me.
Next four hours go the way it usually does for me, lots of casts with no bites. It doesn't help that I am casting with a bait casting reel for the first time. Every time I think I have mastered it, I end up with a nice birds nest. Incredibly frustrating, but a great learning experience. Happy that I was able to untangle all but one myself
. I had been planning to buy one to see how one casts with it, that plan is dead and buried now.
Then my luck turns. First one was a nice SRC, biggest I have caught at about may be 15-16 inch and a great fighter. 30 minutes later, bobber down again, soft hook set and the reel starts screaming. Bright acrobat, I thought it had to be a steelhead, bring it closer and see that it is a coho. Line gets tangled in the tail, fish floats upside down, somehow I untangle it with a flick of the rod, made more in hope than with a plan. Fish starts another run. Kolby jumps over the side with the net in hand, scares me a bit. I get the fish closer to him, and ease the pressure as it is bound to go back into the water in any case. One last flick of the tail and the fish is gone.. I'll claim this one as a moral C&R, hand on my heart, no cheating there.
A very short while later, I cast out and start fiddling with my spanking new go-pro. OK, battery is dead. I look up, my bobber is missing. More out of desperation than anything else, I set the hook and fish on again! A few nice runs, and the fish finally reaches the net. So I think, the fish does not agree and takes off. Dun takes the rod and gets it in. Nice steelhead, only my second one ever but I hope the first of many to come this season.
Another bobber down in a few minutes, I hook the fish but it breaks off while I try to hand it over to Dun. Spend another hour and a half or so fishing, in the rain in a cold day, and all of us saying what a lovely day it is. Some of my friends think I am certifiable, sometimes I do agree with them.
Finally at a little after 4 pm, we stop. I reckon both Dun and Kolby had a little fishing left in them but I had enough excitement for a day. Worn out, sustained so late tonight only by some of Oregon's best IPAs if you ask me!
Water condition and all that? Does not matter, with the current weather that's not the same anymore.
It was my first time with Kolby, I recommend him very highly. He is a complete pro, awesome chap to spend time with and as an add on gets awesome pies and things that his parent's company makes! We're already making some plans that will blow my mind if they do work out….I have not been so excited about something for ages now.
Dun and I were out on Sunday as well. Glorious day, sunny and very very cold and probably not the best fishing conditions. The water was unbelievably clear, fishing was tough. We tried a lot of stuff from the bank, Dun mostly with jigs and me with bobber and eggs. Dun hooked 3 coho, landed and released 2 of them and I didn't get a single bite. The day was incredibly beautiful with frost everywhere, for a change I didn't at all get bugged by a fish less day. Here is a pic from many worth sharing.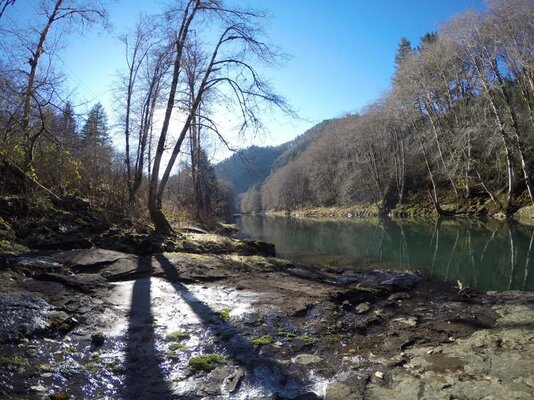 Cheers
M