I recently picked up a male
Temmincks Tragopan
(poor thing got into a fight with a Rat it seems). I was going to skin it out. However being my first time attempting to skin an animal, + the fact that it was a slightly damaged hide to start with, I only succeeded in producing hand sized skins that I then plucked.
The feathers got a light Dawn bath & rinse, laid in news paper & weighted. Then put into a pillow case & tossed into the dryer for a final dry. I'm not sure how to deal with them now, In the image below I have taken a handful & sorted them into the three patterns that seem present in the body feathers.
(left->right) large dot chest feathers, med dot w/black & white, small dot w/black & white.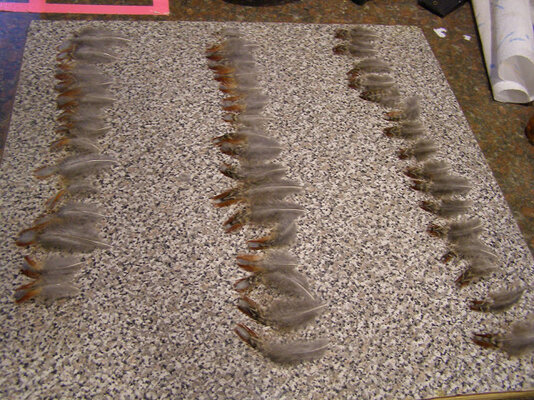 So here come the questions.
What is the best way to sort these buggers out?
Is the downy fluff on the bottom worth keeping for wetfly dubbing?
(keep in mind I have NOTHING yet & trying not to waist any of this)
Does anyone have a pattern that they could share which will star these beautiful feathers for trout/steel/salmon ?
Also the tail & wings are still in the freezer, what to do with them?
~psguardian
Last edited: