Had one heckuva GREAT day, last Saturday. Left the launching pad, at 4:00. Then slid into the lot, at Ramp A, at 5:30. Got quickly rigged up, and had lines in the H20 @ 5:45. Had my first fish to the bank, at 5:40. It was a 12 inch bow, and plump--so he became my first victim!
Then it was "lights on", for about an hour or so. Quickly C & R'd several fish, and plopped a couple more onto my stringer. Lemon / Lime Power Eggs, were the main breakfast fare. But, orange power eggs also did the trick. (Gotta change up the pitch, from time to time...ha ha ha).
Here's a pic, from where I was banking it: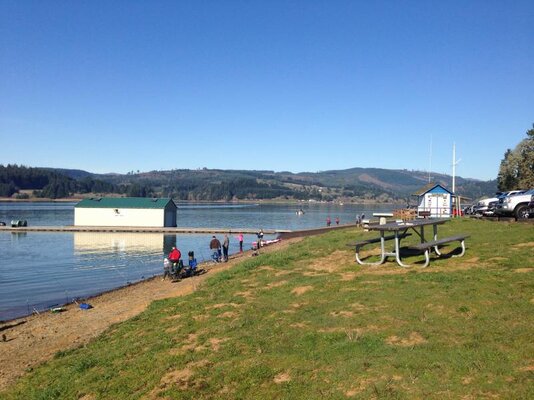 Here's some trollers, out in front of our patch: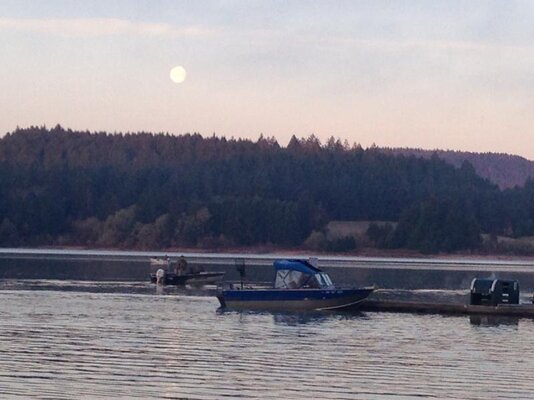 This is a pic, looking towards the dam: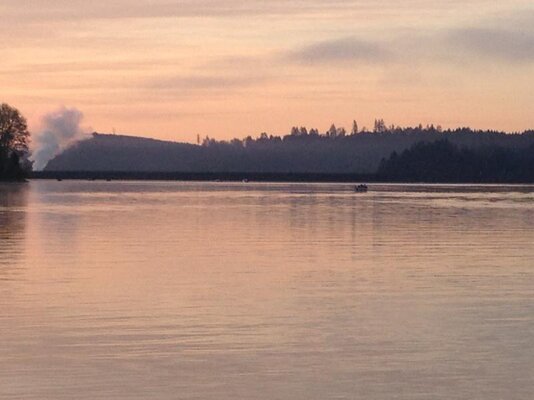 On more than once occasion, I had "doubles". One thing that I've never regretted; was getting a 2-rod license the very first year it was OFFered! Would've had my limit, in about an hour. But, I slipped about 10 back into the drink. Kept fishing, until about 9:30 or so...until I decided, to tag keeper #5.
Just as I was baggin' the last fish; a fellow to my left started up a conversation. He said that it was his first trout outing. So, I started to tell him about OFF...then one of his fishing buddy's heard me...and came bookin' over, to introduce himself. It was fellow OFFer MontyM!
It was fun to meet Monty. He, and I, had shared a few PM's last week. So, I was glad that he heard me and said howdy! Here's a pic, of the 2 of us in the sun.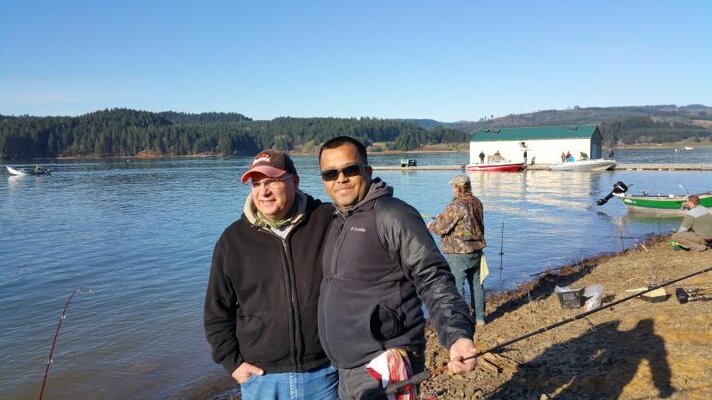 I also met a guy, to my right, that morning who was a local dude. His name was Harvey, and was a pleasant chap too. You can see Harvey, just over Monty's shoulder in the camo jacket. He lives a stones throw, from the lake, so he's a "regular". He had not heard of spoons like Little Cleo's, or Thomas Buoyant's, so I showed him--and his sidekick--a couple from my tackle box. Just doing my bit, to share some info. about great lures.
After keeping fish #5--and chatting with Monty, and his friends for a while--I packed up, and let those guys move into my chosen pocket. I believe that they caught, a couple more fish there. Also while chatting with those guys, one of my friends went by with his son. They were trolling, in a nice raft. The kid had 4, and dad zero. But I found out later that, they both got their limits.
After bidding adieu to Monty, his friends, and Harvey...I loaded up the rig...and bee-lined it for, the Lake Stop Store. It was about 10:00, and I was hungry. But, they didn't have my "signature breakfast" ready yet (fresh baked pizza). So, I opted for a sausage dog, with sauerkraut. It was a GREAT choice!!!
From the store, I set about on a recon mission. My primary goal, was to find a nice spot for tubing. Found it; where Sain Creek flows into the lake. Here's a couple of pics: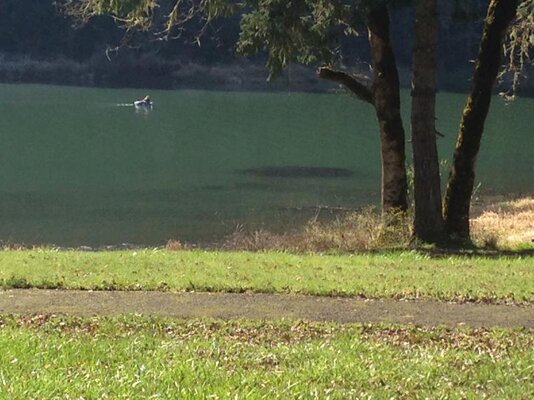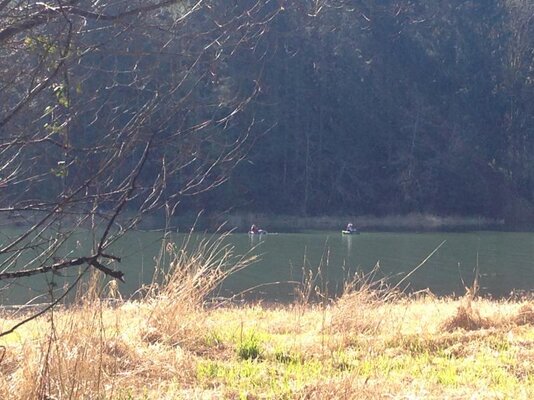 Here's some shots, looking out into the Sain Creek arm...towards where it drops, into the lake proper: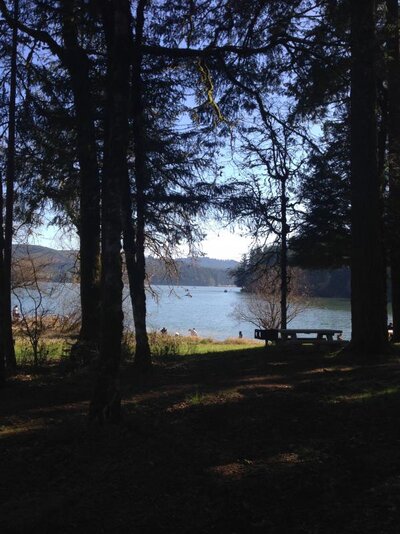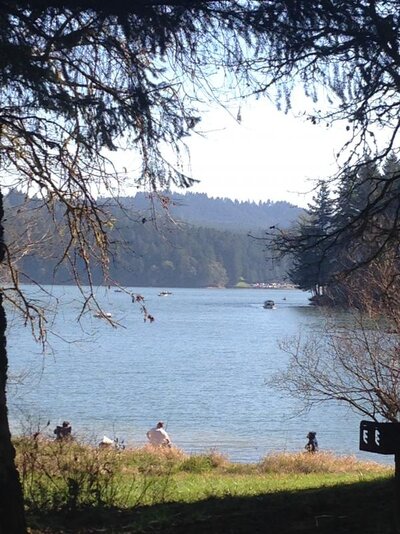 Then the lens gathered, a shot, on my next stop: Scoggins Creek (looking downstream, towards the lake).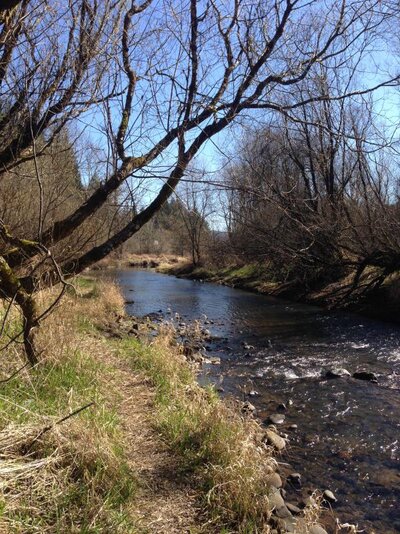 One more pic, from the southern corner (looking back towards C Ramp):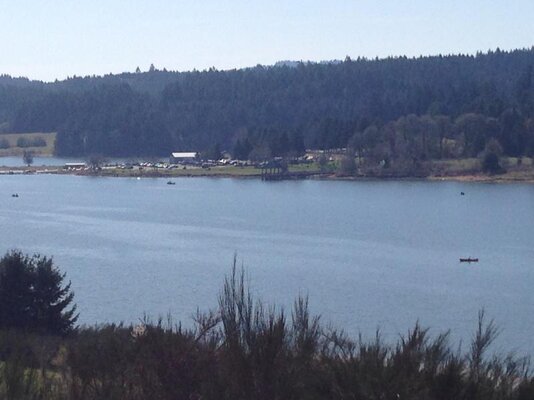 All in all; it was a much needed day OFF. It was 69 degrees, when I finally left the park. On the way home, I bought some MINT condition vinyl at the store in Yamhill (old recordings, for the youngsters), and some bubble gum ice cream AND a new (to me) 7' fiberglass Fenwick spin rod--with a very nice, and balanced--Mitchell rear & trigger drag reel. Discovered the Fenny at an antiques store in Amity. Oh...and I gave my fish, to my mom's neighbor.
Last edited: