A while back I ordered a chinese made Tenkara rod from "the bay" in the hopes that my 5 year old son would have a bit easier time fly fishing if he wasn't worried about reeling the fish in - I'm still working with him on using the line, but he's 5 and still learning so no biggie.
I also figured that if nothing else, it keeps the fly further away from him - few weeks ago we had to take a trip to the ER because kiddo wound up with a hook in his scalp (I didn't do it - Grandma did and she felt horrible - kid was a champ but man oh man it freaked out me, my wife, and of course Grandma)
So last week we got our first chance to get it out after the rod came in the mail. Not being a high end Tenkara USA or something, I wasn't expecting a lot - but I was really pleasantly surprised that the rod 1.) wasn't a noodle 2.) wasn't a pool cue and 3.) seems to be a quality build. Way better than I honestly expected for $40. My only complain - the lilian is a bit short, but not too bad.
For a line I am using 25lb Berkley Big Game high viz mono after doing some experimenting with it in a lawn casting situation. I tied a simple over hand knot in the working end, then used a uni knot to attach a "tippet butt" of 6lb Maxima, then a working tippet of 4lb maxima - I tried out a line equal to the rod in length and then some longer - and settled on a line about 18 feet long + 2 feet or so of the tippet as the best casting & fishing solution.
We hit up a local pond for an evening of fishing last week and if it weren't for Mom cajoling me to stop casting because she was getting hungry, the kid & I would've happily fished until we caught every bluegill in the pond. :meme: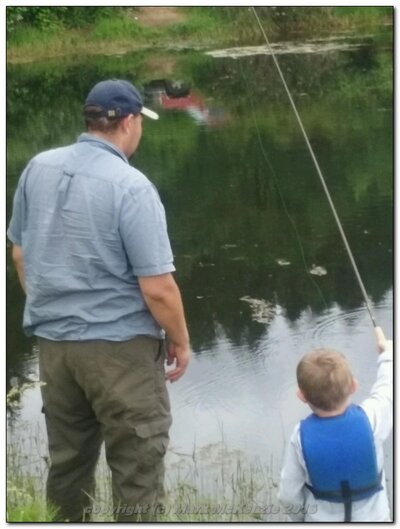 He still has a long way to go with his casting - but he had a few times where the line actually landed mostly straight and he wound up with 20+ foot casts. You can see in the picture above, he was starting to grasp the concept of holding the rod tip up while fishing. I was showing him how to twitch the fly to entice the fish if they didn't hit it as the fly hit the water.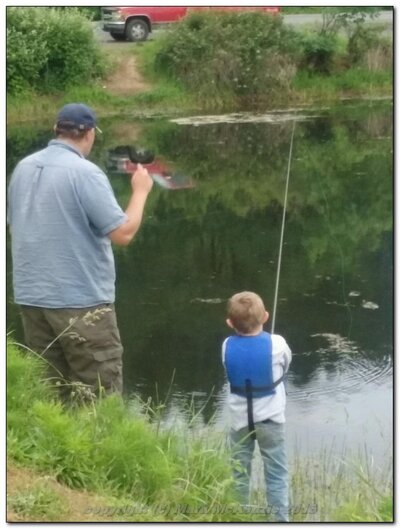 There's a good casting attempt by him - he didn't get a long way out but he got the fly near the fish.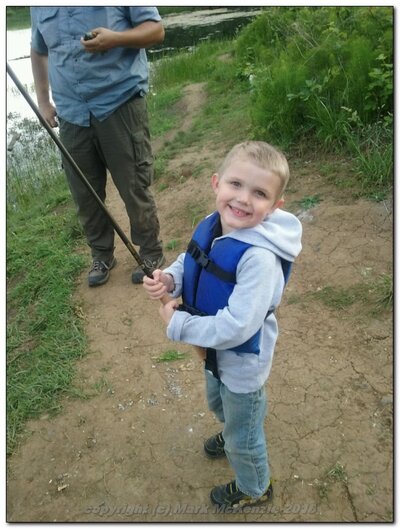 Kiddo is all smiles as dad unhooks another fish. For a while it was literally a fish on every cast - I think in the couple hours we were there, we caught 50 fish, maybe more. Kiddo even relented and let Mom try his new rod - and she started to get the hang of it, caught a few fish, and told me I need to get another one of these rods so she can fish too - she's tried using conventional fly gear but struggled. She's pretty good with a spinning rod, but in just a few minutes I had her laying the Tenkara line out long and straight and getting the fly where the fish were, and she was loving it.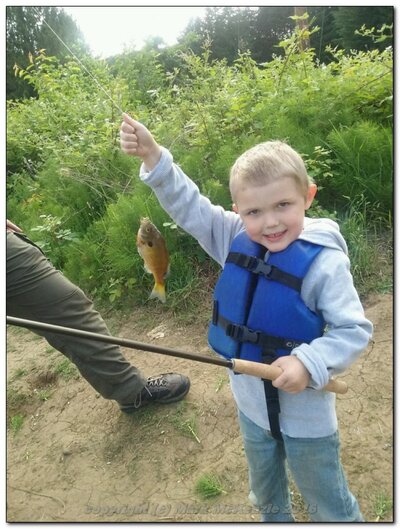 Proud angler with his trophy bluegill :thisbig:
I admit I was doing most of the casting and hook setting for the kiddo - but as soon as the fish was on he was chomping at the bit to play and land the fish, and then he would try casting, he would skate and skitter the fly around too which the fish responded positively to (which was nice)
I was really surprised how light the rod is, and it's cool that it's light enough that the boy can use one hand, though his casting motion is still more of a double handed hatchet chop. Really stressed it to him not to chop hard and to not hit the tip on things - if we break it I don't think there's any recourse other than ordering another rod. It took 2 weeks to get here from a city I cannot pronounce.
While mom was fishing and kiddo turned his attention to playing in the grass with a stick, I was able to make a few casts with one of my conventional glass fly rods and hooked up with a few fish on it.
On the ride home, the kiddo grabbed my hat and decided to wear it to be like Daddy. I think it looks better on him.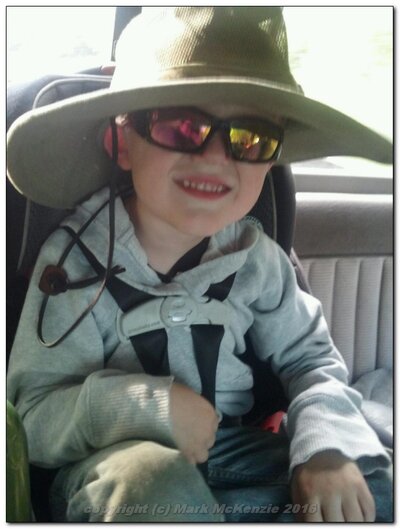 We're going to try sneaking away to the pond while mom is at work tomorrow to see if we can't fool some more bluegill.