I hit the Columbia river out of Stevenson on Sunday the 27th. I had not been fishing in several weeks due to not feeling my best and so I was anxious to have a good day. I got the the river around first light and it almost looked like it was raining there was so much bait (shad fry) dimpling. The thing that had me worried was that I did not see any swirls of bass chasing that bait.
I went to my first spot, which is usually good for at least a couple of fish, but I did not get a sniff. I quickly rifled through a variety of presentations and depths but I might as well have been casting on dry land for all the good it did me. I quickly (well quickly for a kayak) raced to a second spot. My first cast resulted in a lost fish, then a couple of dinks swiping at my topwater.
I switched to a Ned rig and landed a monstrous 8 incher. Still, an 8 incher feels good when you are feeling like you are cursed. I could not get a second fish off that spot.
At the third spot I picked one up on spy bait that was probably 10". At least they were getting bigger! Then I hooked a decent bass on a swimbait that jumped and spit the hook just a couple of feet from the kayak. I was not a happy camper. Plus, the wind was kicking up already and the West wind was increasing the smoke. I had guessed that the West wind was going to bring in cleaner air. It was just another thing I was wrong about on Sunday
I moved again and finally landed a decent fish on a swimbait. A nice 17.75" that only weighed 2lb 11oz. A bit skinny but it looked like a monster to me after the tough start. You can see some of the smoke in the background.
After that I moved to a hump that has been very good to me and picked up one a spy bait and a couple of nice sized fish on topwater. The second topwater fish was one of those insane strikes where a smallmouth comes clean out of the water on the strike. The day was getting fun!
Of course as soon as I thought I had it figured out I could not buy another bite on topwater. Eventually I decided to dredge the depths with a wobblehead jig and a creature bait and that rewarded me with my longest fish of the day. A very skinny 18" 2lb 8oz bass.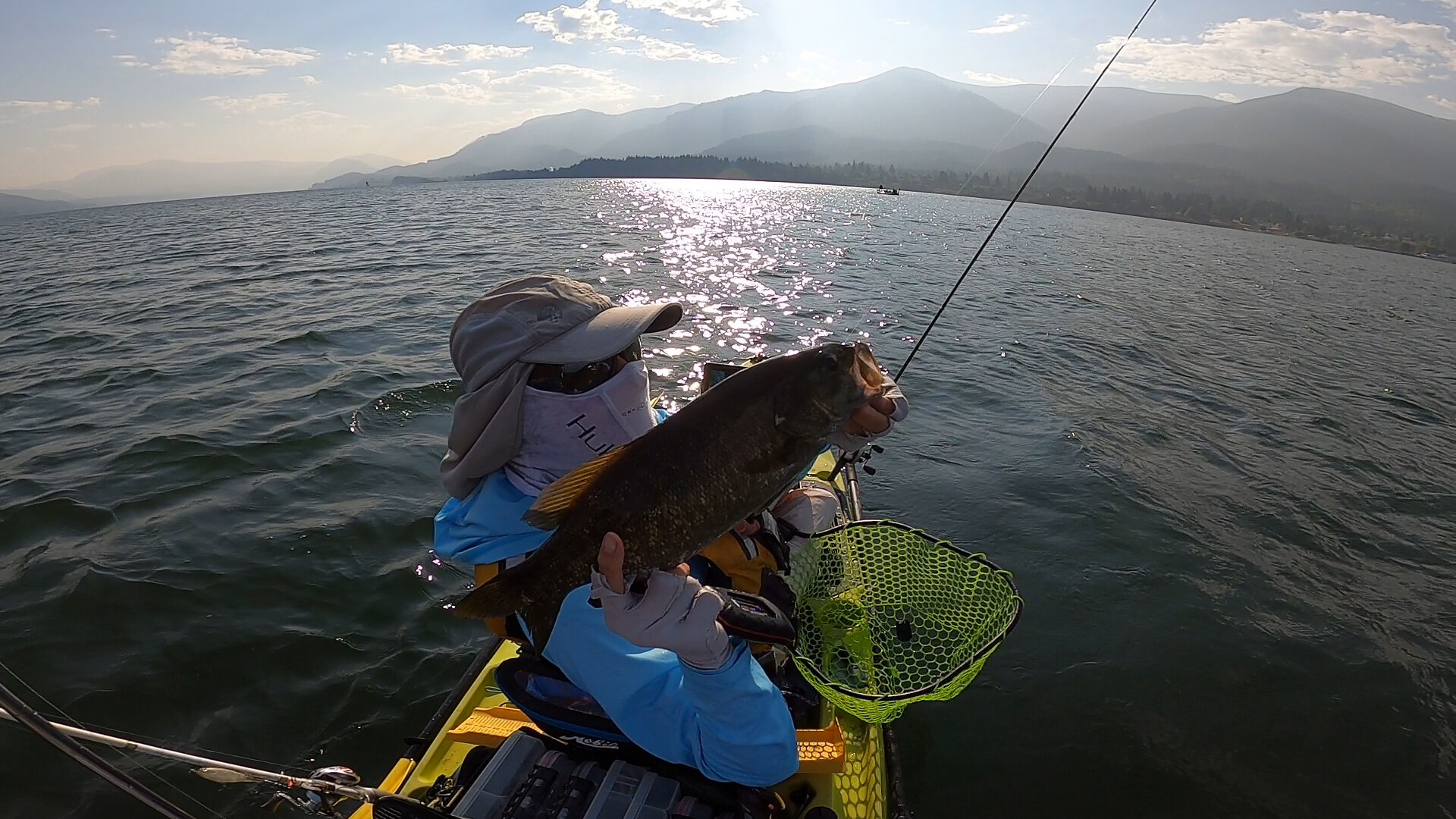 Of course, I knew that this was the deal now!
Narrator's voice: "This in fact, was not the deal".
After that I went on one of the worst stretches of losing bass I think I have ever had. I moved spots and started fishing a drop shot because the wind was just so bad. I lost 5 straight bass. Finally (not proud of how long it took me) I switched hooks and changed from nose rigging to wacky rigging my drop shot. That seemed to really help. I still lost some fish but now was landing way more than I was losing. I ended up landing 6 bass on the drop shot and they were mostly nice ones:
My heaviest fish of the day, a 17.5" 3lber.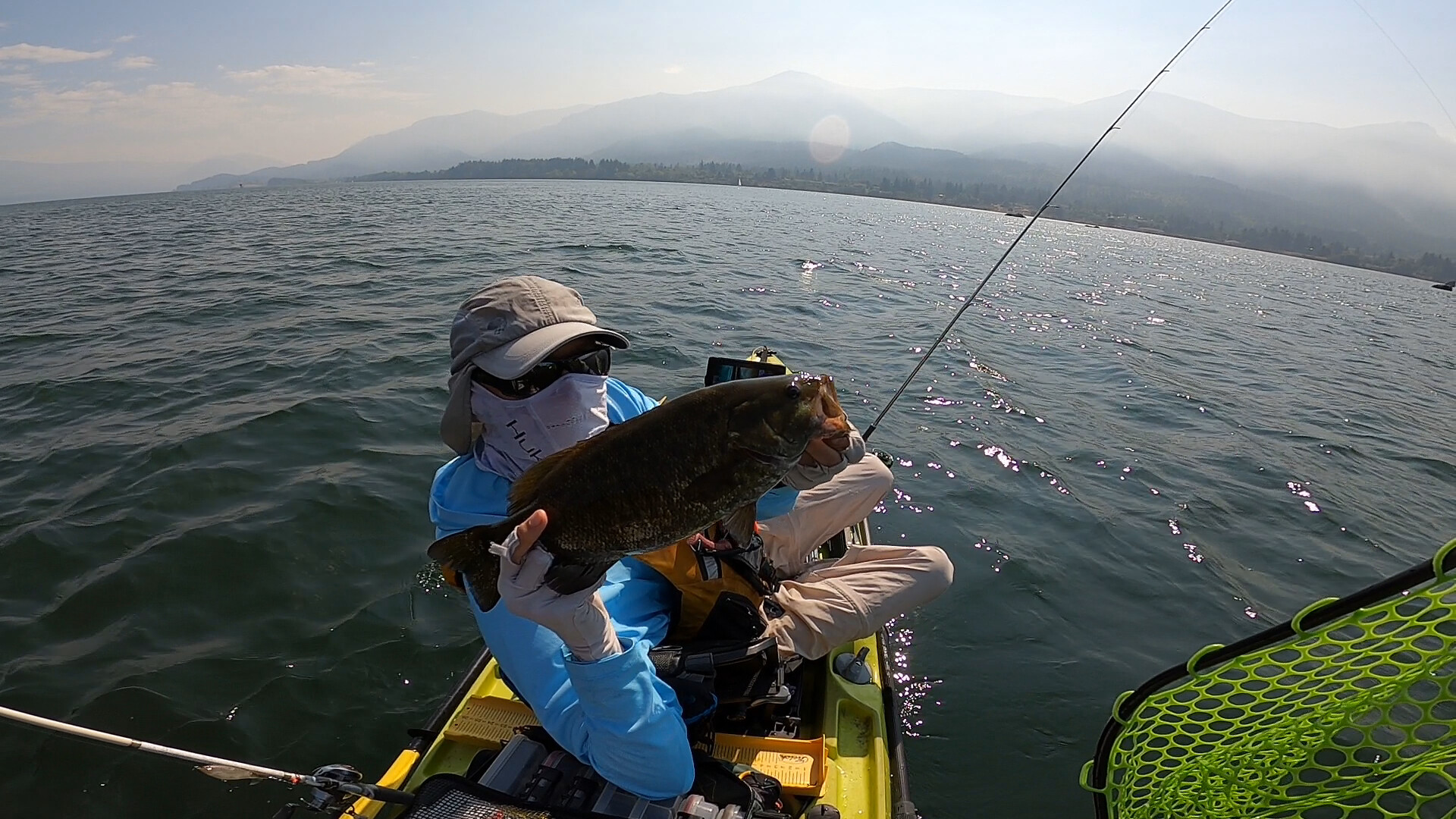 A couple of the others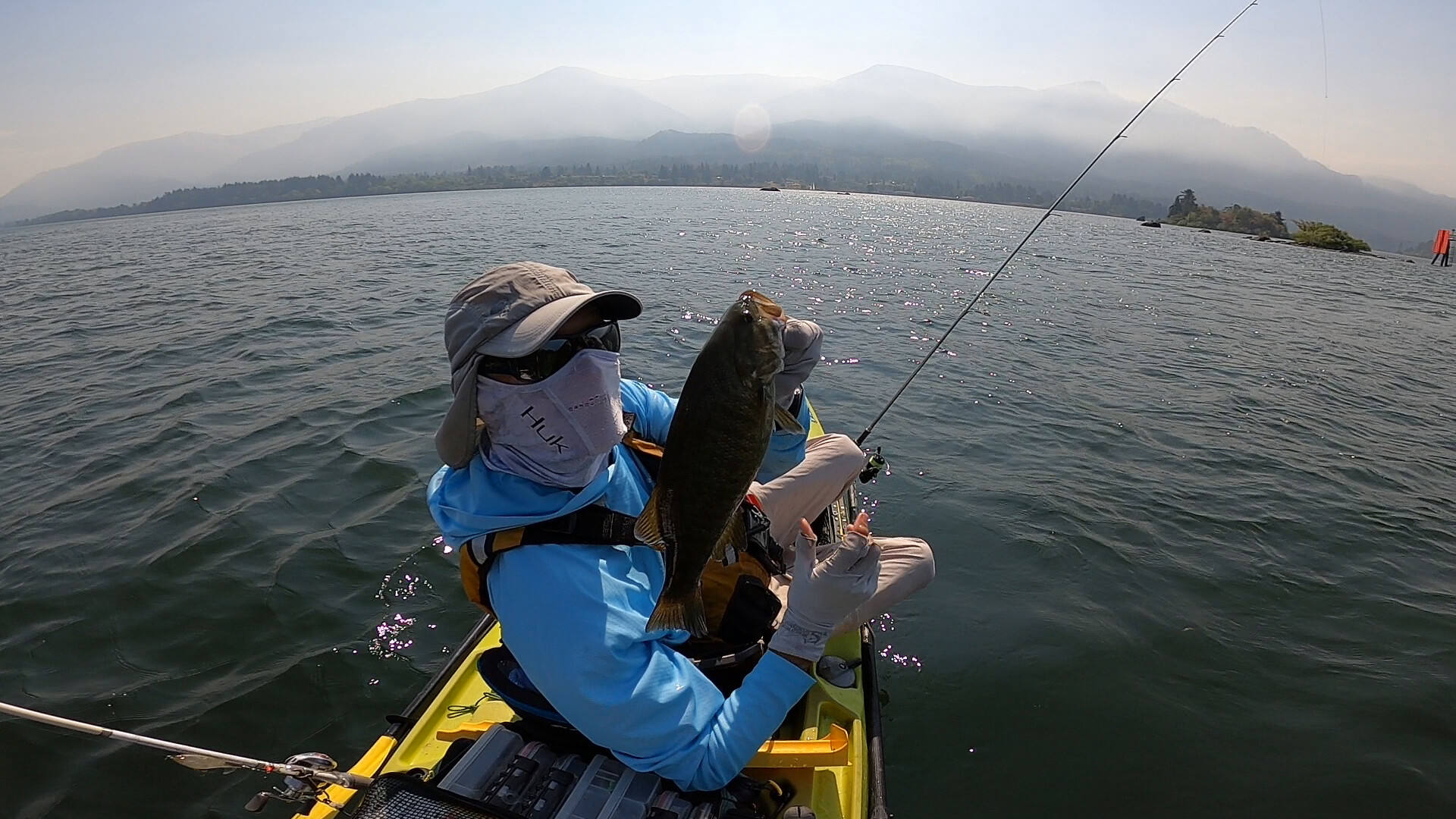 Those fish were coming out of 24-28' of water. When that bite finally slowed I picked up a few more including another nice one fishing a Rapala DT16 (Dives to 16') more on top of the point I was fishing.
Eventually it was clear that the magic spot was magic no more. I moved downstream a bit and picked up one last bass on a drop shot on a different hump. However, by now the wind was blowing so hard it was not even close to being fun so I called it a day. Even if the wind had laid down a little the smoke was bad enough to make want to quit. My eyes were burning and even though my face mask I could task the smoke. Yuk!
When I got back near the ramp there were folks doing the para-boarding (or whatever it is called). I saw one guy probably soar up a good 15-20' in the air. Definitely time to pack it in!
Overall it was a decent day: 16 bass with my best 5 being a 17", 17.5", two 17.75" and an 18". No monsters but those are solid fish and fun to catch. I lost quite a few including one that would have been well over 3lbs when I tried to net it with too much line out. Just plain stupid there. Still, it felt GREAT to be back out on the water and I think I smiled most of the drive home.
Here is a video of the day: