I had not been fishing in a couple months due to a lot of family commitments and an injured shoulder. I have to admit that when I got out my kayak it literally had to brush away the cob webs. I thought that for a first trip back I would keep things simple and target sturgeon. I got to the lower Willamette at 7:30am on Sunday, ready for a "marathon" day of sturgeon fishing. I started out hitting a couple of spots that I guessed would be long shots and they turned up to be just that - not a sniff. Still it felt good to be back on the water after a long hiatus.
I finally got to one of my high confidence spots. I cast out my anchovy and sat and nervously waited until I felt that old familiar tap, tap, tap. I lowered the rod and started reeling like crazy to set the circle hook. The line pulled tight and I was into a good fish. For a few minutes I thought I had an oversized, but in the end it turned out to be a spunky 42" fish.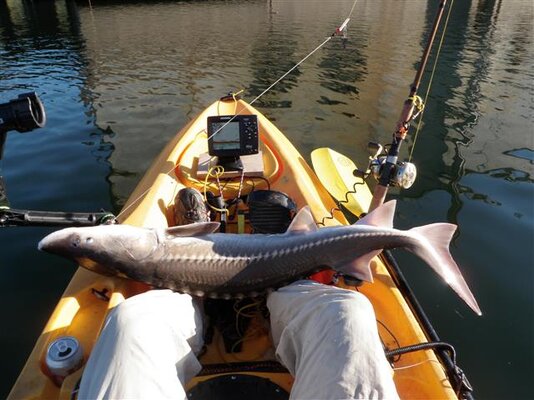 Man those sturgeon fight like crazy at this water temperature. Well I was psyched because it felt like it was going to be a crazy good day. An hour later without another bite despite moving my casts all over the place I was a tad less psyched.
I saw a couple of guys I knew so I headed over to them and asked how they were doing. They said they had already caught about 7, clearly the problem was me. I moved away from them a bit and tried a spot where I was marking some fish. On my third cast I hooked another nice keeper and that was it for spot two.
So, I moved again, this time to a spot parallel but off a ways from my friends. This turned out to be a good spot. The tide was still outgoing at this point, but there was very little current. Both of our boats were facing downstream (backwards) due to the light wind. The first fish I caught was a nice keeper: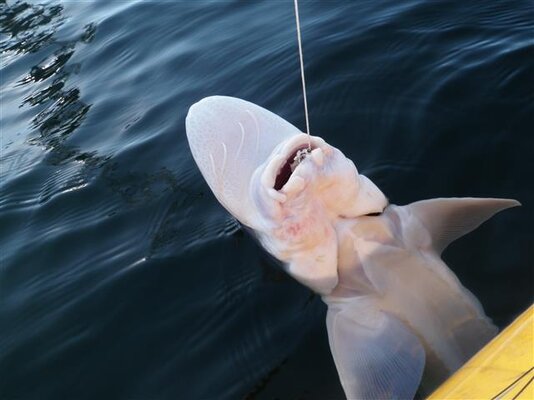 Then I caught a handful of near keeper sized shakers. It was getting to be around 1pm or so at this point and my friends decided to move in search of bigger fish. They were also catching mostly large shakers by this point. I decided to stay for a bit longer and that turned out to be a good move. As the tide reversed and the incoming got stronger there was quite a bit of current pushing upstream (way more than the outgoing made downstream). That really turned on the quality fish! I started picking fish in the mid-40s and I was having a blast. I reached in the cooler for my sandwich and came up with air. Doh! I forgot my sandwich. Well, I figured better the sandwich than the bait.
So since I was not going to eat I made yet another cast into the good hole, felt that very light tap, tap. I tightened up and the rod was almost jerked from my hands then it went slack. Dang it I said (or something like that). I started to reel in to see what happened when the line tightened back up. The fish had run right at me. When I got the line tight again that fish took off like a train downstream. I dropped off anchor to give chase. It was pulling my at 3.3mph into the incoming current. This was a good fish.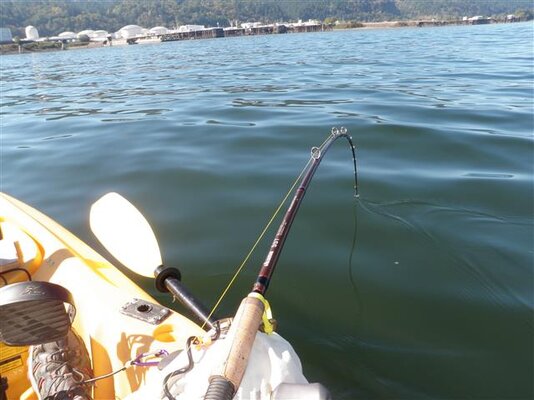 The fish fought crazy hard. Fast changes of direction and really fast runs. I was sure this fish was oversized. After what seemed like forever I was finally able to wrestle this fatty into the kayak. Taped out at 52".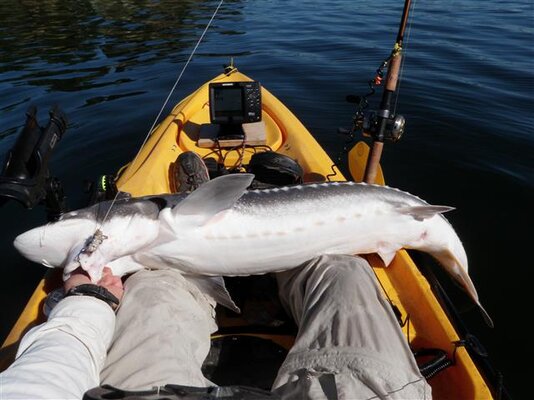 The bite stayed really good. I would catch a keeper size on every cast. I usually had to wait a couple of minutes for a bite, but you just knew one was coming. This whole time I had been nervous because I had been casting up current (since the tide reversed) because I had anchored upstream from it on the outgoing tide. I kept thinking I should re-anchor so I could fish downstream into the hole, but I hate to move during a hot bite.
Trouble struck on the next fish. Made another long cast up current and hooked another dandy. This time the fish came right down and wrapped around my anchor line. I easedd up on the pressure and put the reel in free spool with the clicker on and I was able to work the wrapped fishing line up the anchor line to the surface. As I am untangling the line I inadvertantly and unknowingly knocked the float mostly off the spool that holds my anchor line. The float both checks the anchor line and floats the spool. I throw the anchor and float back in and I tighten back up on the fish, it takes the fish takes off just as I see my anchor floats drifting downstream and my anchor spool a few feet under water (thank goodness for the clear water). The current was strong enough to pull the spool about two feet under (the spool does weakly float). The line must have been stuck on the spool keeping it in place.
I again put my reel in free spool and get my floats, then I try to get my bearings and search for my submerged anchor spool. Amazingly I find the spot and I can see it a couple of feet below the surface. I take my rod (with fish still attached) and lean over and snag the line and pull the anchor line to the surface. The spool starts to slowly unwind and drift away. I throw the rod in the holder and in free spool with clicker on and yank the line to the spool in hand over hand until I can grab the spool. Then I reel all the extra line in, untangle my fishing line from the spool a second time, reattach my floats and toss it in.
I pick up my rod, reel in a ton of slack, and on the other end was a very patient sturgeon! I guess it was good and rested because it was another great fight at that point. After another long tussle I pull up this 50+ inch fish. I only know it was 50+ because as I was measuring it the fish slapped my hand with its scutes and knocked my tape measure to the depths. That was one troublesome fish.
Here is a mug shot of the troublemaker.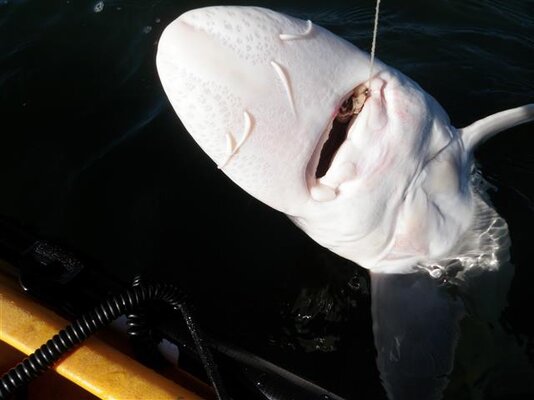 After that I decided I was done fishing up current and pulled the anchor for a bio break. After, as I was headed back to my spot, I saw my friend's boat. I headed over to tell them that the bite was good in the earlier spot, but they said the bite had turned on where they were as well and that they had caught a bunch of keepers. So I figured rather than pedal all the way back to my earlier spot I would fish near them. The bite was fast in this spot, but I only was only able to catch shakers. They were picking up shakers and some keepers. As the tide slowed the fish seemed to get smaller and smaller. They left after a while but I stayed and fished until I caught number 20 (my one friend caught 27!, I am not sure how many the other fellow caught).
All in all, it was a great day to finally get back out there. I was nervous at first at first after being out of touch for so long, but fortuneately the sturgeon were plentiful and hungry. I have to say that by the end of the day I was starving myself