I hit Hagg the day before Thanksgiving since it is a nice, not too strenuous way to get out on the water. I got to the lake a little after sunrise and was fishing before 8am. It was very foggy, eerie and quiet. There was a light wind swirling the fog around. I decided that I would start the day by fishing for bass. I went over to my favorite spot and on started fishing a drop shot. On my first drop, I felt some weight and then a tug and a snapped my rod tip up and felt a decent fish!! After a brief tussle I was able to haul a nice 2lb 9oz largemouth.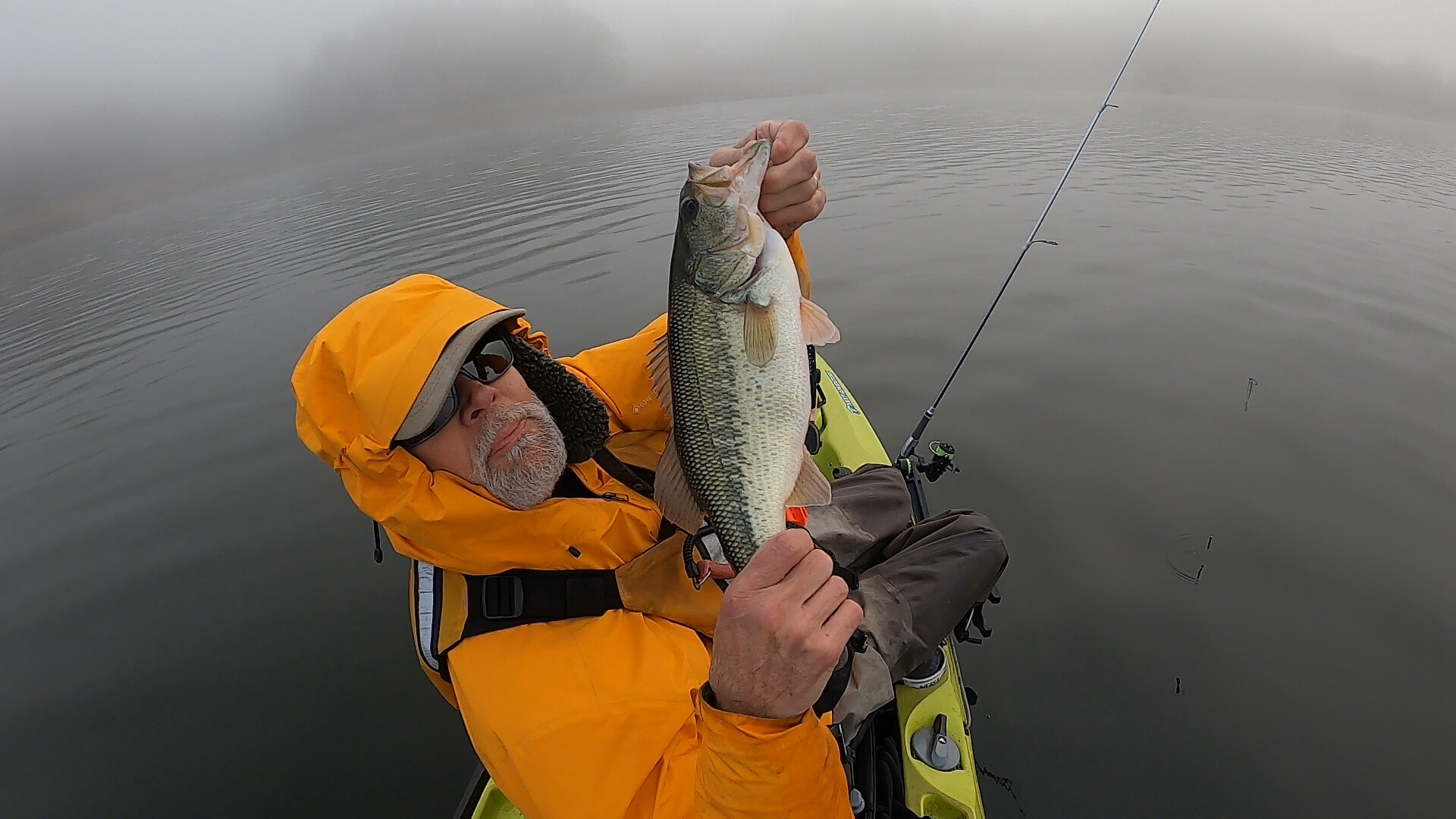 I thought, "Oh man I a going to be on fire today!!". Of course, that was a liar fish. I spend about 3 hours total fishing on an around that spot and only landed one other dinky bass. Eventually I decided I would give trolling for trout a go for a while. I broke out my trolling rods and started slowly pedaling my way across the lake (towards Sain creek arm) and then made a left turn and headed towards the dam. I had just left the no-wake zone when I had a good hit. I plucked the rod out of the holder and slowly worked the trout in. As I went to net the trout I saw it had another line tanged in it, my other line (I had the 2-rod license). The trout was a nice one 14-16", I did not measure it just eyeballed it.
I got the two lines untangled but when the trout had pulled the other line into my rudder. When I reeled that other rod in the lure got stuck on the rudder so I pedaled back to ramp C and got that unhooked and I was back in business. During the time I was dealing with that mess the wind picked up a bit (blowing from the dam) and I was shivering and cold. I figured I would troll up to the dam and troll in the wind shadow of the dam. That ended up being a bad call.
Over the next 3 hours (troll to the dam, troll around for a bit and the trolling back) i caught one dinky little trout. To add insult to injury the wind did a 180 and was not blowing towards the dam (so getting out of the wind was a fail).
I trolled most of the way back to the no-wake zone when I caught a nice trout (thought I was recording but realized I wasn't when I released it). Also, the wind died down and the sun even broke through. Things were starting to look up. I quickly hooked up again and again but kept losing the fish right at the kayak. That was a bit frustrating but it was really fun finally having some fast action! After a short while I had another takedown and landed another decent trout (probably about a foot long).
I just kept trolling around the no-wake zone and getting bit. I missed most of the bites but I did land 2 nice crappie which is always a fun bonus catch when I am trolling for trout. At that point it was almost time for me to leave but I figured I would try to focus on crappie for the last 1/2 hour. Apparently the crappie only like me when I am fishing for trout
I did not get a sniff fishing a crappie jig in that last 1/2 hour.
All the trout and the crappie were caught on my favorite rig, a 1/24oz roostertail with a trailer hook and 1/2 nightcrawler threaded up the trailer. I think if I had just stayed in the no-wake zone I could have had a banner day but I still had a fun day. Having the best action to finish the day always helps erase the memory of the long fishless periods from earlier in the day.
In other non-related to fishing news I am excited that I am finally on the transplant list!! I am still hoping that I will just miraculously recover but knowing that I am accepted onto the list definitely puts the mind at ease. The other good thing is that I felt pretty strong all day long while fishing. My bloodwork is not improving but I have to believe that feeling better and stronger has to mean something good.
Well, here is my usual terrible video from the day.