I had one of, if not the best fishing days of my life on Saturday. I met up with a friend to hit the big C for the first time this year and fished the Dalles for the first time ever. The forecast was for pretty light winds picking up a little in the afternoon. The reality was light winds in the morning fading to dead calm in the afternoon.
Dead calm in the gorge, you already know it is going to be a magical day.
So, never having fished that location before I started the day just trying to cover water with a variety of techniques and a variety of depths. The water temp was around 47.5F (about 4 to 5 degrees cooler than the Willamette). I was a little nervous about whether they smallmouth would be aggressive and if I could find them. I just kept the kayak moving along and rotating through my rods. For the first hour or so I did not have much luck in figuring out what was going on.
I had only one "liar" bite in about 20' of water on a drop shot. Those smallmouth were doing their best to deceive - and it worked for a while. However, after spending about 20 minutes probing various deep rocky structures without another bite I went back into search and destroy mode.
Part of the problem with that area of the Columbia is that everything looks good and it is hard to narrow the search. However, like so often in fishing, persistence paid off. I was fishing yet another rocky structure (this time with my trusty white 3" swimbait) when I felt a solid smack. I set the hook and was into a solid fish, I was so stoked to get the skunk off with that first fish.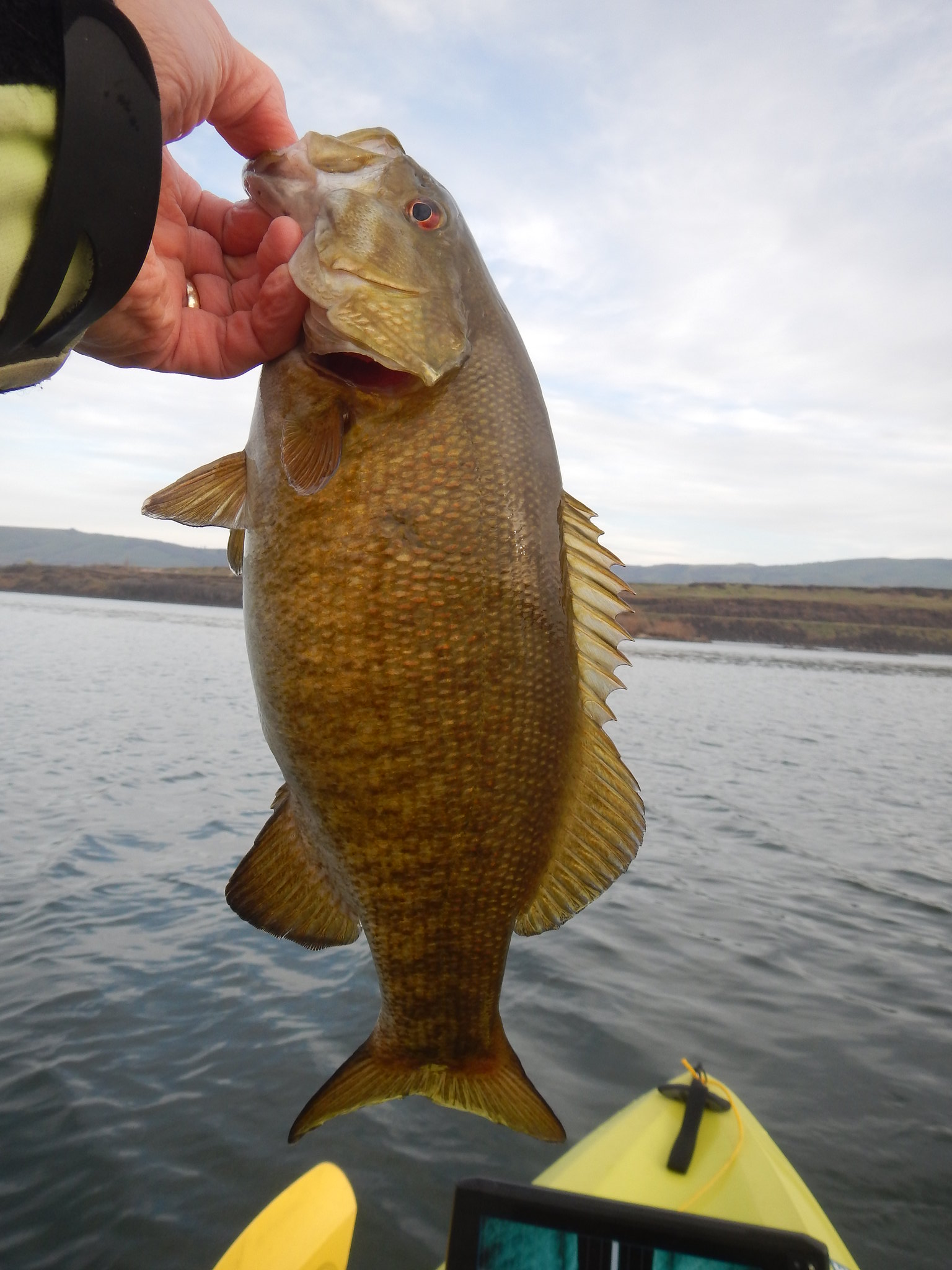 Not a monster but a solid fish. After that the bites came pretty fast and furious for a while. I just kept working my way along a rocky reef and picking up fish every couple of casts. In less than 10 minutes I was up to 4 fish.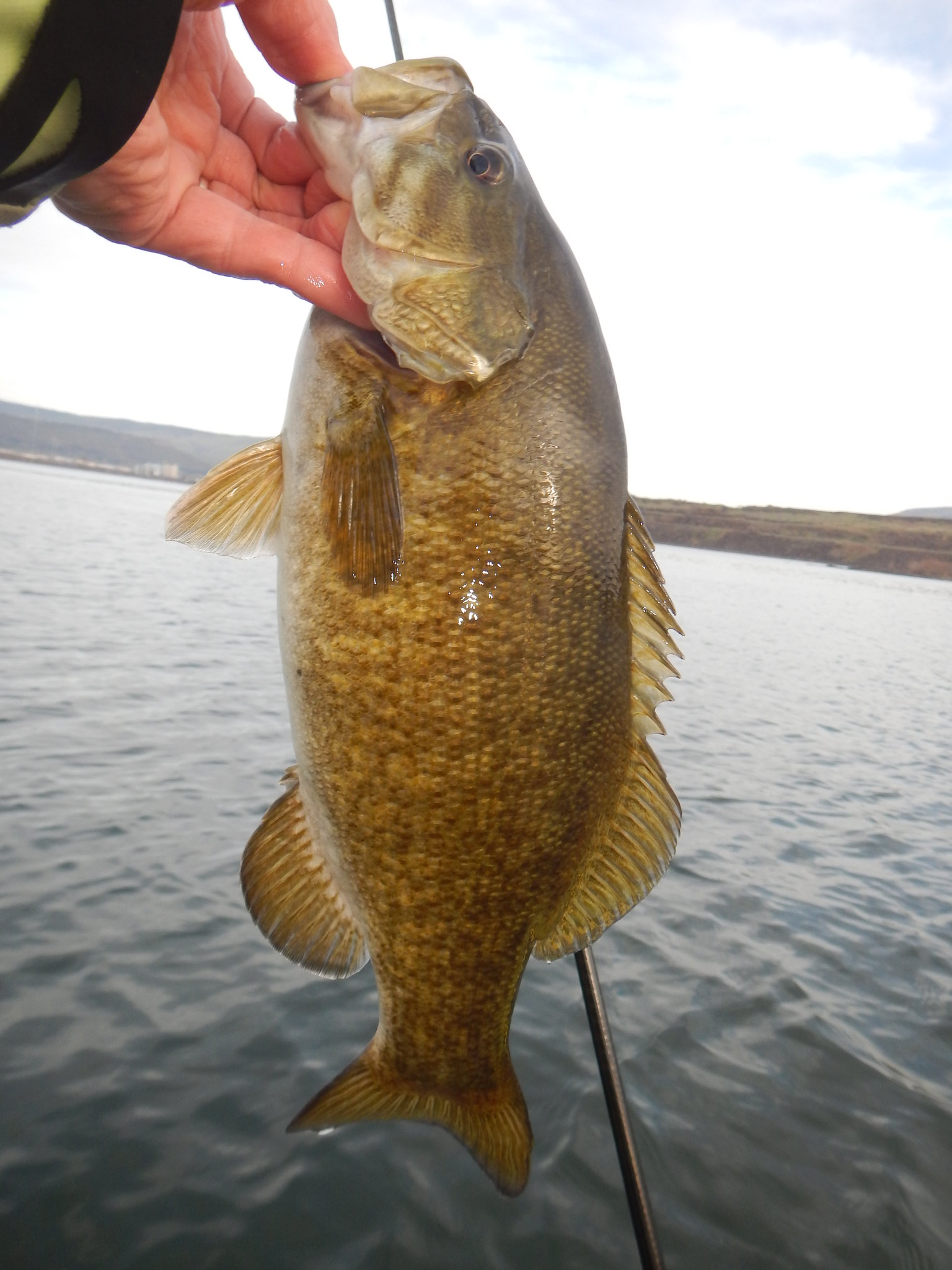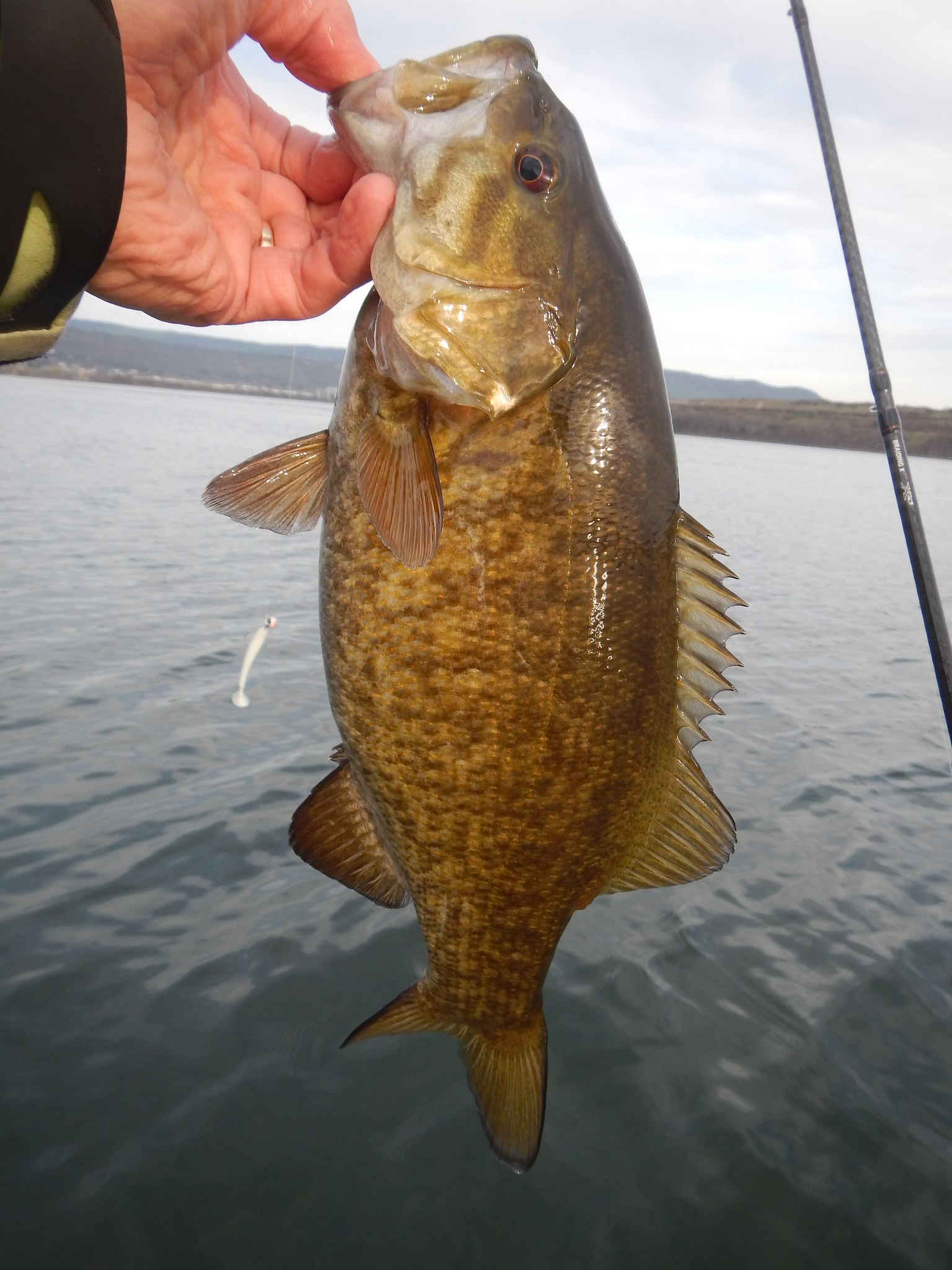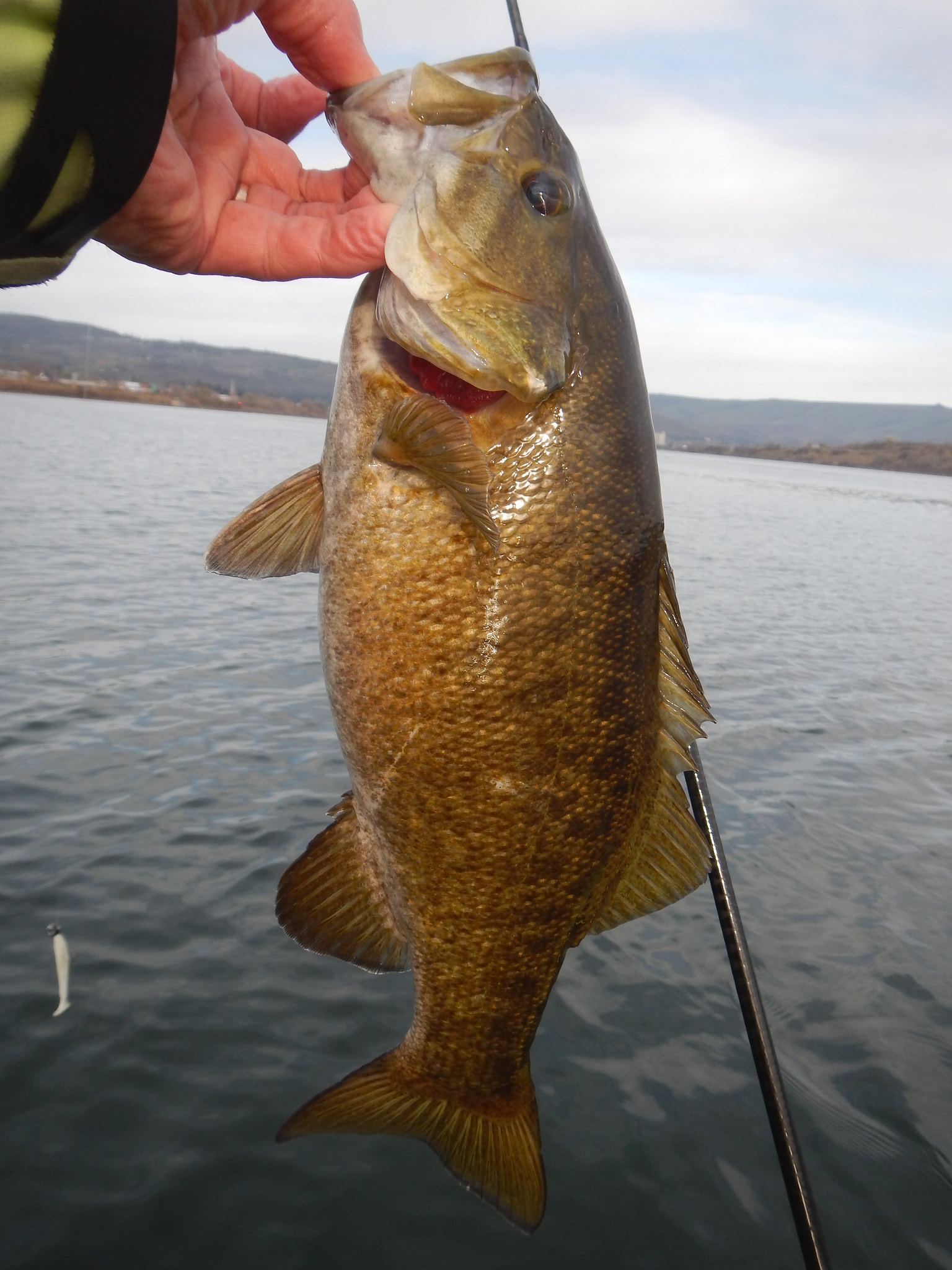 The best part was the size. My first fish weighed 1lb 12oz and the next bunch all weighed over 2lbs. Now these are not giants but they are good sized fish and the fight really hard, even in the cold water.
The only thing I could really notice was that when I got them next to the kayak they did seem give up and weren't too difficult to land. When the water is warmer I think the only reason smallmouth ever allow themselves to be reeled in is so that they can try and bury a hook in you
The day just got better and better as it went along. I would fish along and then run into a school of 2+ pound fish had multiple periods of the day where I would catch 4 or 5 bass on as many casts. Just crazy good fishing.
After the initial flurry on the swimbait I did go back to rotating through my rods and the next flurry happened when I was tossing a jerkbait. I am not sure if I just happened to be throwing a jerkbait when I ran into the next school or if the jerkbait was important, but one thing I know is you don't mess with success while you are fishing.
So, until the very end of the day, I rotated through a variety of lures but every fish I caught was on either the swimbait or the jerkbait (KVD bone color). I through a crankbait a ton, a rattletrap a fair bit and a spinnerbait a little but I never had a hit on any of those.
My best fish of the day hit around lunchtime and came on the jerkbait. It was a beautiful 3lb 10oz bass. It put up a decent fight, and I could feel its weight during the fight, but in reality most of the fish around 3lbs even fought better and longer.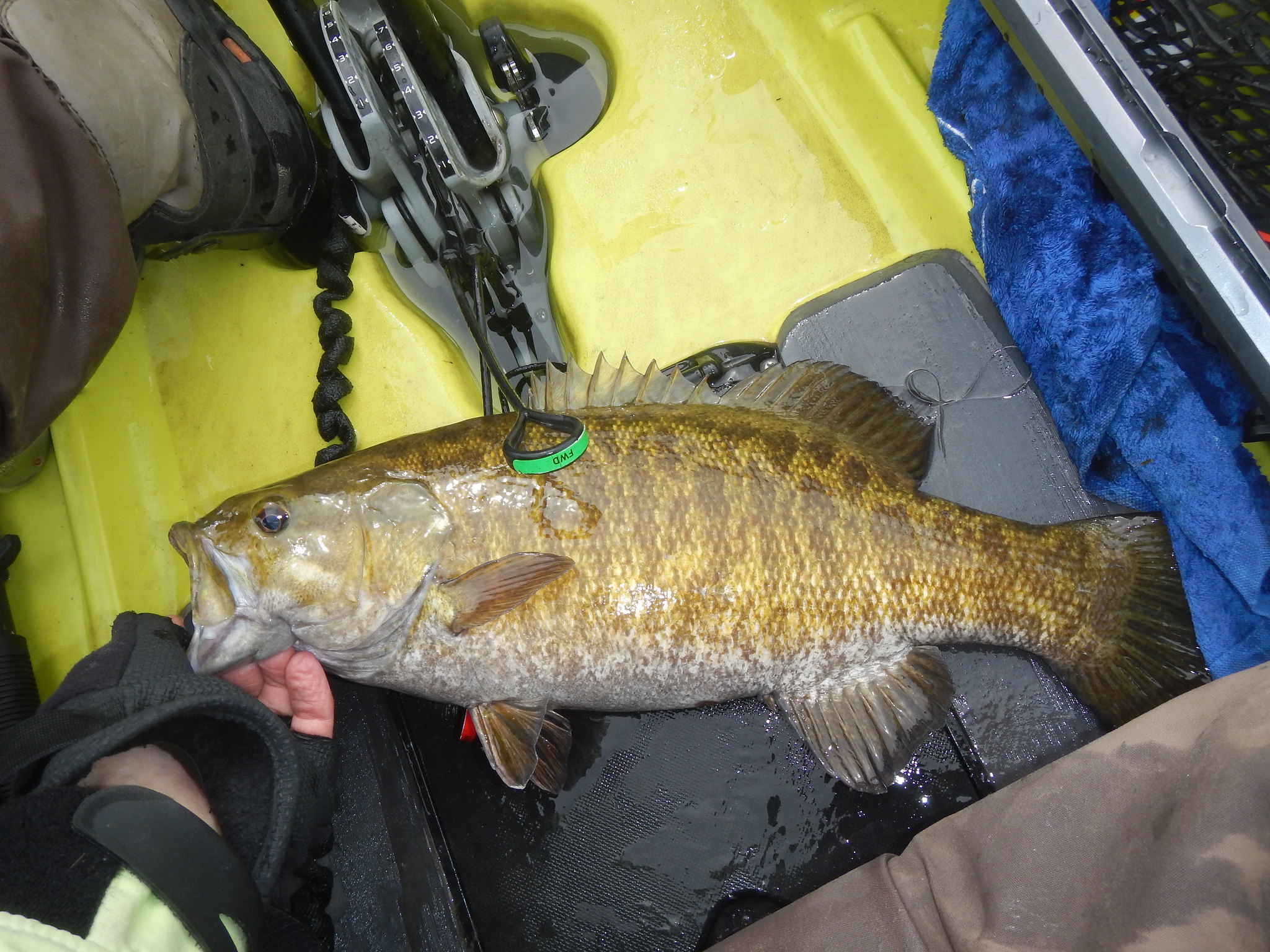 Around lunch time my shoulders (which I have problems with) were starting to ache from all the casting and catching. For most of the afternoon I really took my foot off the gas in terms of fishing and spent a lot of time graphing and mapping the area (Garmin quickdraw). I picked up fish here and there and I have to say I was pretty spoiled because I would be like, "Oh, another 2 plus pound smallmouth, that's nice". You know you have had a great day when even catching them seems kind of routine.
The one thing I did was started fishing a crankbait more and more. It was pretty easy on the shoulders (I fish it on an old glass rod that was a super slow taper) and I really wanted to catch a fish on a crankbait. Long story short is that I never did.
Towards the end of the day my friend and I were back to my best rocky reef. We had fished it couple of times already but now the wind was just dead calm. I caught one on a jerkbait but then decided it was time to give the Ned rig a try. My friend had most of his success on one and it is really easy on the shoulders.
I hit one last flurry for the day catching one last bunch of fish to bring my total to 32 bass. On the day I caught the 3lb 10oz, a bunch of 2lb 13oz to 2lb 15oz and ton that were between 2lb 3oz and 2lb 6oz. I would guess my average weight for the day was well over 2lbs, maybe even 2 and a quarter.
I only caught a few fish under 2lbs on the day. I am sure I could have racked a lot more fish and weight if my shoulders had not been complaining so much, but catching enough fish that your shoulders hurt is never a bad thing!
Here is a video of some day's action.