Don't mind my swollen face! In the 4th grade i got in a bike accident and knocked out my two front teeth. Now i deal with severe swelling in my lip, face and eyes. My teeth and mouth hurt even more and more everytime it happens. The dentist said i may have problems later on with swelling and rotting roots becasue of the way i broke them. Looks like its time to get it checked out... In agonizing pain, and massive facial swelling the night before and morning after.
I went out yesterday morning at dark, got to the river at dark. I waited for sunrise to wade across the river to my hole. Got to my hole with a game plan in mind, Fish 1 seam real hard with my roe.
Got to the hole, first hour was slow. Went through a whole 12 inch skein of eggs in 1 hour! Missed plenty of hits is why... 2nd hour and about the 4th cast into the 2nd hour, fish on! Looked down in the water to see a spawned out steelie on the end of my line. It looked like a sorehead nook but wasn't! Got it to the bank and it popped off!
Kept fishing that hole real hard with only a lost Chinook. I'm glad tho, i didn't want to fight a rusty ol' springer. Fished it more after that with no hits.
3 hours later i decide to go above the spawning salmon where the Steelhead have been getting pushed to, some fast white water. 4 feet of water, i wanted to drift fish the fast flowing water with my roe, so i did. 1rst cast and fish on! The fish doesn't jump or anything! I can tell its a Steelhead but its bull dogging like a nook. Next thing i see is a silver rocket fly outa the air, i see pink eggs on the dorsal fin. OHH SHOOT! I fouled it in the fin, fought it in and released her. 2nd cast after that and fish on! a nice 28 inch hen fought for 5 mins and bonked her. 3rd cast and fish on! Fought this dark buck for about 5 mins, tail landed her while holding my rod and my mainline, i walk the fish to the bank only to have her slip out of my grasp at the last second and take off while still hgolding my main line, big mistake! coulda been my 11th steelie tagged!
Atleast i landed him and could say i caught 2 steelhead in once day once again this year. still goin for that 2nd limit ever, and i will nto giove up until i get it!
I have reached my goal of 10 steelhead taggged and one native springer landed and realeased. I am one happy camper now, and will be content until winters start runnin!
was a good day! got me some nice lookin roe for that 11th steelhead!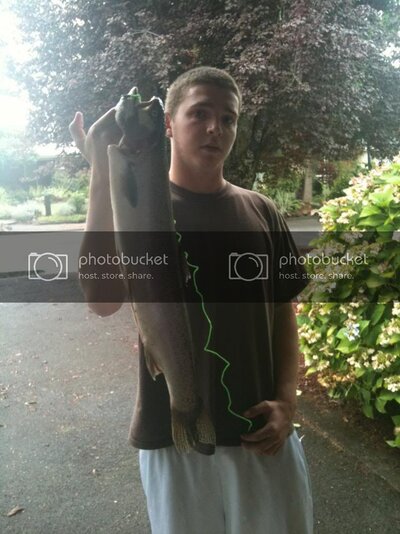 Last edited: