Well-known member
Most Featured
I put in a long 11 hour day on the upper Willamette River (Willamette park in West Linn) on Saturday the 10th. It was a beautiful day for fishing with a nice overcast for most of the day, a few sprinkles in the afternoon. A bit less wind would have been nice from a fishability point of view but the bass could not have been more active.
I started fishing around 6am. I was tossing a topwater stick bait. I had wanted to fish the bay formed by the Tualatin but there was already a boat in there fishing by the time I had arrived. Instead I started fishing the hydrilla between the ramp and the mouth of the bay. In retrospect I think I was lucky those guys were in the bay, because the bass were really active out where I was. There was some type of Mayfly either hatch or mating and egg laying going on (I think it was the latter) and that started the food chain a churning. Within a couple of casts I had a blow up on my topwater and I was a bit surprised when I pulled in a largemouth.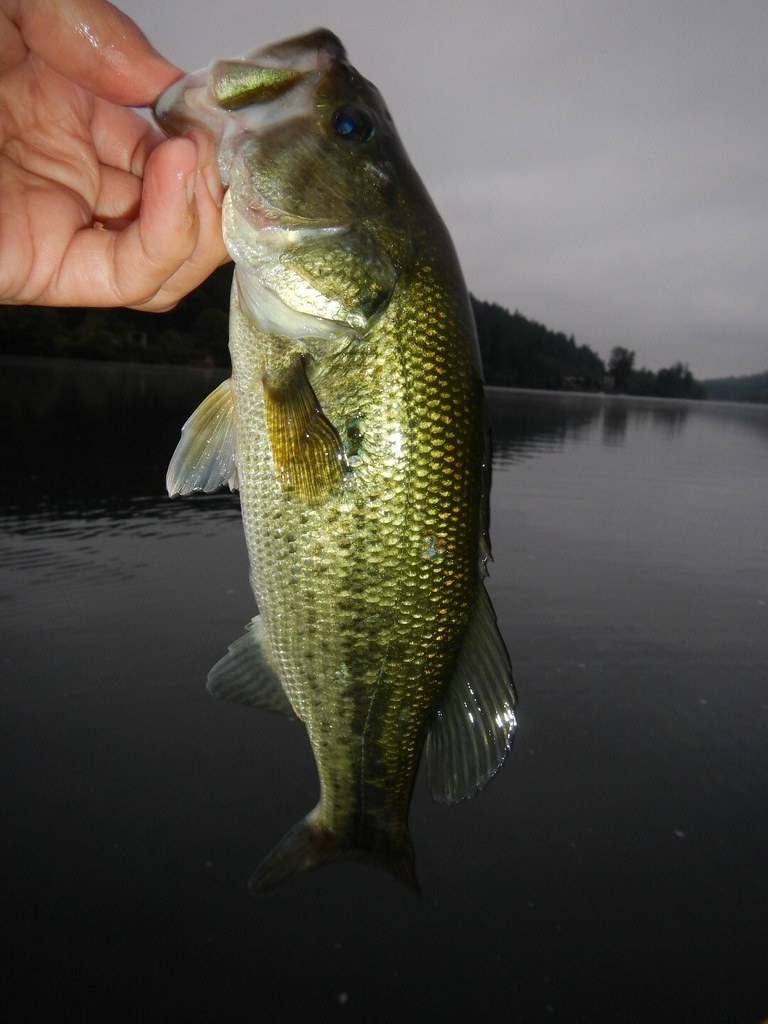 What was really wild is that my first 6 bass (all on the topwater) were largemouth and all from that same general area. After a while the bassboat left the bay so I went in to check it out. I made a few dozen casts without a hit so I decided either they had caught all the biters or the bass just weren't there. In either case I decided to move out to the huge flat that starts just outside the bay.
The topwater bite continued for me and I added 8 smallmouth to the 6 largemouth before the wind picked up. Here is my best topwater fish ( a nice chunky 2lb fish).
[url=https://flic.kr/p/2gV5ju1]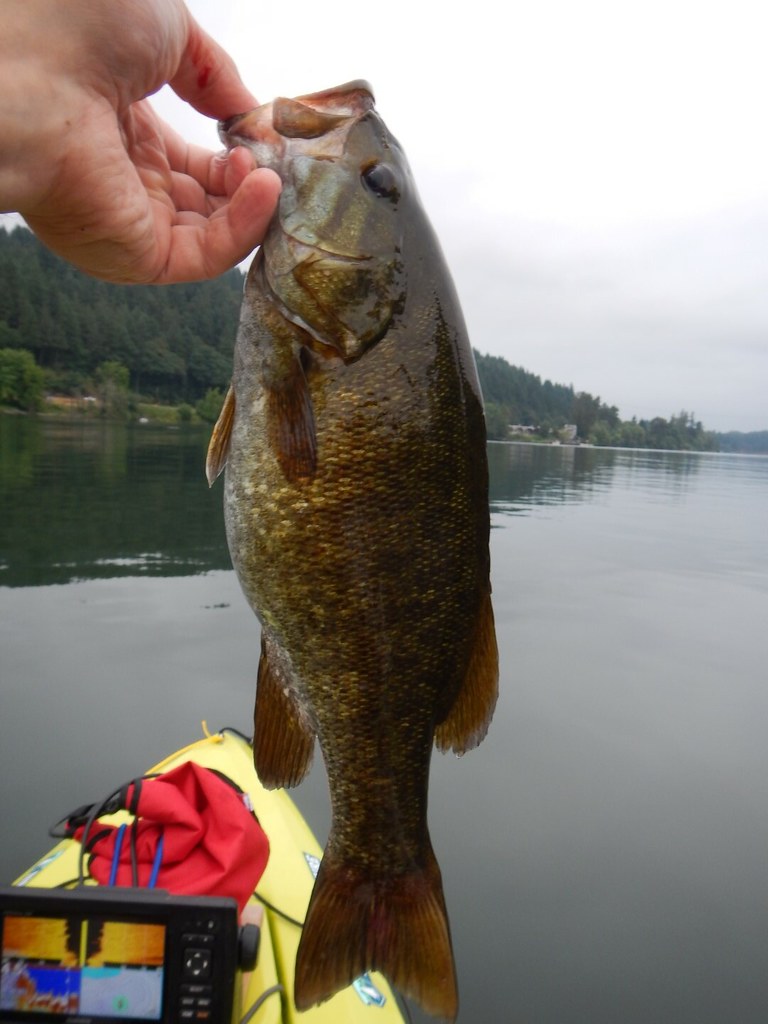 A couple of things that helped me hook more fish this week than previous weeks is that I slowed down the retrieve a bit. I think that made it easier for the fish to actually grab the bait rather than swipe at it and miss. Once the wind picked up I missed a couple of hits so I decided to put away the topwater. I just miss too many fish when it is choppy. They still bite it pretty well but my hook up ratio really heads south.
I switched to a jerkbait and kept working my way up the flat and one thing I was amazed by is the amount of hydrilla that is in that section of the river now. I have not fished the upper Willamette in the summer and that was quite a shock. A lot of the flat did not have any and that is where I was mostly concentrating. The bass seemed to be roving around chasing some kind of bait. It was mix of decent fish and dinks.
My shoulder started to hurt a little so I put the jerkbait down and switched to a white swimbait as I moved up to a point that I really like. Most of the point was pretty clean with a little hydrilla near the shore, but not too much. The swimbait, which I have been loving this year, again proved to be a killer. Here a couple of beauties I caught on back to back casts.
[url=https://flic.kr/p/2gV6fPp]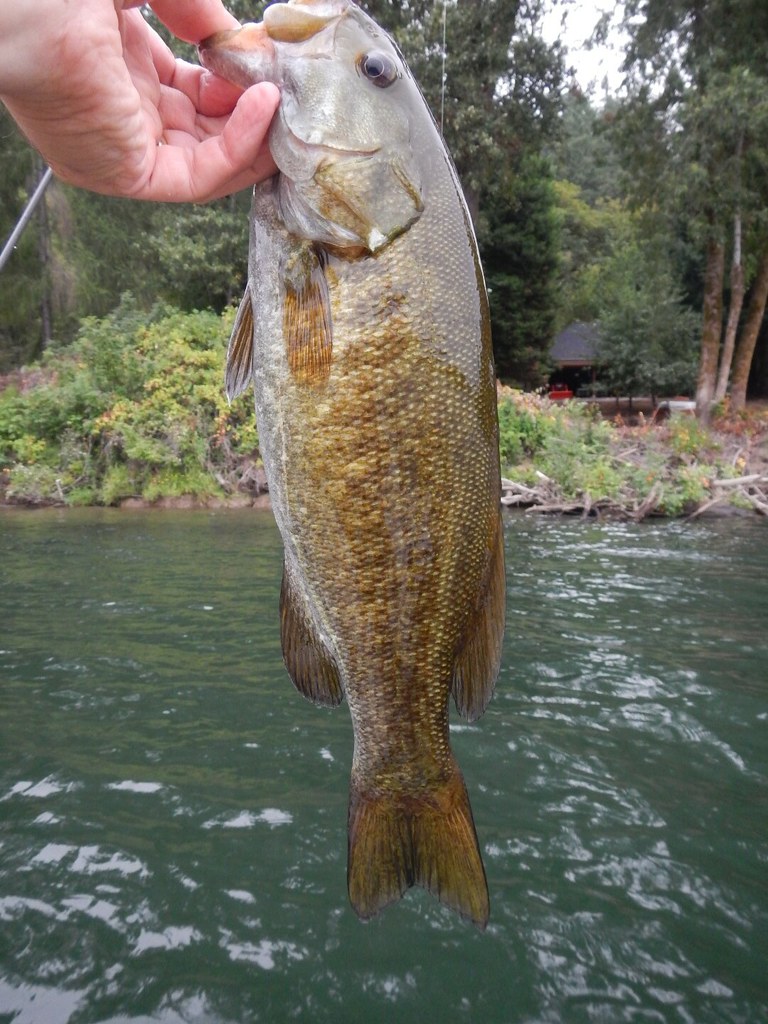 [url=https://flic.kr/p/2gV6gno]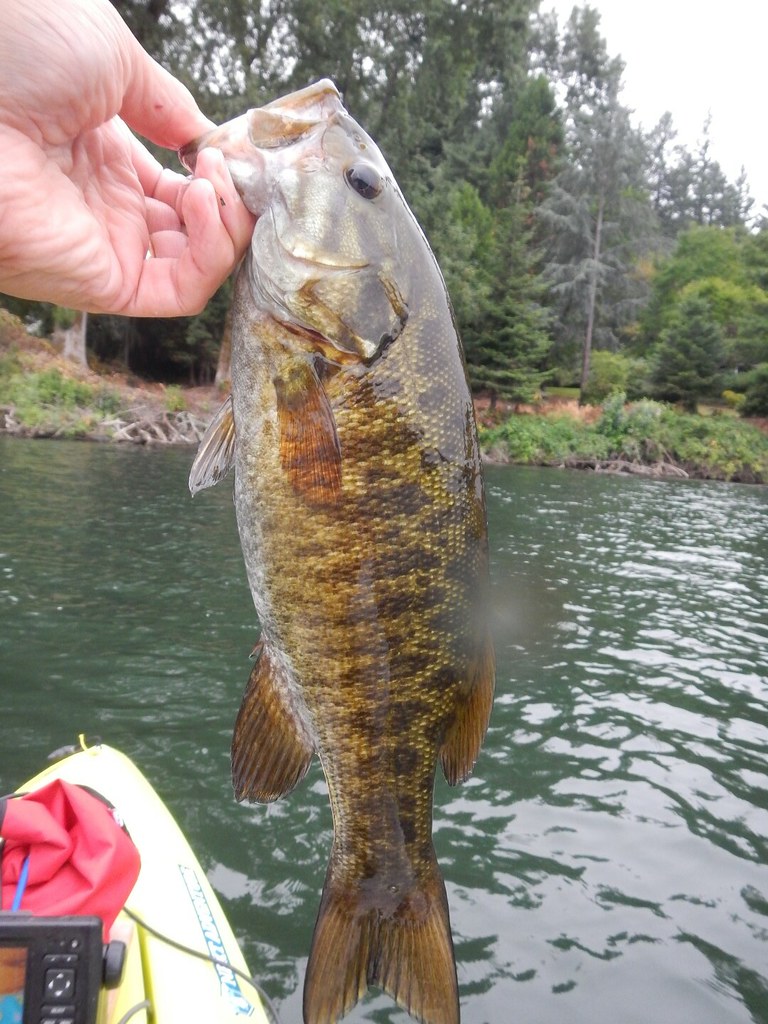 I was surprised at how differently they were colored since they were clearly from the same group of fish.
The wind was blowing downstream so fishing the point was pretty ideal. I just pedaled slowly to hold my position and slowly work my way upstream and cover the point (which is pretty big). I ended up catching a ton of fish off of that point before that bite died down. So many good-sized fish were schooled up there in 6-9' of water. As an experiment I threw a spinnerbait for a little while and they liked that too, but it did not cast as well into the wind so I went back to the swimbait.
At some point the wind died down a little so I quickly scooted to an offshore hump that drops off quickly into deep water and has a bunch of cuts and irregularites about it. That has been a great Ned rig spot for me each time out this year. I caught one on the Ned rig on my first cast, The lure did not even hit the bottom. However after that cast the lure was hitting the bottom and immediately picking up this short clingy weed. After a short while I put down the Ned rig and picked up a drop shot. This worked much better. The sinker at the bottom would get some weeds on it but the lure stayed clear. I was mostly catching dinks but did manage one nice fish.
[url=https://flic.kr/p/2gV5m4J]
That fish really put up a great fight dogging deep most of the battle but once I got it close to the kayak it just kept jumping repeatedly and almost tail-walking once. After that fish I only caught dinks on the dropshot and since the swimbait had been producing so many nice fish I abandoned the dropshot and went back to fishing 6-9' of water with a swimbait.
The wind picked up pretty strongly around then but the fish kept biting. That section of the river just has a ton of offshore water that is 6-10' deep. As I worked my upstream I kept steadily picking up nice bass on the swimbait. A few dinks here and there, but mostly nice sized fish. Eventually, I worked my way up to a section that had a lot of hydrilla. The swimbait was hanging most casts so I tried throwing the topwater for a bit but I did not get any strikes (that I could see in the chop). I was pretty frustrated and then I thought back to my days in PA and NC. I had fished this exact situation hundreds of time and a lure called a Mann's baby 1-minus was always a great choice.
I dug through my lure boxes and eventually found my sole bably 1-minus and tied it on. It is called a 1-minus because it is a crankbait that runs less than a foot deep and if I lift my rod high I can even make it bulge the surface. It is also really fat (almost roundish) and the body pushes weeds away from the trebles. Most of they hydrilla had a little water over top of it because the current was causing the weeds to lay down a bit. It was a perfect situation for this lure. This lure ended up being nothing short of deadly in this situation - especially when the wind died down for a bit and I could see the cuts and holes in the hydrilla and steer my lure through them.
Coolest thing happened during the calm period. I hooked a nice sized bass and had it about 15' from the kayak when it jumped and spit the lure. I watched the lure and as soon as it hit the water I saw 2 bass zoom up and both smash it. I had them both hooked for a second but one came off pretty quickly. It was just that kind of a day.
Ater the brief lull in the wind it came back with more fury. I kept throwing the baby 1-minus but now I was mostly fishing blind due to the chop. Even in the wind that lure casts like a bullet due to its roundness so I just kept chucking and winding and picking up fish. All was going well until I was burning it in (I fiish it as fast as I can reel with pauses) when it hit something solid. I thought, "Oh no I snagged up my only baby 1-minus". I only had that thought for a second because then a huge pig of a smallmouth leaped high into the air and gave me my lure back. I am not sure if I had known it was a fish if I could have done anything to prevent that jump and keep it hooked but I will never know. I would guess that fish was an easy 4lbs.
I went back to fishing but losing that fish really took the wind out of my sails. I was still catching fish - and decent ones - but nothing like the pig I had lost. As the day wore on the wind kept picking up and the sun even came out for a bit every now for a short bit and the fish just kept biting.

Late in the afternoon the wind got really serious and there were enough boats wakeboarding to make the river a choppy mess. At that point, I decided I had caught plenty of fish and just quickly fished my way back towards the ramp. As I got downriver from the big hydrilla fields I switched back to the white swimbait and finished the day with that. I just let the current and the wind push me back to the ramp and made casts in all directions as I floated over the huge mid-river flat that dominates that section of the river. Every once in a while I would catch a handful of fish. I can only think that they are roaming the flats in small schools chasing bait. These areas had no reason to hold fish. Just a large barren flat, but the fish were there anyway.
Overall, I caught more fish on Saturday than I did the week before at George Rogers, but I fished 3 hours longer. My catch rate was a little slower but man the number of nice fish was amazing. I only took pictures of a few because after a while the nice sized fish were kind of normal. For the most part I did not need much skill to catch those fish. Just toss out a white swimbait on a 1/4oz jighead and reel it just fast enough to keep it off the bottom. That is some nice relaxing fishing.
I now wonder if the large number of weeds in the upper river make it more nutrient rich. This was only one trip but the bass do seem to be of a larger average size and there seem to be a lot more fish in the 1.5 to 2lb range. Of course I did have pretty ideal conditions so I don't want to draw too many conclusions from a single trip, but I sure hope it is true