I hit the Willamette out of Willamette park in West Linn on Sunday hoping to find some smallmouth. I had not been fishing in nearly a month and I was chomping at the bit to score some tug (as in tug is the drug).
I started fishing near the mouth of the Tualatin, casting, reeling, switching it up. Wondering if this was going to be my last trip, was fishing going to close, what did the future hold. The water temp was round 50-51 degrees and I was cycling through a jerkbait, swimbait, drop shot, Ned rig, squarebill and rattletrap. I made a few casts with each and then moved a little. I did not have a ton of confidence since this was pretty early in the year for me to be fishing the Willamette.
Normally this time of year I am mostly at Hagg trolling for trout. I was concerned about crowds there which is why I decided to hit the Willamette. At first the smallmouth were respecting my social distance. Dang it, governor Brown had gotten to them.
It took about 45 minutes before I felt a solid smack on my rattletrap! My first 2020 bass, a solid pound a half, was subdued after putting up a good fight!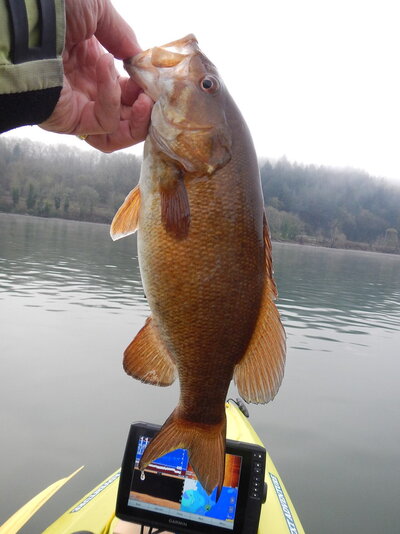 I had felt the lure ticking off of something right before he smacked it. I felt like a huge weight was lifted off my shoulders. If I did not get another bite I would have called the day a success. The water is interesting in that area because the current is constantly shifting around due to the interaction between the Tualatin and the Willamette. The exact same cast can be in an eddy, in the main current, or in the Tualatin current.
I now fished the rattletrap a larger percentage of the time but kept rotating some. A short time later I could feel the rattletrap ticking off something and I felt a bite. I jerked and missed, turned the handle a couple more times when BAM, I had a really hard hit. That fish fought great. Breaking the surface once and jumping clear of the water later in the fight. I was able to corral it into the kayak. A 1lb 13oz fish. This is getting good!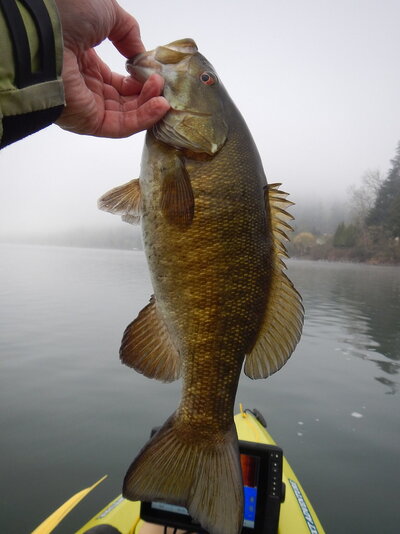 I fished that area for quite a while longer but could not pick up a 3rd bass. Both fish had come from the pretty shallow water so I decided to work my along with the rattletrap for a bit to see if that might be the deal for the day. A little further up the bank I hooked an even better fish. Woo hoo! The fish was not well hooked so I carefully worked it close to the side of the kayak and was able to grab it. This fish was a solid 2 and a half pounder. I quickly put my rod in the holder and went to quickly unhook and weigh the fish.
It is important to note at this point that this point I did not have much line out and my rod was bent pretty good while I was unhooking that fish. I worked the hook loose and it slipped through my fingers. The lure basically bow and arrowed straight into my ball of the thumb of my left hand. I just stared at it, not believing. I tossed the fish back and just stared at my hand.
The lure was buried straight in and deep. No way close to being able to attempt the trick with some line around the bend of the hookd and the quick jerk. I realized after a bit of fussing that I would need to push the hook through. This happened to me a few years back so I knew how this would go. I grabbed my pliers, gritted my teeth and rotated the hook back out my palm.
At first I tried to pinch the barb and work the hook back through. I futzed with that for a while but I could not get the barb mashed down well enough to be able to back it back into my palm. After a while I gave up on that and decided I need to cut the hook. The problem was that with the hook being buried deep to start the barb was barely protruding. I had to kind of use the pliers to slide the meat down towards the bend so that I could snip it below the barb. I tried with my normal pliers (which have a cutter on them) but there was no way I could get the cutters below the barb.
Fortunately, after the last accident I had bought a pair of diagonal cutters for just such and emergency. They were behind me in my tackle bag. As I turned to reach for them I tangled my foot in line and jerked pretty hard on the lure. That was even less fun than it sounds. I second more careful attempt and I had the diagonal cutters. I was able to get below the barb easily with the small cutters and I gave a good squeeze. I could not cut the hook with those cutters.
At this point I was imaginging trying to get back to the ramp, pull my kayak up the ramp, unload everything and pack up with a rattletrap in my hand. I was about there when I remembered I had one more set of pliers with cutters in my hatch. They are nice rapala pair but I had relegated then to the hatch since they were a little slippery. I got them out and they looked promising. After a couple of tries I was able to cut the hook below the barb and slide it back out. Brings a whole new meaning to barbless on the Willamette.
That was a good 30 mintues or more with that lure hanging from my hand. My kayak was covered in blood and my hand would not stop bleeding. I once again called on the healing powers of the Willamette. I alternated putting pressure on the holes and dipping it in the water to chill it and stop the throbbing. I used the time with my hand in the water to wash my kayak off.
When the bleeding had finally stopped (slowed to barely a trickle) I sat and tried to decide what to do. I was already worried that this was going to have to be my last trip for a long time and there was no way I was going to end it like that.
So I sucked it up and went back to fishing. Every once in a while I would have to stop and put some pressure on to re-stop the bleeding and my hand hurt like a toothache but some days are just going to be like that. I did not do a very good job of capturing video for the rest of the day but the fishing stayed kind of slow and steady for the rest of the day.
I ended up catch 6 more bass, none as big as the second or third. I caught 5 of those on the now 5 hooked rattletrap and one on a Ned rig. I also caught a pretty big (2lb 15oz) pikieminnow on the rattle trap. All the bass I caught were pretty shallow, near current and not too far from deep water. The bite was never terrible and never great. In addition to the fish I caught I lost another handful. I was a little gunshy in landing them
Here is some terrible video of the day. Don't worry there is nothing graphic. I deleted all the gross stuff and only have a little bit of video of me landing some fish.
Thanks for reading!
Last edited by a moderator: