Well-known member
Most Featured
I hit Swan Island again this past weekend hoping to have another fun day chasing dinosaurs. On my last trip I had found 3 schools of sturgeon. One close to the ramp, one halfway to the mouth and one out near the Coast Guard station. I was hoping I would be able to find those fish again.
I started out from the ramp and had only gone a few hundred feet when I saw the first school on the FF. Last time I had not stopped to fish there but this week I wanted to try to fish every school I could find. The cool thing is that the sturgeon were in about 18-22' of water. This is not super shallow like in the estuary but that is about as shallow as I have found them in the Willamette.
I love it when they are in that shallow water because the fights they put up are insane. They change direction a lot, pull my in circles, jerk me one way and then the next. Definitely keeps my on my toes and makes for an exciting day.
Within a few minutes of casting out I caught my first fish of the day. It was just a small shaker, but it thought it was a lot bigger and really put up a fantastic little fight. That school of fish was not huge but they were biting well in I caught 7 sturgeon out of that school in the first hour and 15 minutes. 2 would have been smallish keepers and the rest were shakers. No monsters but still a lot of fun.
I decided that I would look for some bigger fish so I started heading towards the mouth of the harbor. About half way out I found the second school, just about where they were last week. Those fish were not as good of biters.
I was getting a lot of line rubs but not many fish seemed to be on the bottom feeding which was disappointing. I only managed two shakers in almost an hour of fishing. I also missed a couple of bites. I believe those were from really small sturgeon. Sometimes it takes a little while for it to sink for me that I am wasting my time.
I decided to head up towards the coast guard area which is where I had all my success the week before. This time there wasn't anybody home. I cruised around a fair bit but I could not find any concentraions of fish. I thought perhaps the rising river had lured them out into the current.
I went out to the edge of the current and looked around. I was marking a lot of fish near the bottom in the deeper water. I was pretty psyched to see that situation. After an hour and a half and 3 different spots without a bite I was a little less excited.
I am not sure if the fish I was seeing out there were sturgeon or not. It was the incoming while I was out there so that may have been my problem but whatever the reason I decided not to waste anymore time and to head back to where I was getting bit earlier.
I stopped for just a few minutes at the school that was midway back to the ramp but after getting nothing but line rubs for 10 minutes I packed up and decided to go back to the school near the ramp.
When I got to the area I was relieved to see that they were still there.
The school was not as big nor tightly packed as the week before but the good news is that they were still hungry. Almost immediately I started catching fish. Mostly shakers with an occasional fish that would be near a keeper sized.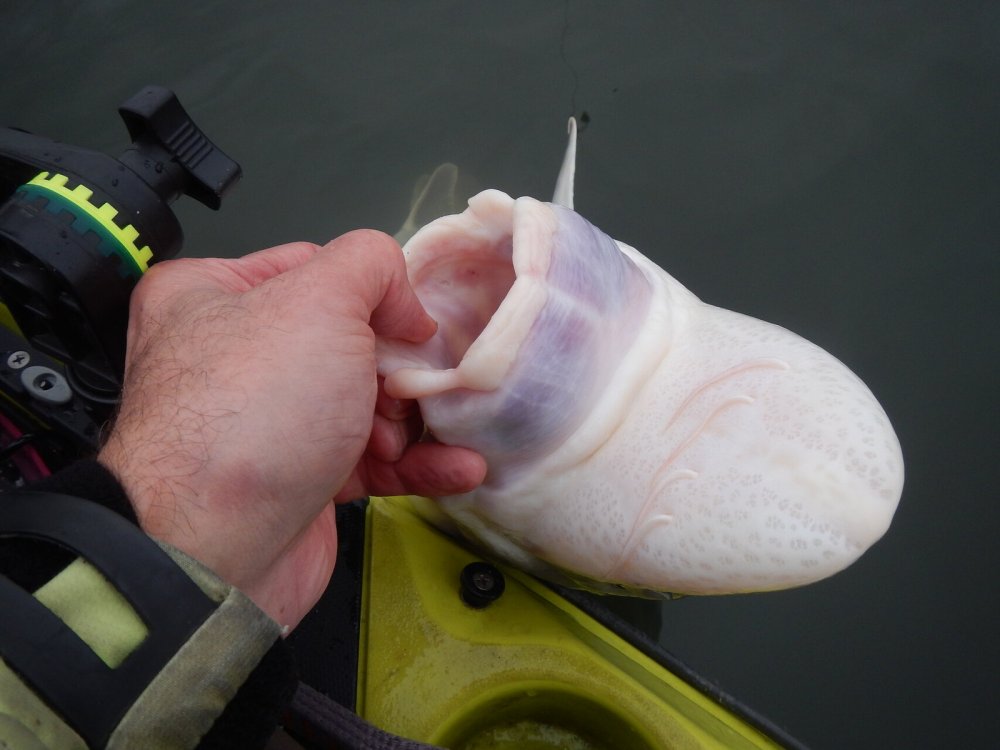 Catching a bunch of fish within spitting distance of the ramp was really kind of fun. In the morning I realized I had left my coffee in my truck and it was no big deal to go back and get it. Seemed like the further I got from the ramp the worse the fishing was.
When I did head out for my fishless period I did see the usual good-sized crowds around the dry docks so I am assuming they were on a good bite but I find it a lot more relaxing to catch fish where I don't have to constantly worry about tangling up with other folks.
Overall it was just a perfect and mellow day of fishing. I love that feeling of total inner peace that I can achieve on days like that. Some days I feel like I am in a fierce competition with the fish and some days I feel like we are just hanging out together. The latter days are magical and this was one of those days. Here is some video of me being jerked around by some shallow water sturgeon.