I fished out of Roger's landing for the first time this year. The flashboards are in now and the river has been raised about 3' from earlier in the season. I prefer fishing this section after the flashboards are in place since the current is less and some rocky spots have a little more water on them.
I am always amazed at how different this section of the river is compared to 10th street or the lower river. The bottom is mostly soft with tons of trees on the bottom (here and there) and just a few rocky spots heading downstream from the ramp. The river is far more featureless than the lower in the river. Upstream from the island I think it gets rocky again but that is not where I went.
There are some amazing structures around that area to be sure. A couple of spots where there are these huge rocky structures that stick straight up 20 to 30' off the bottom. They are big flats on top (relatively smooth) and sheer walls along the edges. I always think I should catch a million fish off of those but I never manage to scratch out more than a fish or two.
The other thing that is strange about that area is that there is relatively little surface activity. Around 10th street and in the lower river fishing are chasing bait all morning and the topwater bite can last into the afternoon on a cloudy day like Friday. I did not catch a single topwater fish, I did not have a single topwater hit!
I did see a group of bass chasing bait one time and I was able to pull up on them and toss the swimbait that was on the rod in my hand and catch one. I am sure I could have caught those fish on a topwater but I did not want to take the time to switch rods. Other than that it was mostly crickets on the surface other than the occasional splash of a small fish. The strange thing is that there are a ton of eagles and ospreys in that stretch. I would guess that meant fish were near the surface but if they were they did not like me.
I know the above sounds kind of negative but really it is just a different fishing experience. I ended up with 46 bass (44 smallmouth and two small largemouth) with a nice smattering of pound and half fish throughout the day. The thing that is so different is how the fish behave.
There are fish on the rocky structures, but those structures are relatively rare compared to elsewhere. I am sure they get fished pretty hard and while I did have success on them it was hard to catch many fish on active baits. I caught a handful of fish on my usual 3" white swimbait, a half dozen on a hot lips express crankbait (dives to about 12'), one fish on a 1.5 squarebill, one fish on a jerkbait and the rest were split between a Ned rig and drop shot.
Most of the fish I caught were in 18-30' of water around some type of cover. A lot of fish came off of soft bottoms around sunken trees in deep water. This is not what I would normally consider smallmouth water but they seem to use it in that stretch. I also caught fish on a couple of small rocky outcrops and structures. The fish bit well there but I covered those areas a couple of times and then moved on.
Once again, this was a cloudy day with some wind. Fish would have been active and on top in the other sections that I fish but the Newberg fish seem to have a thing for deeper water. They bit well in that deeper water but it is a lot more tedious fishing a drop shot compared to fishing an active bait. I did go back to the topwater and shallower running active baits throughout the day but the fish just did not want to come up and hit them. I think the reason is that in that section there is not much water in 5-10'. In most places the rocky structures are small and drop off into 15-30' of water. Just very different than around 10th street.
Overall it was a pretty good day out on the water. The wind made kayak control a little difficult (especially for deep water fishing) but I was able to manage just fine. It was cool that I caught 2 small largemouth. Biggest excitement of the day was the 5 seconds when I hooked a huge fish. It just buried my rod and as I applied pressure the line just popped. It broke about 1/2 way up my fluorocarbon leader. I must have nicked it at some point and not noticed. You can see it at about the 28 minute mark in the video below.
Here are a couple of fish from the day: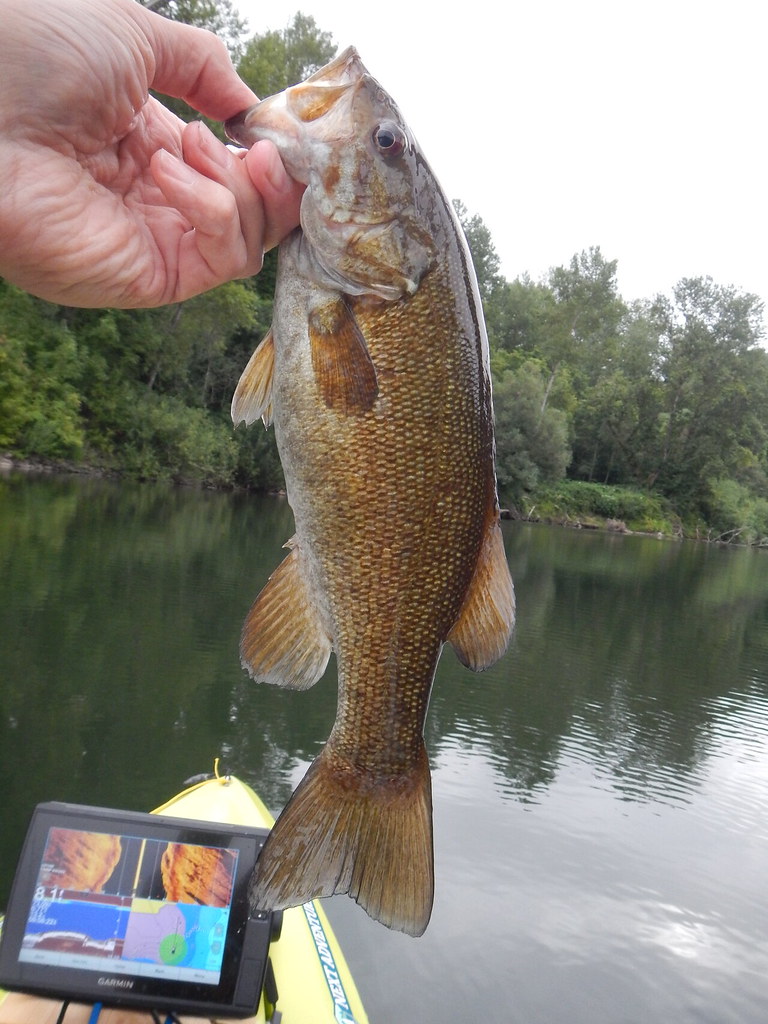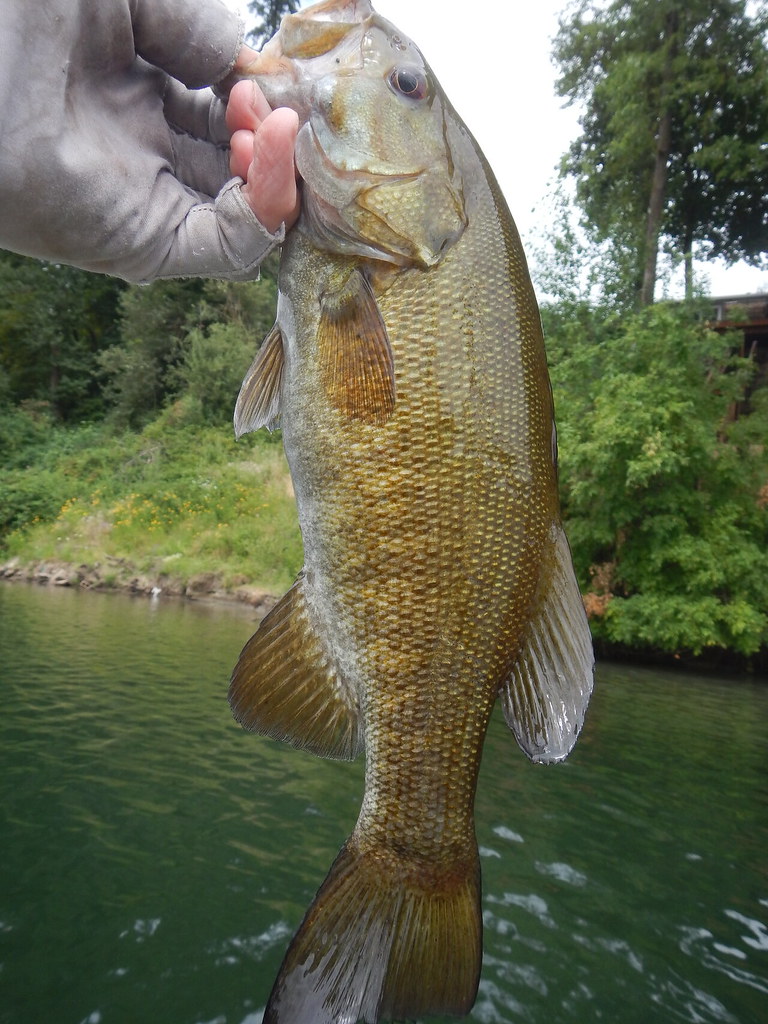 Here is a link to a video of the day:
Last edited: