The Guides Forecast
Member
Joined

Sep 17, 2020
Messages

237
Location

Oregon
Portland/Metro Oregon Fishing Report –
Metro fisheries are slow, with mainstem Columbia salmon fisheries over, anglers will have a long wait until spring Chinook show here next year, in March. There is also some catch and release sturgeon fishing available, mostly around the mouth of the Willamette River.
It's early for winter steelhead on the Sandy and Clackamas Rivers, but it won't be long before one is caught. The coho run was good on both of these systems, with robust jack counts again making us believe we may see another good return in 2022.
The
trout stocking schedule
still offers hope for metro anglers willing to brave more inclement conditions. The department of Fish and Wildlife is prepping for Black Friday, offering up a handful of opportunities for quality trout this time of year. Since nobody goes to shopping malls anymore, it's a great place to spend the day if the weather cooperates.
The Oregon Department of Fish and Wildlife just announced their
FREE FISHING
"Weekend," Friday and Saturday, November 26 – 27 actually, will offer up some great opportunities for trout, some coho, but especially crab as tides look favorable. If you dress appropriately, it should be a fun time. More details
HERE
.
Find the full report and forecast for Members on the Sandy and the Clackamas from
this page here
.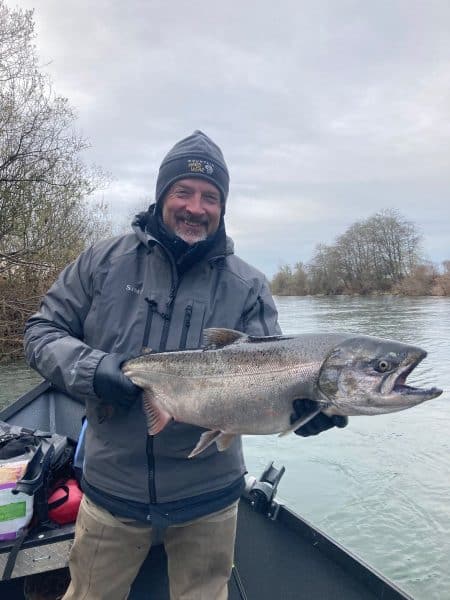 Oregon fishing, Todd Staver with a Wilson River Chinook from 11/22. He was fishing with Pro Guide Chris Vertopoulos (503) 349-1377.
Oregon North Coast Fishing Report –
The season's first winter steelhead was "reportedly" caught on the North Fork Nehalem this week. There are confirmed reports of winter steelhead in the NF Nehalem trap already. It's likely there may be early returning steelhead on the Necanicum River too.
The Wilson is a favored system for late-season Chinook. It fished fair this week for Chinook and an occasional chum and coho salmon too. Another rain event is slated to rise river levels once again, but not significantly over the weekend.
The Kilchis may also have a few late-returning fall Chinook as well, but they'll be hard to find. Chum salmon remain abundant, but it's closed to the targeting of them.
The commercial crab season gets underway on December 1st, barring any fishermen strikes. Once the commercial gear goes in the water, sport catches crumple. Gear will go in as early as Sunday, 3 days before the opener.
See the full report and forecast for Members
right here
.
Central Oregon Fishing Reports
– Contributor
Glenn Zinkus
reports:
(Glenn will be providing fresh reports every OTHER week through the winter season.)
Central Columbia Gorge Cohos and Walleye. Metolius and Fall Rivers Consistent for Trout.

Weather Outlook Across Central and Eastern Oregon:
There will be some spotty morning showers Friday and some winds along the east slopes of the Cascades; and clearing for the weekend with temperatures peaking in the mid 50s Saturday and Sunday with calmer winds. High country snow lines and freezing elevations significantly climb higher through the weekend.
The Lower Deschutes Canyon will have clear weather after Friday morning, remaining clear through the weekend with highs in the 50s, lows in the 30s. The weather remains consistent through mid-week next week.
Mid-Columbia Gorge area will see high temperatures in the 50s through the weekend and into next week. There will be some showers on Friday and clearing for the weekend and into next week. There will be light winds to start the weekend, increasing on Sunday and into the first half of next week.
Lower Deschutes River:
The Lower Deschutes flows spiked last weekend and dropped through the week, slowly leveling with slighter drops right now. The river is again coming into somewhat high, but fishable levels. The muddy color so prevalent last weekend subsided to just a slightly tannin color, getting better each day.
Middle Deschutes River
: The river level is up. No recent reports over this last week. I checked out the river along Lower Bridge Road and find that it is getting high. Despite this, the Middle Deschutes has been fishing well.
Lake Billy Chinook
: No new reports. The Metolius Arm closed October 31.
Crooked River:
Crooked River flows needed to increase, and indeed spiked end of last week and dropped since last weekend. Flows at the dam are near 50 CFS, and although fishable, are low and steady like they have been all fall.
This time of year, and through the winter, the Crooked fishes well. Friends have started catching more fish nymphing – Perdigons have been the ticket. Nymphing is consistent and anglers are catching redsides and whitefish.
I was on the
Metolius
earlier this week, before the cooler weather blew in on Monday. It was a somewhat quiet day, a little overcast, and the first of the winds were just starting to blow in the treetops. During the morning I noted a few flies in the air over the river, when I looked downstream from Allingham Bridge.
Check out Glenn's detailed report with much more information and forecast in this week's
Member's version
.
Eastern Oregon Fishing Report –
Contributor
Glenn Zinkus
reports bi-weekly, here is this week's report.
Northeast Oregon starts off with some snow and rain showers on Friday, becoming sunny for the weekend and through the first half of next week. High temperatures will be in the 40s through much of the time, except Saturday that will peak in the high 30s. Nightly lows in the 20s.
Southeast Oregon remains dry, with high temperatures in the 40s into next week, and nightly lows in the 20s and 30s.
Wallowa Lake was stocked in August with 5400 legal size trout and 180 trophy trout. Rob at the The Joseph Fly Shoppe thinks Wallowa Lake is one of the best in Oregon right now for stocked trout. There is some action on the south side of the lake with small dry flies – anything like a parachute Adams, Purple Haze and Elk Wing Caddis are taking fish.
Jubilee Lake:
Jubilee Lake, in the Umatilla National Forest was stocked with 2000 legal size trout.
Wallowa River
: Rob at the Joseph Fly Shoppe reports Wallowa trout fishing has been good for trout up through now. Nymphing, soft hackles, and lures have been taking trout, including some larger trout.
As for the coming weeks, Rob comments that the cold weather starts to slow down the trout fishing, and when temperatures drop below 42 degrees, the fish begin to shut off.
The Wallowa River steelhead run is slightly later than the run on the Grande Ronde, as the steelhead wait for higher river levels.
Grande Ronde River:
The very latest from the Joseph Fly Shoppe reports that ODFW Creel Checkers in the Troy area have only seen 1 or 2 fish caught recently, a change from the very encouraging numbers from a few weeks back.
The steelhead seem to be moving through in pods, so it is a matter of timing. If angling at a time the pod is moving through, steelheading can be quite good. ODFW reports that steelhead are showing up at the hatchery.
Check out Glenn's detailed report and forecast in this week's
paid version
for Chinook and Steelhead Members both!
SW Oregon Fishing Report –
Contributor
Jeff Rome
reports
Anglers that aren't interested in the OSU Beavers looking for another back to back win against the Ducks on Saturday's Civil war (are gonna be missing out on an epic game…… yes, my Beavers are gonna be PAC 12 North and even PAC 12 Champs…..Goooo Beavers!!!!) should be getting outdoors for some recreating on the ocean for bottom fish or some Thanksgiving first of the season winter steelhead. Some, and I mean a few, winter's have already been caught in the lower Rogue and Chetco and are just awaiting some more big rain to increase the flow to come in. The Elk and Sixes are low and pretty much not fishable and the Chetco is low and catches are few until more rain ….hopefully by end of next week.
Summer steelhead catches on the Rogue have slowed due to colder water temps in the mid 40's and decreased flow to under 1300 in the middle section. The weather is supposed to be a bit warmer (low 60's) for the weekend so why not get out and work off some of that turkey and dressing by getting out?!
The North Umpqua opens back up for winter steelhead angling December 1st (see breaking news below)
I'm keeping this one short this week because there's really not too much to report and also. I've got to maintain my focus on beaming the Romer mojo to the Beavers for a big win Saturday!
Receive these and Oregon fishing reports in your email on
Thursday nights
by s
igning up here
.
Last edited by a moderator: