The Guides Forecast
Member
Joined

Sep 17, 2020
Messages

219
Location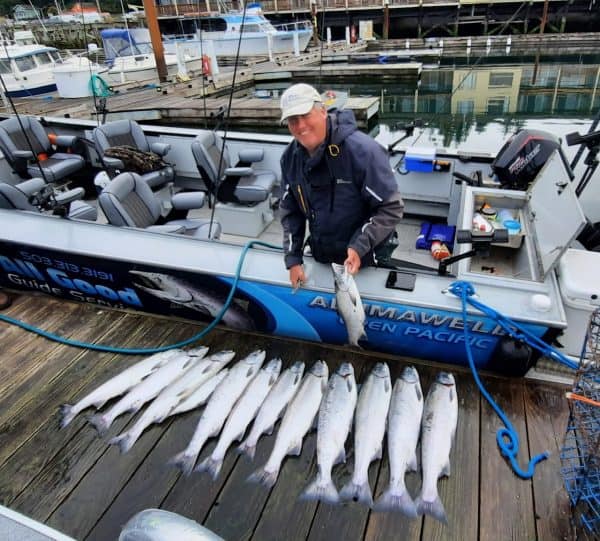 A 13 coho day with Pro Guide Bob Rees at Buoy 10 on September 29th 2021, Oregon Fishing Report
Seaweed Frustrating Tillamook Bay Anglers, Fall Chinook In Peak Season
Tillamook Bay anglers are quickly becoming Tillamook Bay angers as coho dominate the catches most days. Not that this is a bad thing, particularly on Wednesdays and Saturdays, when coho are allowed to be retained. Most anglers are fighting their way through copious amounts of seaweed, in search of a rare Chinook salmon.
It's kinda been the case in recent years, more coho than Chinook, anglers are asking, "Why aren't Chinook listed under the ESA?" Chinook are returning to the bay in fair numbers, but we've witnessed this lull in activity by early October in recent years. Early September success rates have been sadly misleading.
The ocean has been upside down as of late, forcing anglers to recreate in the weed-filled estuary. The stronger tides as of late have swept in the sea vegetation, along with the broken and cut-off eel grass that keeps circulating in the bay as well.
The Nehalem is LOADED with wild coho, and a few hatchery fish as well. A keeper fish, either a hatchery coho or any Chinook, is hard to find on the Nehalem right now. There is NO catch and keep wild coho fishery being prosecuted on the Nehalem this year (I'm just the messenger…).
Further south, Nestucca anglers are also struggling for consistent results. Fortunately, they too have a coho retention option on Wednesdays and Saturdays, like Tillamook does. Chinook action has slowed, but persistent anglers are still finding fair success.
The Salmon River is past its peak now although fall Chinook remain available, mostly close to the hatchery.
The Alsea River has been surprisingly slow in recent days. Despite being in peak season, and the fact that fish are pretty well distributed in the tidewater reaches, anglers have struggled in recent days.
The Siletz has been mediocre as of late. This system isn't yielding the catches it has been in recent years, but it's still a worthwhile fishery.
Other, mostly saltwater fisheries have not been an option lately, largely due to a big ocean as of late. Bar restrictions have been common, putting halibut, ocean coho (now closed), ocean crabbing, albacore fishing and bottomfishing, all on hold. It's unfortunate, as October can provide some excellent saltwater options. Friday (tomorrow) may offer a window of opportunity, however.
Bay crabbing remains good, if not excellent in many estuaries.
Razor clam digging was what most expected, excellent.
See the full report and forecast for Members
right here
.
Receive these SW Washington and Oregon fishing reports in your email on Thursday nights by s
igning up here
.