Well-known member
Most Featured
I got to George Rogers park around 5:15 and was fishing by 5:45. I rolled my kayak down to the ramp and say some bass splashing and chasing bait. I picked up my topwater rod and quickly caught 3 bass before I even got the kayak in the water. Small but still fun and a good omen for the day ahead.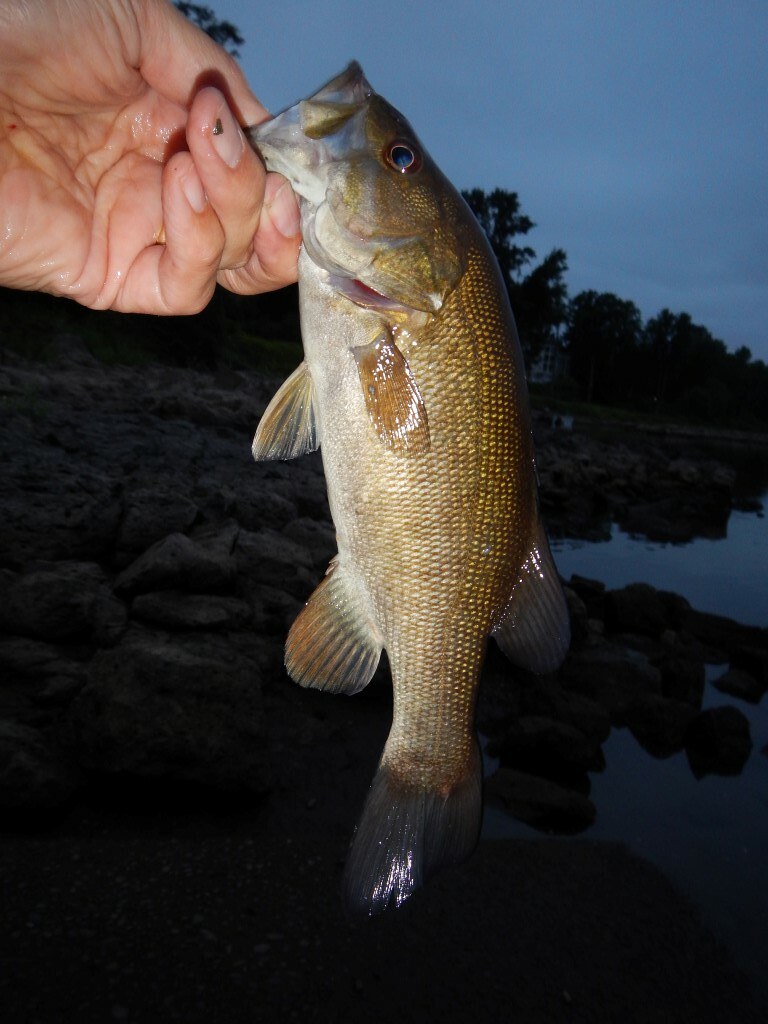 I definitely recommend getting there at 0'dark 30. The topwater bite lasted pretty long. It sprinkled a little bit and the wind came up and when that happened I switched to a jerkbait and they like that as much or better than the topwater. When the wind died down I picked up the topwater and the bass kept cooperating.
I fished around the ramp and the rocks and island near the ramp for probably two to three hours. The bite eventually slowed from hectic to steady and I decided I wanted to do some exploring.
I moved across the river and started fishing every little point I could find. There was a family out tubing at one point and they were stopped. I picked up fish on back to back casts and the dad note that and his little girl shouted "good job". Really mad me smile.
Later I ended up fishing in front of his dock when they came in. I moved out of there way as he pulled the tube up to the dock. It was a few feet off so I nudged it in with my kayak. It was just one of those days where the world just felt right.
From there I quickly worked my way upstream picking up bass here and there on little spots when I got to a good sized point/shelf that is about 12-20' deep. I was marking fish with my finder so I would just drop straight down and catch them. It was pretty fun using my FF to actually find fish.
After a bit that got old (that is the kind of day it was) so I decided to move upstream to a hump that I really like. It was really deep water on one side and less deep on the other. It also has a lot of big boulders on top which create a ton of ambush points. It was probably a little after noon when I got there.
The fishing had been fantastic up to that point but it was terrible compared to that point once I figured out how to set up and fish it. Typically I fish the top of it and the drop on the shallower side and below it. I probably spent an hour doing that with only a couple of fish. I was kind of shocked.
I was thinking about heading upstream to the next point when I decided to try one last thing and fish it from the deeper outside edge. I kept my kayak in 30-45' of water and tossed towards the hump.
On the first cast I hooked up and when I got the fish to the kayak there were several other bass with it. That is always a good sign. From there the action was frenetic. I think the longest stretch I had was 14 consecutive bass on 14 casts and every time there were other bass with the one I caught.
If a bass came off during the fight within a turn or two of the handle I would have another on. I was mostly fishing a Ned rig at this point and I would toss up quartering upstream and it drifted down dragging and ticking the bottom. If I did not get a bite when it was a quarter downstream I would reel it in for another cast. I can't count how many bass I caught when I was speed reeling it back in. Just crazy. No monsters but a lot of fun. This was a typical fish.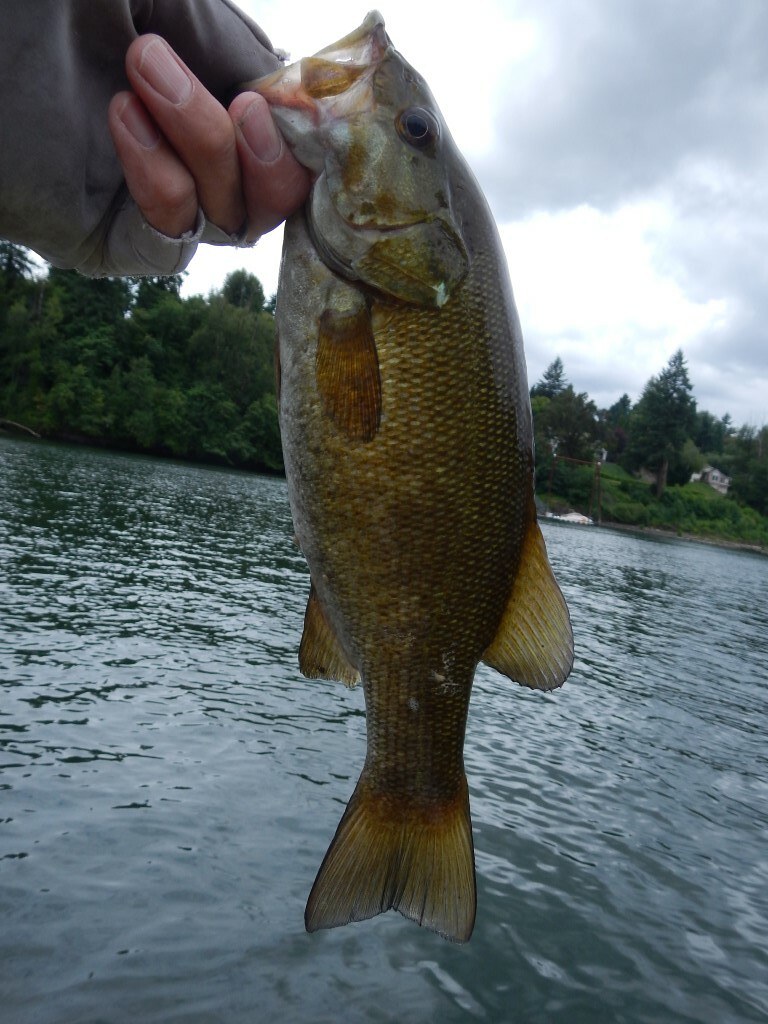 I kept at it and finally hooked a good fish. Probably about 2.5lbs. I got it into the kayak, dropped my rod to the bottom, unhooked the fish, tossed my lure over the side and went to get my camera out of my PFD. Throwing the lure overboard in those waters was a mistake. A bass grabbed it while I was reaching for my camera and the rod started to flip over the side. I tossed the bass and barely saved my rod! They weren't jumping in the boat, but it was close.
At the peak of the insanity I got another normal sized bass and the wind was dead and the sun (what little there was) was at just the right angle. It looked like there were 20 bass with the one I had hooked. It was actually a little unnerving. They looked like an angry swarm of yellowjackets trying to grab the little piece of plastic sticking out of my fishes mouth.
Eventually, the bite slowed to where I had to make a couple of casts to get a bite so I moved on to my favorite hump which is above Hogg island. There were a ton of fish on it as well, but it was hard to fish with the crazy amount of river traffic. Mostly it was OK but when I guy in a wakeboat with towing is kid on a board passed within 20-30' of me (no reason to do that), I decided it was time to pack it in.
I took my time making a few casts and mapping parts of the river I had missed in the past as I made my way back. When I got to the magic hump I said to myself that it seems dumb to not fish it at least a little bit more. I put on some lures I have not really used much and had never caught a fish on. Well they all have caught fish now. Mostly some weird off brand cranks and some deep jerkbaits.
When the tide was running hard (from about 9am till about 3pm) the bite and the fish were just insane. During the slacker periods the fish still bit, but it was noticeably slower.
My best lure was a 1/10oz Ned rig. I mostly used green pumpkin, but I tried a few other colors and they any one seemed to work as well as the others.
Probably my second best lure was a 1/4oz jig head with a Bass Pro Shops version of Rage Swimmer. I only had a whitish color so I could not experiment. I swam it in and then would let it drop. Some hit on the drop and some on the retrieve.
I fished a bunch of jerkbaits and they all worked well. They were all more or less minnow or shad colored..
I tried a Carolina rig with a 4" dead ringer and that worked well but was not as fun to fish as the Ned rig (CR rod is heavier) so I did not fish it as much.
The topwater lure I used was a Lucky Craft Sammy. I am almost embarrased to admitting I spent that much on a topwater but I have wanted one for years. A few years back I was launching my kayak and someone was shore fishing and some guy was fishing a Sammy. A seagull kept swooping down and almost grabbing it. Ever since that day I wanted one. This was its maiden voyage and it was a good one, but perhaps not an acid test. I am not sure if it really is more realistic looking. I will have to run some tests one of these days pitting it against a Zara Spook.
Well, other than the painful pull up the hill at the end (GR is a bit of a tough launch) it was a magical day.