@portlandrain
and I hit the upper Willamette out of Willamette park on Sunday. We got there at first light and fished pretty much the whole day (he left a little while before I did). The fishing ended up being good once we figured them out but it was really different from my last trip there 3 weeks prior.
I got to the river expecting more or less a repeat of my previous trip there. On that trip the bite started out hot and stayed hot the whole day. The fish were super active and I fished reaction baits the whole day long.
We launched at the ramp and started fishing right away. One thing I did notice is that while there were some fish breaking the surface here and there the amount of surface activity was way less than my previous trip. I started out fishing my trusty Sammy and was getting lots of hits from small fish. Not sure if bluegill or tiny bass. Eventually, I ran across one big enough to eat the bait. It was a small, chunky largemouth. OK, I thought, here we go.
I mostly threw that Sammy for a good hour and a half and in the end I only caught 4 largemouths - the "big one" would have been lucky to have weighed a pound. I had a zillion hits from micro fish but the bigger fish were not to be seen.
The craziest part of the morning was having my Sammy attacked by a gull, repeatedly attacked. That stupid bird came swooping down on my plug and I yelled and screamed but it just hovered over it trying to pick it up. I burned it in as fast I could reel and that bird followed it the whole way to the boat. I picked the lure up and the gull circled my a few feet away still trying to grab that lure. I have to say, that is a good lure!
I had to put the Sammy down and throw something else until the bird finally left. About 15 minutes later the bird returned and we repeated the whole dance. It was really crazy. I just wish the bass were as gung ho as that bird. It even followed and checked out
@portlandrain
's buzzbait. That was a hungry bird.
I think part of the issue with the topwater bite is that there was a light breeze rippling the water most of the time. Perhaps a noisier bait would have been better but
@portlandrain
had that covered with the buzzbait. It was just a tough morning. Eventually I said to myself, "enough is enough" and picked up my trusty white swimbait. I almost feel bad fishing it because it is so effective. I cast around some of the areas I had covered with the Sammy but did not get any bites there. I figured that perhaps the problem was where I was fishing.
I moved to a little mini-point that was rocks on it. My first cast there I missed a fish. Second cast a nice chunky little smallmouth totally choked that lure.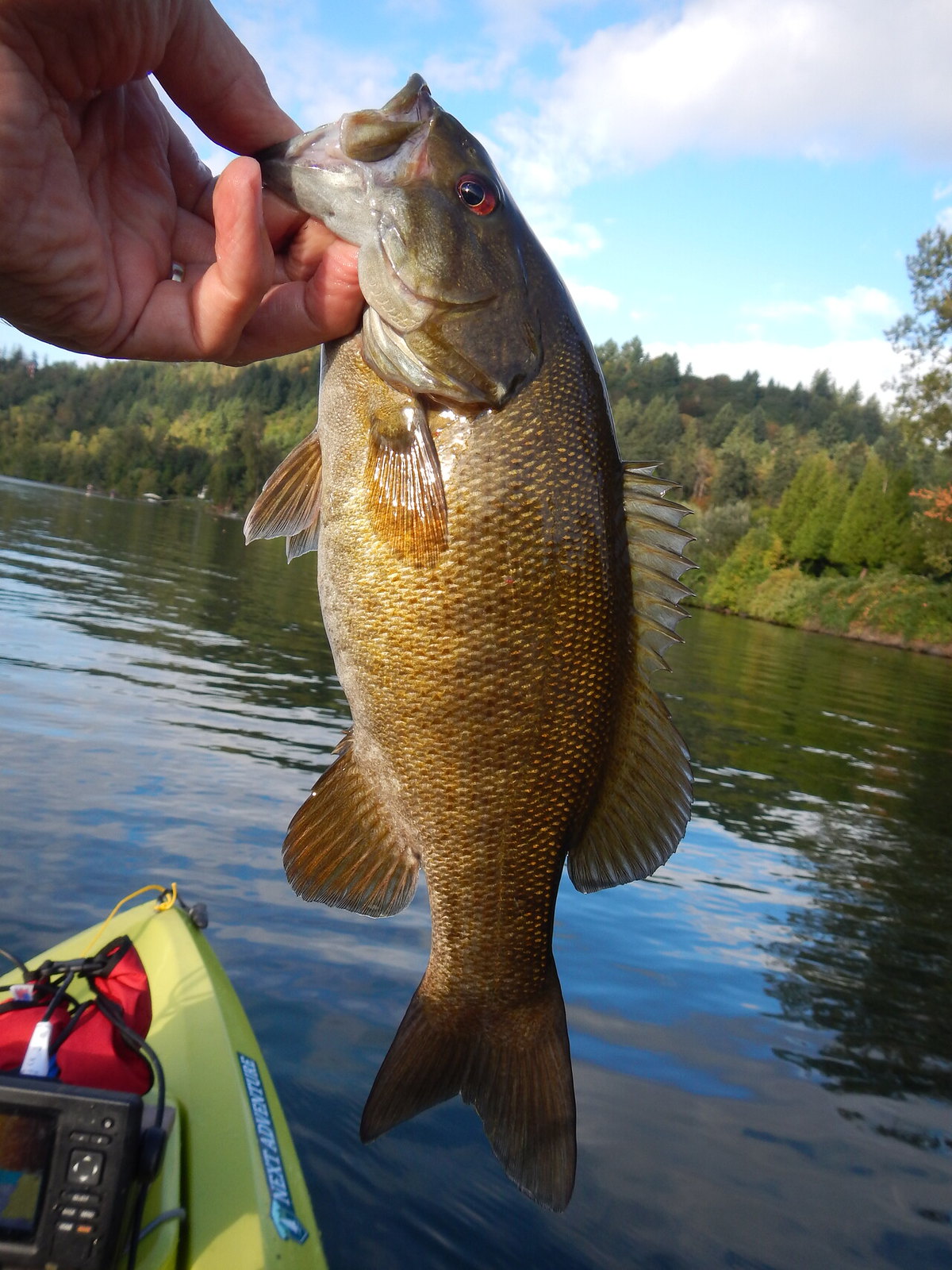 I ended up catching 4 more fish off that tiny little point and I thought it is going to red hot now. I was salivating as I made my way upstream to my favorite hump. I told
@portlandrain
that it was my favorite spot. It is where I had caught a bunch of nice fish including 3 two pounders the previous trip. I was totally tense as I made the first cast. I was a little less tense on the tenth cast without a bite. I was really puzzled and a little mad too! I decided that there had to be fish related to that hump somewhere and I decided to cover every inch of it, working deeper and deeper until I found them.
It took a bit of searching but eventually, I found a ton of fish on a deep, rocky lip associated with that hump that is pretty far offshore. The bottom drops from 16-18' down to 25' quickly and then to 35' with a slightly less steep angle. It was lights out fishing with the drop shot. My best run was 11 bass on consecutive casts. The wind was blowing a bit so I would catch a fish, get blown downstream while I unhooked it and then pedal back up to the same spot. My electronics were the key to being able to find the spot on each return. I caught somewhere around 25 bass off that spot in about an hour and a half to two hours before the bite slowed a bit. It was a crazy good bite. A mix of dinks and decent sized fish.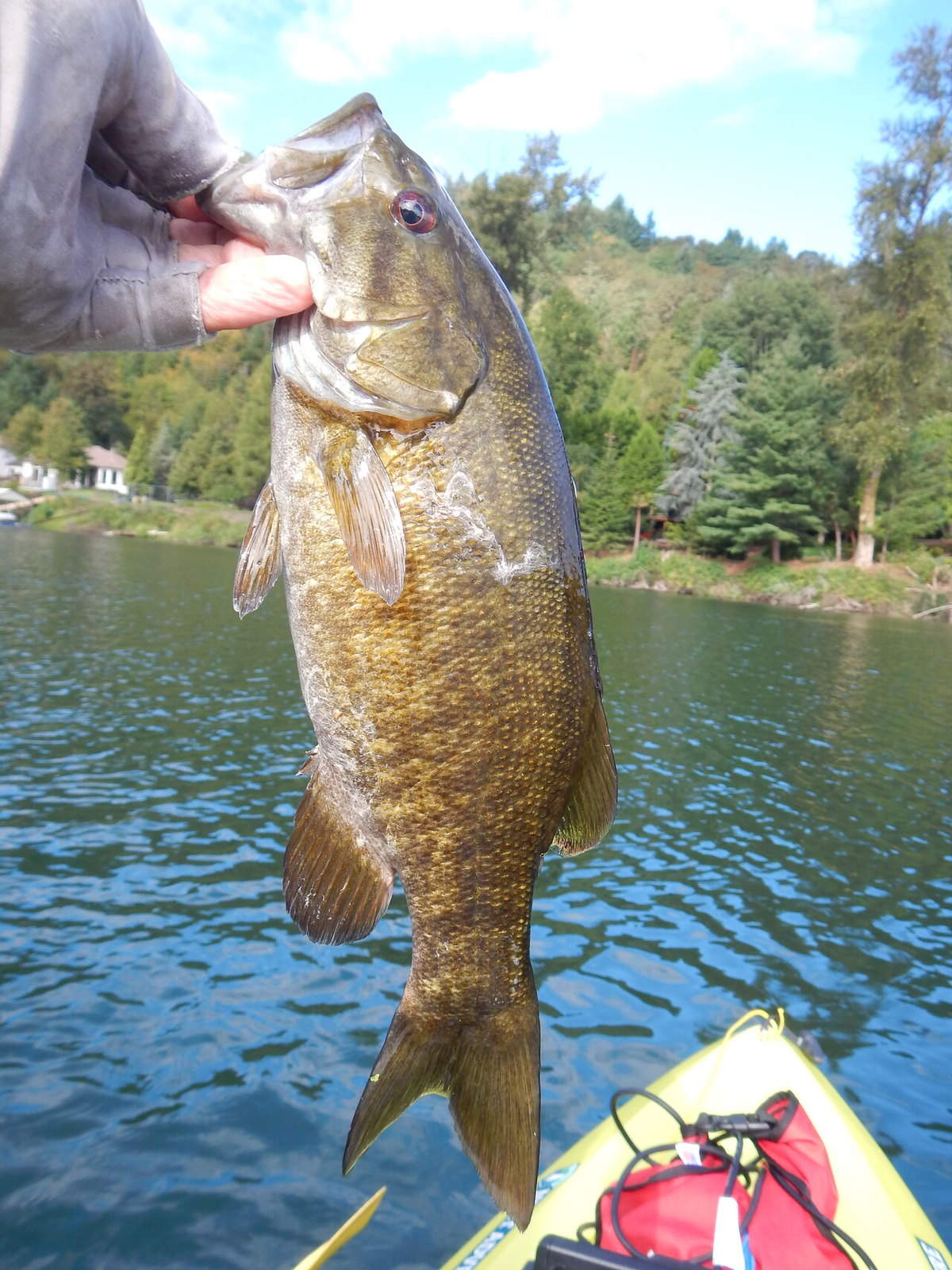 I think this is the skinniest bass I have caught this year!
My biggest was 1lb 13oz. Far from a lunker but still fun on the light spinning rod. (No picture of that one, the camera mis-focused and I didn't notice). While I was in the middle of that bass blitz I noticed that
@portlandrain
was staying in one small area as well. Once the bite slowed I pedaled over to him to see how he was doing. He had found a good school of bass in the trough that is upstream from the hump and been whacking there while I was whacking them out deep.
It is interesting that we both found the bass deeper and less aggressive. He was throwing a Ned rig and I was using a drop shot.
I told him I was resting the spot since the bite had slowed a bit but I wanted to show him the spot and see if the bite had picked back up. We went out to the spot but I just was not marking any fish. We cast around a bit and I picked up a couple on the drop shot but the fish did not reappear in the deeper water. We worked our way upstream exploring the area just above the drop and started catching them in 10-15' of water. I am not sure if these were the same fish or not. Either there were fish the whole time and they turned on or the school I had been on had moved up a bit. In either case there were plenty of fish there. Not kegged as tightly as the deeper fish were earlier but there were plenty to catch and we were them out for a good while.
We were having a blast when
@portlandrain
yelled that he had hooked a big one! I came over as he carefully fought that fish. He reached down with his net and scooped up a good sized fish. I could not believe when he said it was a catfish!!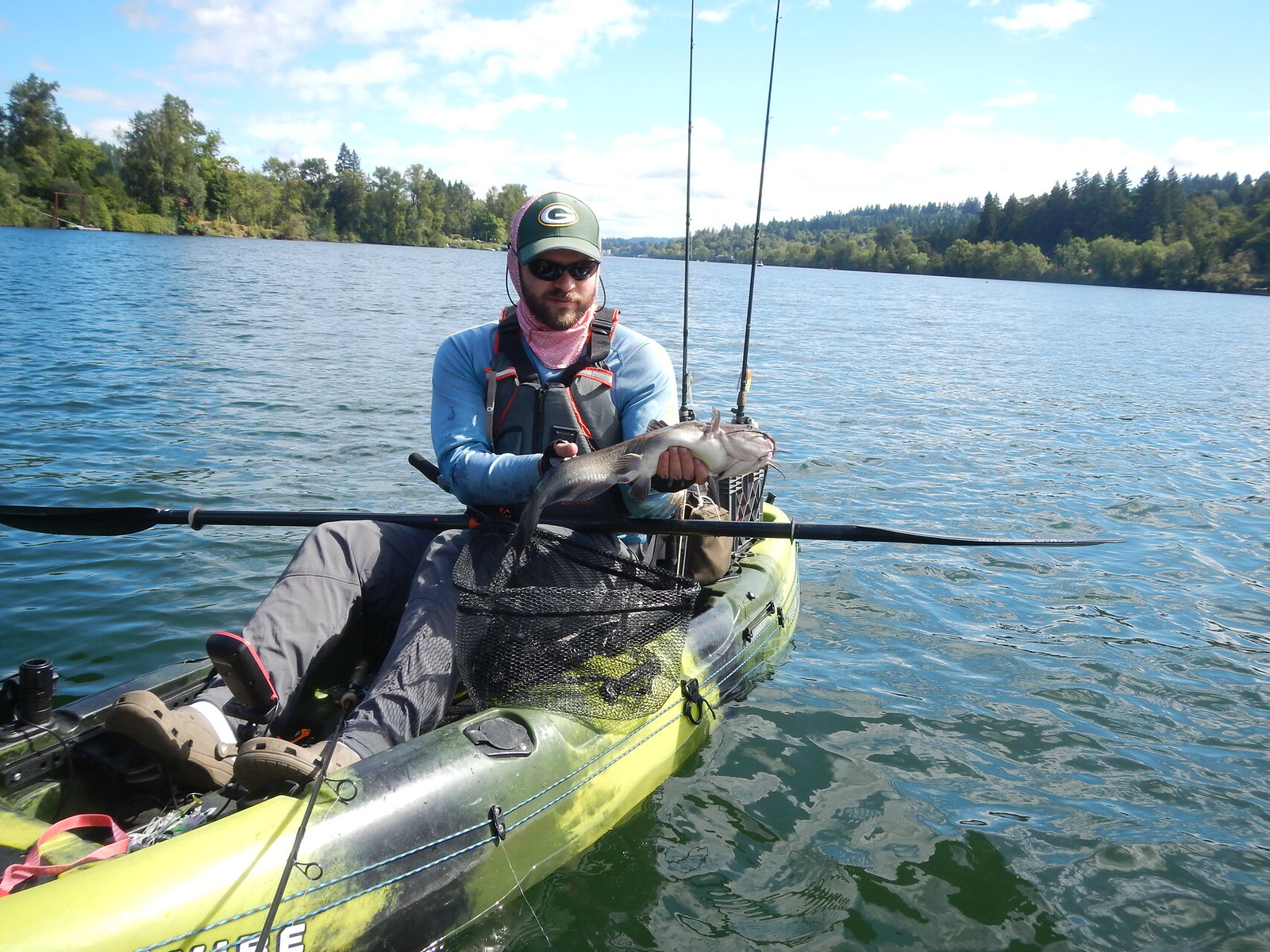 He handed me the fish so I could weigh it. 2lbs 11oz. A nice sized fish. I took a picture of the tail to confirm that it was a channel cat. The forked tail indicates blue or channel and the way the front spines of the anal fin curve up indicate channel and not blue.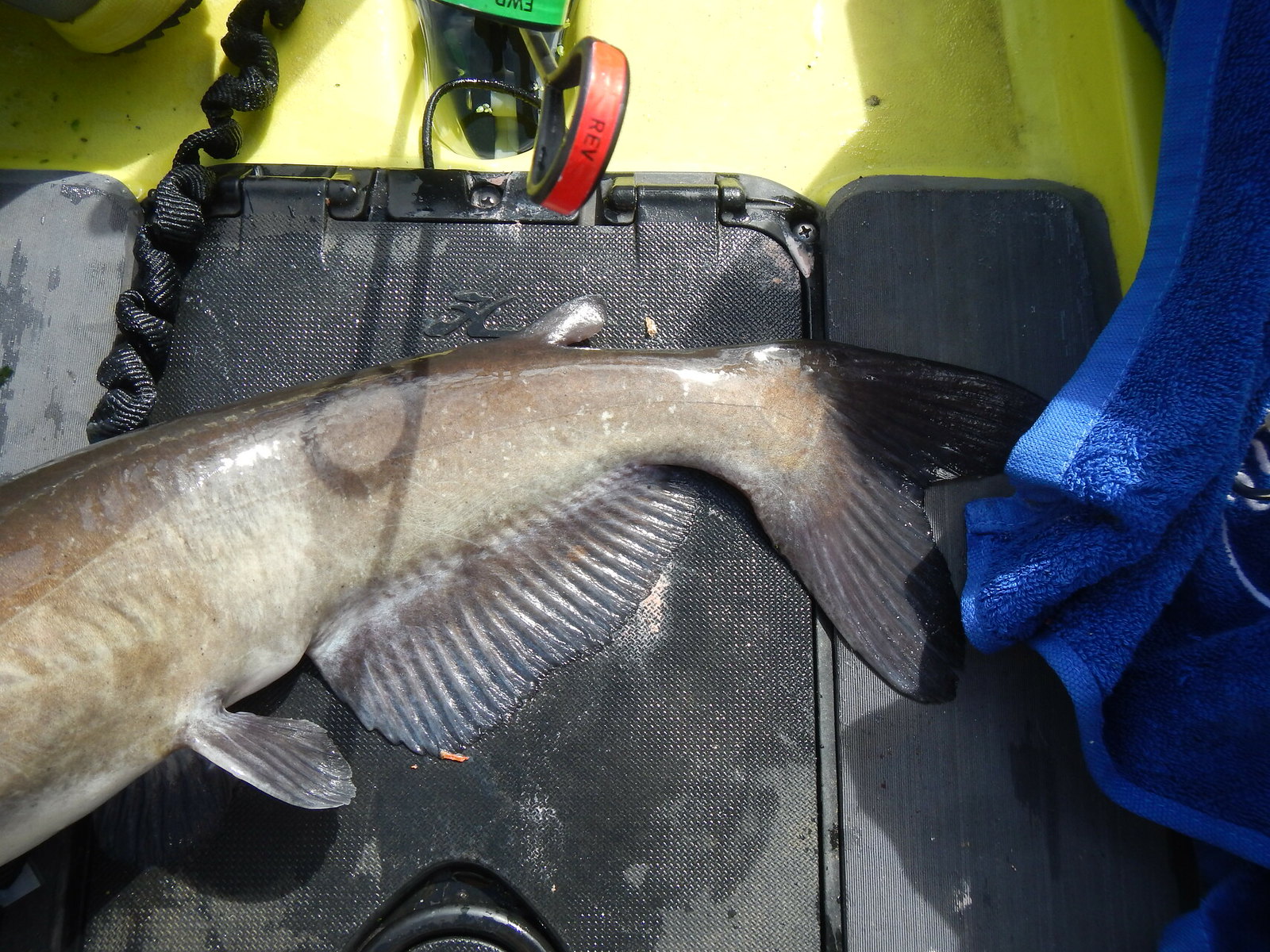 That blew my mind. We were both really stunned. He said it was the first catfish he had ever caught. A while later lightning struck again and he caught a second catfish! Two catfish on a Ned rig, that has to be some kind of a record.
We fished the 10-15' section of that hump near the deep water for a good long while but eventually the bite slowed and we made our way upstream to another hump. When we got there I decided to try the swimbait again since
@portlandrain
mentioned that the fish seemed more active (since we were catching them shallower). I got on a small part of the new hump where there was deep water on both sides. I set myself on the middle of the shallow part and tossed my swimbait out to the deeper water with the thinking that they would hit it close to the kayak in the shallower water.
Well, my ability to predict where the fish were going to be did not improve. As soon as the swimbait hit the water a good-sized bass smacked it. I ended up catching a half dozen or so good sized fish repeating that cast over and over again. The fish were out over 30 to 35' of water but I was catching them in the top 10' of the water column. I am not sure if they were supsended or just rocketing up all the way from the bottom. In either case it was fun to be catching nice fish on an action bait!
When we finished with that structure
@portlandrain
said we was going to fish his way back. I decided that since I had not been out in 3 weeks that I was going to fish a bit more and pedaled up to Rock Island since I had not fished that area since May. I figured with the rocky bottom and some current that there should be fish there. Finally, I found fish where I was looking for them.
The bite was pretty good up there. I switched to a Ned rig since the bottom was clean (no weedy gunk). I like the drop when when the bottom is gunky since the lure stays clean and I don't care if the sinker picks up gunk. The smalllmouth up there were in little pods. I would fish for a bit and then catch 2 or 3 back to back then nothing for a while. It was a fun way to wrap up the day.
I pedaled back to ramp laughing to myself about the crazy day and the catfish. I guess that is how smallmouth bass catfish anglers