Well-known member
Most Featured
Sunday the 7th was a cool rainy day at Hagg. The wind was quite calm until 2 or 3pm and then kicked up a bit. The rain was very light with an occasional heavier spurt basically conditions were just about perfect.
I launched from boat ramp C and had my rods in the water by 8:30am. The bite was just incredible right from the start. I was trolling two rods. One had a 1/24oz green roostertail and the other had a 1/24oz pink roostertail. Both setups were fished with a 1/8oz dropper and set 50' back. I also had a trailer hook on each with a couple of inches of mono. I threaded 1/2 nightcrawler on each setup using a worm threader so that the mono is inside the worm and the trailer is sticking out the end. The other end I hook onto one of the trebles.
I had a hard time keeping two rods in the water for most of the day. More often than not I would hook a second fish while reeling in a first. I did not land many doubles but the action was the fastest I have ever had on Hagg.
Lots of nice sized fish in the 12" range: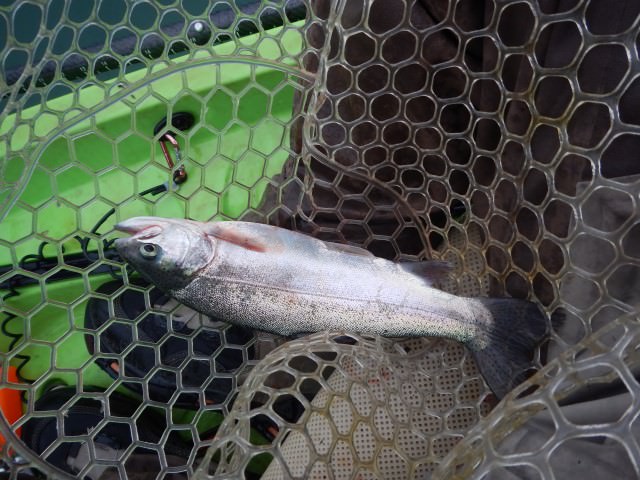 A handful of 14" fish and my big fish of the day was 18":
It was mid-afternoon and I was at 39 fish and I had decided if I catch one more I would stop, but I ended up actually landing a double which boosted me to 41. I had no choice but to go for 50.
As I released by 49th fish my other rod just whipped down and a giant trout launched itself into the air. I picked up the rod and that is by far the biggest fish I ever had on that kokanee rod. On the next jump it through the hook, but that fish was easily 5lbs if not more. Just an absolute beast. That was a huge bummer.
I only put out one rod and in anticlimactic fashion hooked and landed my 50th fish - which was a nice 14 incher. Normally I would have thought that to be a great day ender, but the bitterness of losing the giant was still too fresh.
In retrospect (and after reading a report on another forum) I realized that both the 18" fish and the monster were hooked on the inside rod while making a big turn. In that situation, the lure will sink a lot deeper and I think that perhaps if I had run my rods deeper all day I may have ended up with a lot of big fish. Shoulda, woulda, coulda - that is fishing.
The coolest thing during the day is that it was pretty easy to figure out what the fish were feeding on (fish were busting the surface all day long). I was constantly cleaning up bluegill fryf that the trout kept yakking up into my kayak.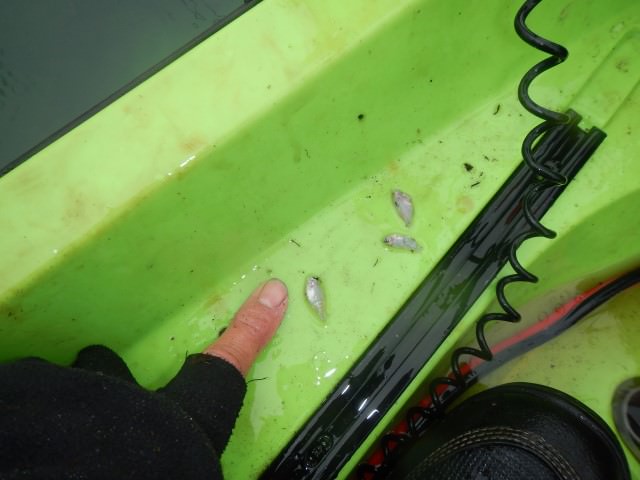 I think anyone fishing Hagg might do well to match the hatch with these little guys. I was hoping to go back out this weekend but re-injured my shoulder again during the week. I am on injured reserve for a while. I sure know what I am going to do next fall!
I hope this report helps. I am not sure how well the fish bite under the sunny skies we have right now, but I can definitely say that they go nuts all day long if we get a rainy day.
Last note, is that color did not seem to make a difference nor did the wind. When the wind kicked up the bite just continued on at about the same pace. The only place I did not catch trout was in water shallower than 12'. It seemed like the no-wake zone was pretty much paved with fish in water deeper than 12'. I did spend most of my time in 20' or more, but it seemed as long as I was in 12' or more I caught fish.
Last edited: