Well-known member
Most Featured
I had not been out fishing for a couple of weeks so I was stoked to get to fish on a Friday. My plan was to get out early but he 1.5 hour drive back from the beach turned into a 6 hour ordeal (motorhome or something caught on fire) which wiped me out a bit.
The alarm went off at 3:30 on Friday morning and I just turned it off and rolled over. At 7:30am I finally woke back up and had to decide on whether to go late or wait until Saturday. The drizzly gray skies called to me like a siren and I knew I had to get out on the water - even if I had missed the morning bite.
It was almost 9am by the time I got on the water. The weather was nice and drizzly/misty with the wind coming in spurts and gusts. I pulled out from the launch and made a couple of casts with a topwater when I marked a pod of fish underneath me in about 12' of water. I set down the topwater and picked up my Ned rig, dropped it down and the line popped with an aggressive bite.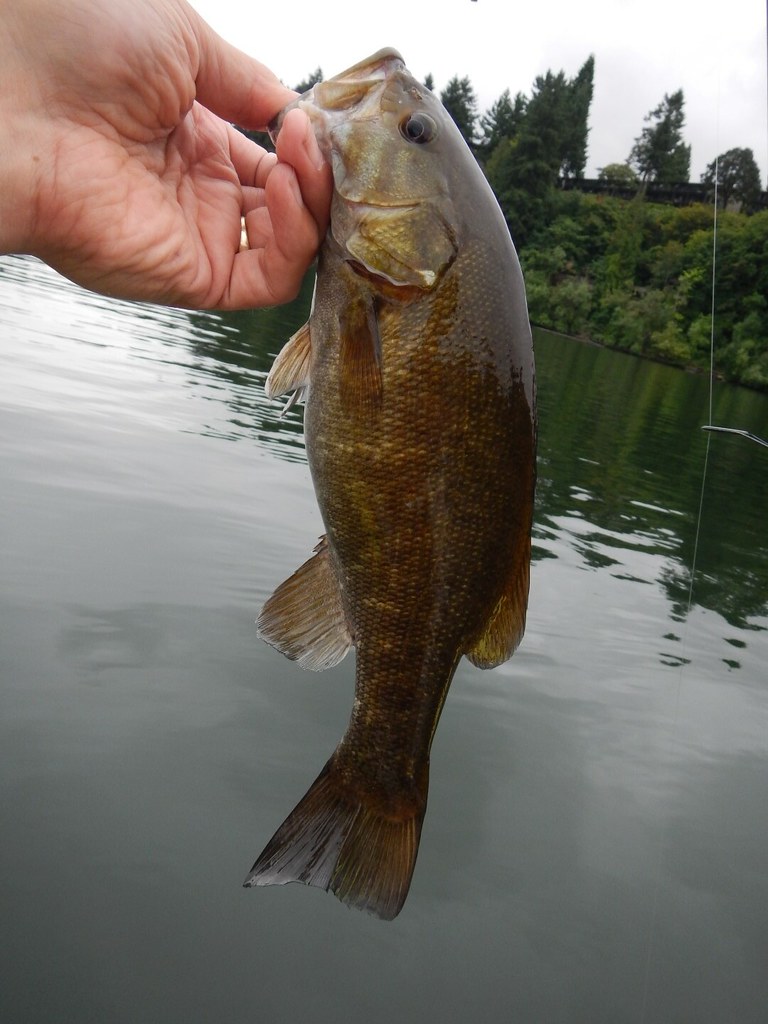 Nice solid fish to start the day. The wind blew me off the pod while I unhooked it and released that first fish so I picked the topwater (Sammy) back up and went to work. I have to say it was one of the best and most frustrating topwater bites I have ever experienced.
The bass were all over that sitck bait but between its erratic action and the wind chop I missed fish after fish. At least 3 times bass knocked the lure over a foot up into the air and jumped on it when it landed. I did not hook a single one of those fish. I bet I had 20 hits and landed 2 bass. Finally, I decided to retire the Sammy for the day.
I had been PM'ing with
@igquick
and he had recommended a 110 sized whopper plopper. I had bought a couple of the 90 size the year before when they were on sale at Dick's and I did not like them at all. Those 90s take a good 5-10' of retrieve before they stay on the surface. Later I had read about this issue but up till that point in time I had a very low opinion of whopper ploppers. However,
@igquick
said he really liked the 110 size and his favorite color was munky butt (for real!).
I looked up that color on line and saw it was sort of smolt-ish colored so I had gone ahead and bought one. The good thing is that the lure is just a straight retrieve and a lot easier for the bass to actually grab when they bit.
The number of bites went down by a good bit, but my hookup ratio went way up. I was now catching almost every fish that bit. The topwater bite with the plopper was steady, not fantastic, but good enough to pick up a fish every once in a while. Here is a fatty I caught on the plopper.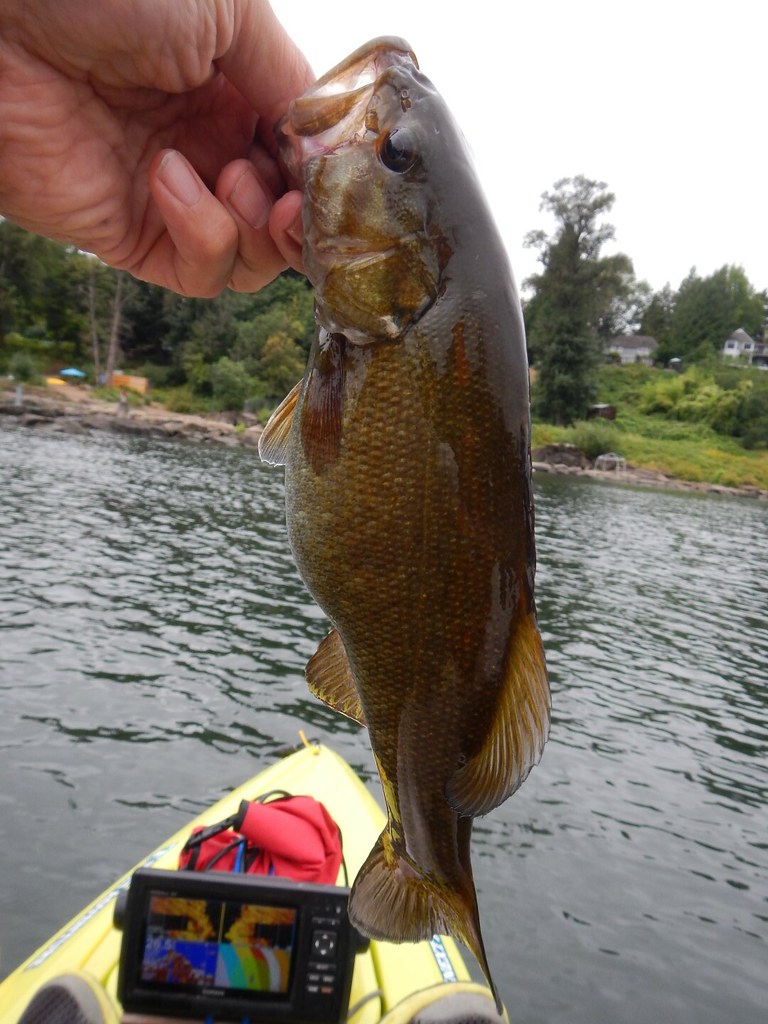 I developed a strategy of searching with the plopper and then when I would catch a fish (or miss a fish) I would immediately put that rod down and pick up the Ned rig. Usually, I could catch 3 to 6 fish on the Ned rig before spooking the bite.
I occasionally tried a jerkbait and a swimbait instead of the plopper as a search bait but I could not but a bite on either of those baits. They had been killer in previous trips. I figured it had something to do with the wind and the overcast conditions.
Eventually, I just settled into the plopper and Ned rig combination. Pretty much every steep bank that had good chunk rock on it held plenty of bass.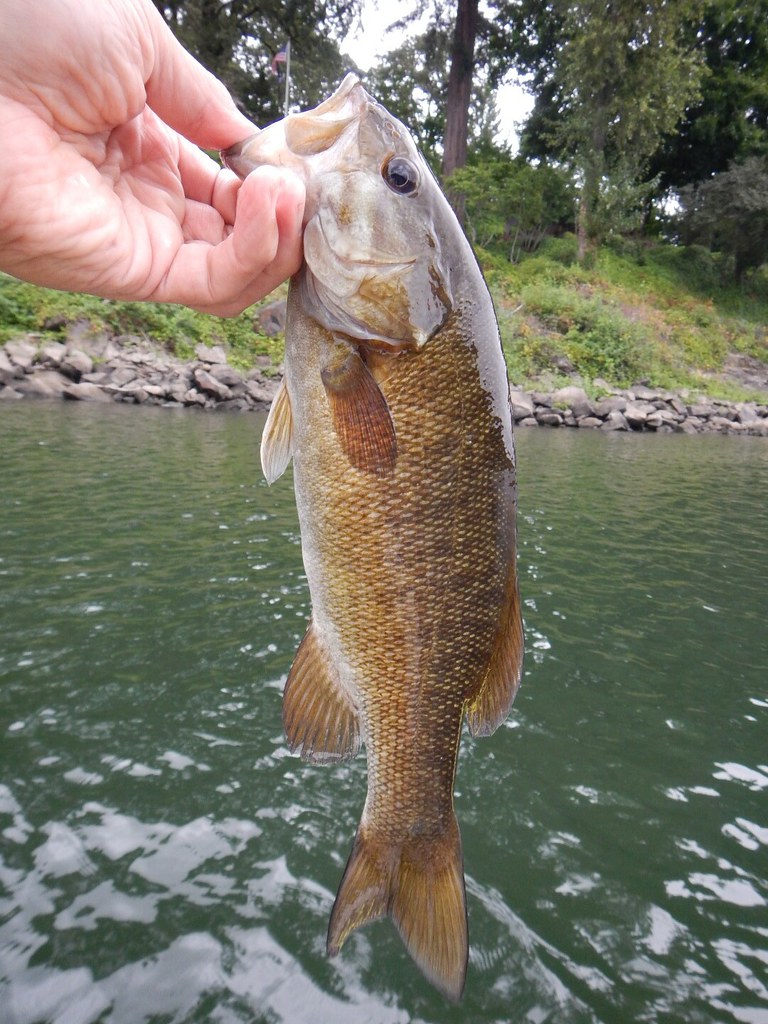 Eventually, I decided to move up to one of my favorite humps to see if those spots were holding fish as well. I tried the plopper on the hump but could not call up a fish. Even though I did get a bite I decided to try the Ned rig near the deep edge (a pattern that was killer in the past). This turned out to be what they wanted out in the middle of the river along that deep edge. The nice thing is that this spot was holding a lot of nice 1.5lb fish (not monsters but fun on the light spinning rod).
Eventually, the bite slowed on the deep edge so I worked my up towards the upstream end of the hump where it pushes in to shore. Even though I had not had a single bite on the swimbait all day I decided to give it another try. The sun was peaking out a little now and then and the breeze was a bit less. That turned out to be a lucky call by me.
I started catching some nicer fish where the hump (rocks associated with the hump) push almost all the way up to the bank. They were all so fat. This guy was probably about the fattest, but there were plenty of fish that were nearly as obese.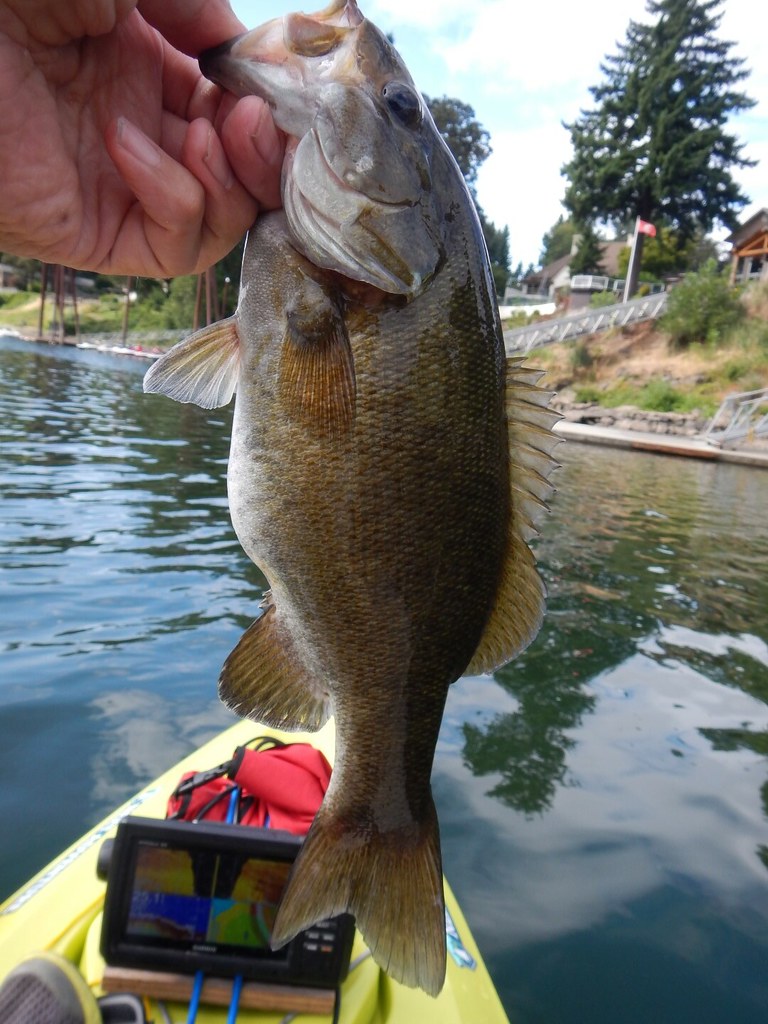 I mean, dang, that fish needs to put the fork down
I finished the day on big flat that has some troughs on it. I love to fish that structure with a Carolna rig and they were biting it well. The coolest fish I caught there was when I had gotten hung up on a tree that sits on the edge of a trough on the flat. I moved the kayak up so I was pulling straight up and jerked a few times when it popped loose. As soon as popped free a nice isze bass grabbed it. That was really crazy. I can't imagine what that fish was thinking.
Overall for the course of the day I caught fish on topwater, a few on a rattletrap, nicest ones on the swimbait (1/4oz round jighead and a white swimbait), by far the most on the Ned rig (Zman TRD in green pumpkin) and a fair number on the Carolina rig (4" dead ringer in green pumpkin).
I ended up with 73 bass landed with more nicer fish than in the previous few trips. I think that is in part to being on the water when there was so little traffic. I don't think the boats scare the bass, but fishing in wakeboat chop definitely hurts the efficiency.
I still am not sure where to get a consistent bite on bigger fish. I seem to catch all sizes of fish whether I fish in 5' of water or in 25' of water. Seems really strange but that just seems to be the way of it. Perhaps bigger fish are even deeper, but I never seem to mark fish beyond 25' deep and I am not sure why they would want to be that deep anyway. Some day I will figure those bigger fish out.