Well-known member
Most Featured
I had not been out on the Willamette for 8 weeks. I did not want to go out until most of the ramps were open in the hopes of not having to deal with any crowds. This past Saturday (May 16) was perfect. The forecast was for rain which I knew would help keep away the pleasure boaters.
@portlandrain
and I decided it was the perfect storm, so to speak, for getting out on the water together
I got to the ramp a little before sunrise.
@portlandrain
was already on the water and there were a couple of empty trailers in the parking lot. After such a long absence I was chomping at the bit to get out on the water and start kicking some bass.
It felt so good to be on the water again. There is just something that is so healing about bobbing around in the water in my kayak!
Conditions were calm and I started out throwing a topwater (stick bait). On my second cast I had a small fish swipe at it and miss. That is usually a good sign. I kept throwing that bait and every time I started thinking about switching up I would get a hit from a small bass. After a bit the wind picked up a tiny bit so I switched over to a whopper plopper. Overall, the first hour and a half of topwater fishing I had a total of two tiny bass to show for a lot of effort.
I switched over to underwater lures and kept working along the shoreline. With the water temp around 57 degrees I figured the smallmouth would have to along the shoreline either in prespawn or starting to spawn. I kept cycling through a variety of lures: jerkbait, swimbait, ned rig, wacky rig and a spinnerbait. Other than a ton of moss and the occasional tiny fish all I was doing was getting in casting practice.
Even my favorite point on that section of the river only yielded copious amounts of algae.
@portlandrain
was having slightly better luck having caught one nice fish. I was swapping out my jerkbait for a rattletrap and trying to decide what to do when I saw a bass chasing some bait out on mid-river hump. I zoomed out there and started working over a hump that topped out around 5-6'.
Within a handful of casts with the rattletrap I had just tied on and I had my first real bass of the day.
It had taken me about 3 hours to get that first decent fish and it felt like a huge weight was lifted off my shoulders. I yelled over to
@portlandrain
and he came out to join me on the hump. Within a few casts I caught another on the rattletrap: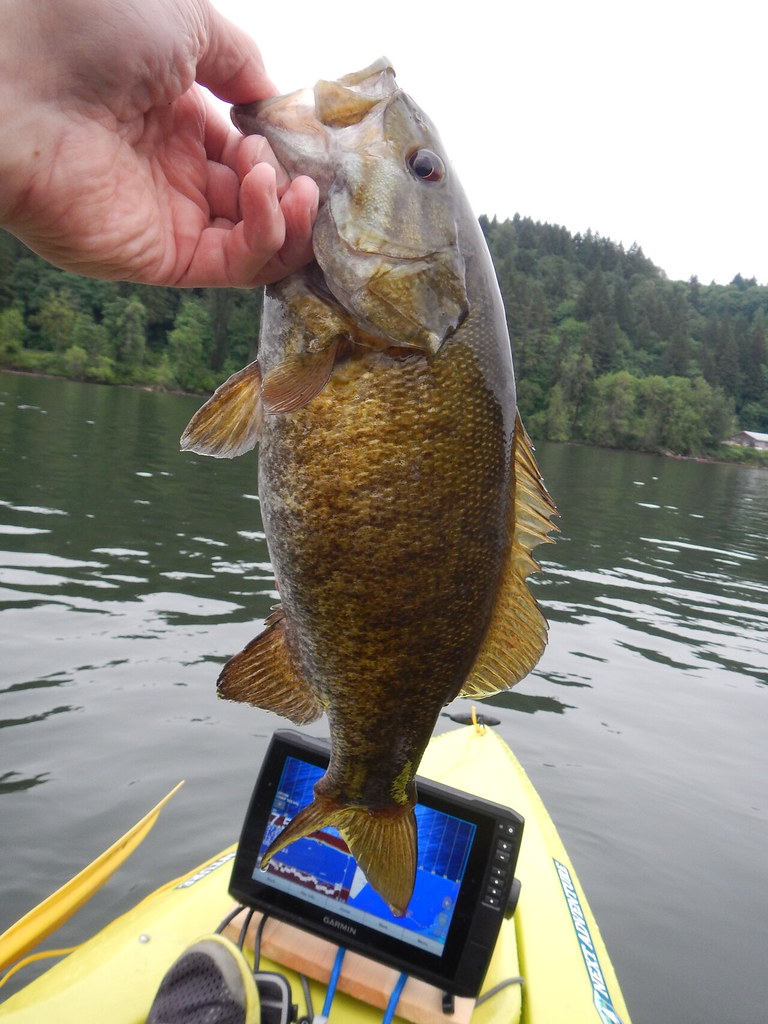 Of course, not every fish was a bass but I don't mind catching these guys either: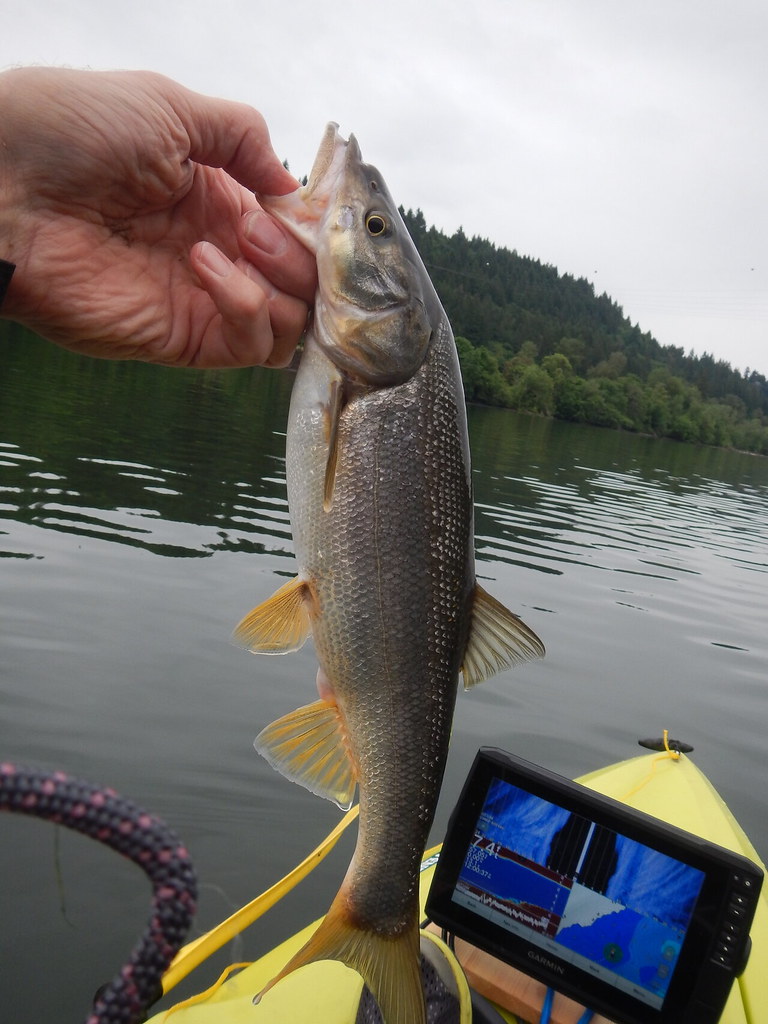 @portlandrain
caught a couple as well. I thought we were going to sit on that spot all day and hammer them but then the bite slowed. Even when they were biting it was tough fishing. There was a ton of algae coming down the river and more often than not we would get slimed on the retrieve and have to clean off our lures.
After fishing that spot for a while with no hits we moved upstream to the next hump and had a similar repeat We each would catch a handful of fish and then the bite would slow down. They seemed to like that rattletrap but it was hanging up so much so I decided to put a similar but shallower running lure (baby bull shad) on a different rod and give that a try. For me that was a really good deal. It picked up less gunk (only had to clean it off after every 3rd cast instead of after most casts) and the bass were loving it.
That type of pattern continued for most of the day. The thing that we noticed was that when the wind would die down the bite was definitely much slower, especially as the day went on. When there was a ripple on the water they bit well. The bass seemed to be in small schools. So many times during the day I would catch 2 or 3 bass on consecutive casts and then nothing for a half hour to 45 minutes before finding the next group. Even if not on consecutive casts I don't think I fished a spot where I caught only 1 bass. There was always at least a second fish within a handful of casts of the first. The fish were mostly a mix of 1 and a half lb fish and 10 inchers.
If either
@portlandrain
or I caught a fish it was almost always the case that we would move close to each other and each catch them good for a short while. The two lures I was toggling betwen were the baby bull shad in rainbow trout color and my old standby a 4" white swimbait on a 1/4oz head.
In the middle of the afternoon the bite had died once again so we decided to head up and fish around Rock Island and it sloughs. Out in the main river near the mouth of a slough I pulled up to a nice current break. I thought to myself, "there has to be a nice fish right there". I tossed a Ned rig out behind that rock and hooked into a beast. That fish had to weigh at least 4lbs. I stupidly turned and tried to turn on the video camera and that fish came out of the water like a rocket, violently shaking its head. I think it partly jumped so it could look me in the eye and laugh as it threw the hook. I felt sooooo stupid. I could not believe I had let that fish escape. It takes some extra special talent to lose a hooked fish on a Ned rig.
Shortly after this I head
@portlandrain
yell "Oh dear"
Oops, I guess that was "oh, deer"
I fished out in the main current for a bit longer and only managed another dink. We decided to head up into the sloughs. The water in the sloughs ended up being a couple of degrees warmer in there (~60) and the fish seemed to be more active. I started throwing a wacky rigged Senko on a drop shot with a tiny weight on the dropper (probably about 1/16 oz). I just wanted the lure to get down a little more quickly than an unweighted dropshot.
I started fishing a promising spot when I saw my line jump. I set the hook and the rod tip did not move as I jerked up. For a moment I thought I was snagged but then that snag started to move. The fish took off and started ripping drag. It stayed deep and kept making runs in different directions peeling drag off my spinning reel. I yelled out that I had a good one on and that I was worried that I had snagged a carp.
Once the fish started to tire a bit I reached back and turned my camera on. I was really careful to keep my line tight this time
As I worked the fish to the surface I could see that it was a good smallmouth. I was so stoked. I carefully finished the fight and was able to lip a very nice 3lb 7oz smallmouth - the scale bounced between 3lb 6oz and 3lb 7oz and I am shamelessly taking that extra ounce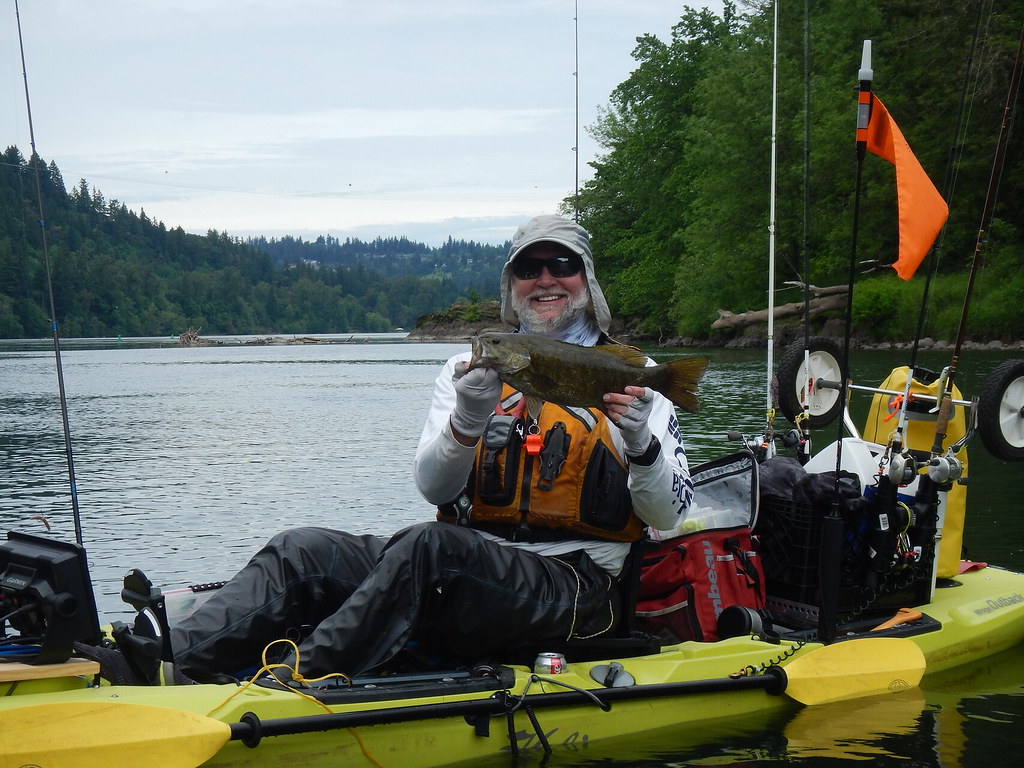 I spent the next hour or two tossing that little drop shot rig. It was working really well for me since the lure was staying clear of any bottom gunk and there was little to no algae other than what was on the bottom. The best spot I found was along this little rocky hump/island. I landed 5 decent fish off of that one little area.
@portlandrain
fished ahead of me and was doing well on a Ned rig. He caught a nice 2lber near some folks fishing the opposite bank.
As it got to be late in the afternoon
@portlandrain
decided to leave. I left the slough as well but decided to see if the fish were still on the humps on the way back. They were
It was just a great day on the water for us. The best days for me are the ones where you have to really struggle to figure out a pattern but you get rewarded for putting the effort. I was on the water for over 11 hours and I ended up with 25 bass and a handful of pikieminnows. That is for sure not a red hot catch rate, We definitely worked hard for each fish we caught but it will stick out in my memory as a special day.
Here is some video footage that really shows off my complete lack of video editing skills: