Well-known member
Most Featured
I hit Swan Island (Jurassic Park) in search of sturgeon (dinos) again this past Sunday. It was the last day before break and so even though the weather looked a little dicey I decided to give it a go before heading back to work.
I got to the ramp around 8am or so and chatted with another kayaker. I told him about the schools I had found a few weeks back but that I those schools seemed to have moved out based upon my latest intel.
He said he was heading straight out to the dry docks but I told him that I wanted to search for the lost schools of Jurassic Park. I fish at the dry docks as a last resort (they do produce a lot of biters) but I find it more enjoyable if I can find biters out in the main harbor, or even better, out in the current.
About the time I launched the wind picked up and started gusting hard. I looked at the weather data later and it looks like the gusts were hitting 29mph. That is not a happy place!
The harbor has changed a lot since my last trip. I was marking millions of fish, but they were all suspended a short distance above the bottom and did not look like sturgeon on the sidescan. However, I have been wrong in the past, many times in the past, so I decided to fish the bigger concentrations.
I stopper perhaps a half dozen times as I worked my way out towards the mouth. As far as I could telll, given the fierce and gusty wind, I did not have a bite.
I decided to skip past the dry docks, which already had the other kayaker and another boat fishing them, and try at the edge of the current. Often this is a dynamite spot. It was kind of fun being tucked behind a huge barge, that acted as a windscreen, and casting out into and just watching a churning and malevolent Willamette.
As fun and interesting as that was, it really was not interesting enough for me to overlook the fact that I still was not getting bit. It was around noon and I had spent about 4 hours on the water and I was still fishing with my first, completely unblemished bait.
I should also add that with the blowing gale there were occasional bouts of horizontal rain. It may sound odd but it makes me feel truly alive when I am out in that kind of weather in my kayak.
I hunker down and lean forward and let mother nature have her way with me. The key is not to struggle and just ride it out until she tires and rolls over for a nap
I finally caved and headed over to the dry docks. There were a few boats there when I got there so I tied off a long cast away from the boats. On my first cast I caught a small shaker. That may not sound like much to you all, but after not even having a bite for the 7 hours on my previous Hagg trip and being another 4 to 4 and a half hours up to that point on this trip that fish was a godsend! The other miracle was that the rain had subsided and it had actually gotten sunny. In fact things were really looking up!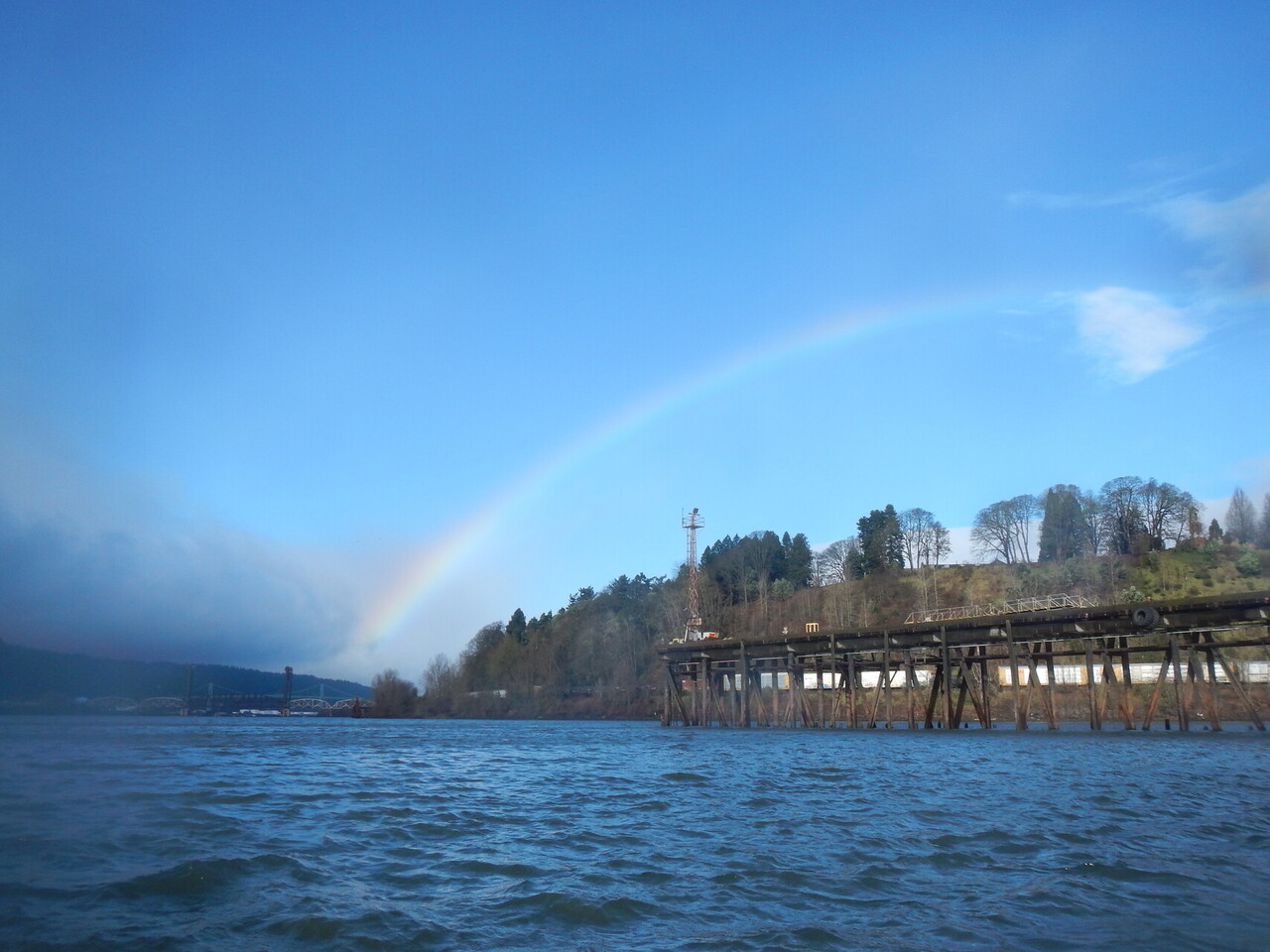 I remembered to turn my camera back on catch another shaker. I was feeling pretty good but that couldn't last on a day like this.
On the next cast, I was sitting there not paying enough attention to what was going on around me. I was riveted to my rod tip. All of a sudden my line took off, but if felt weird. I looked up and saw that the boat closest to me was hooked up on a good fish. I noticed that every time he pulled that I could feel it.
I felt like a total moron for not paying better attention to what was going on around me. I turned off my camera and I pedaled over close to them and told them I was tangled with them and tried my best to keep slack out of my line but put no tension on it. They were great sports about it and told me not to worry about. They landed the fish without further incident and were able to free my line.
A short time later one of the anglers on the boat opened the windshield and haled me over. He told me that they were on their last casts (they were really killing it) and that I should take their spot when they left. He told me to stay close and fish under the front of their boat (they were casting out the back). I did that and soon thereafter the lifted anchor and went their way.
I slid into their spot and started fishing. At first I was not getting bit while the bassboats around me were hammering them like crazy. Nothing more fun than being the only one catching fish, but nothing compares to the pain of being the only one NOT catching fish.
I took a breath and decided to observe. I noticed that they were doing a great job of casting really close to the docks. I also noticed that their boats moved around a bit I assume that dragged their baits a bit.
I made another cast, close to the dry dock, and once my bait hit bottom I lifted it and dropped it a few times to make sure it had not sunk down into the mud. That made a ton of difference for me. At that point I started catching fish on every cast.
After catching a couple of keeper sized and a couple of shakers I noticed clouds down river and what looked like a fog rolling in. Joke was on me. It was not fog but instead it was a pretty brutal hail storm. THe hail was about pea sized and the wind was howling and gusting. I reeled up, doubled over and waiting as the waves, wind and hail pounded on me.
Once again, when she is in a mood, it is best just to go along with mother nature and let her pretend you are enjoying it. I kept thinking I should leave but I was a little afraid to even try. Waves pounded into the side of my kayak with about a 1 second period. Every 10 seconds one that was big enough to wash over the side. In moments like that I think of the penguins from the Madagascar movies, "just smile and wave boys, just smile and wave".
After the insanity stopped I cast back out and I felt a gentle tap on my bait. I tightened up and it felt like a good fish. It swam towards me as I reeled, then it went straight past me and kept going. I am not even sure if the fish new that it was hooked, I do know that it did not care. I was twisted around like a pretzel as I struggled to unhook myself from the dry dock.
Once free I got myself directly over the fish and lifted for all I was worth. The rod tip did not move an inch, all I did was bend my rod to the breaking point. You know it is a good one when it feels like you are hooked up to something so big and strong that you can't budge it at all.
At that point all you can do is try and fail, try and fail to move the fish. Again and again, the fish would take off and tow me for a while. I would wait for it to stop, get over top of it and fail to budge it.
That fish had some amazing stamina. That went on for about 20 minutes when I finally got that first glimmer of hope. I pulled with all my might and it felt like I move the fish a few inches!
Of course the beastie responded by taking off like a train. However, when I got on top of it I could again move it, maybe this time a couple of feet. This was repeated but each time I could move the fish more before it would take off.
Finally, I hit that part in the fight that just feels amazing. I could tell I had broken its spirit. Now when I lifted I moved it steadily, then bubbles, then it was over. They big fights seem to alway end this way. It goes from impossible to over in a minute or two. My arms ached, my back ached, I was trembling but finally I was victorious.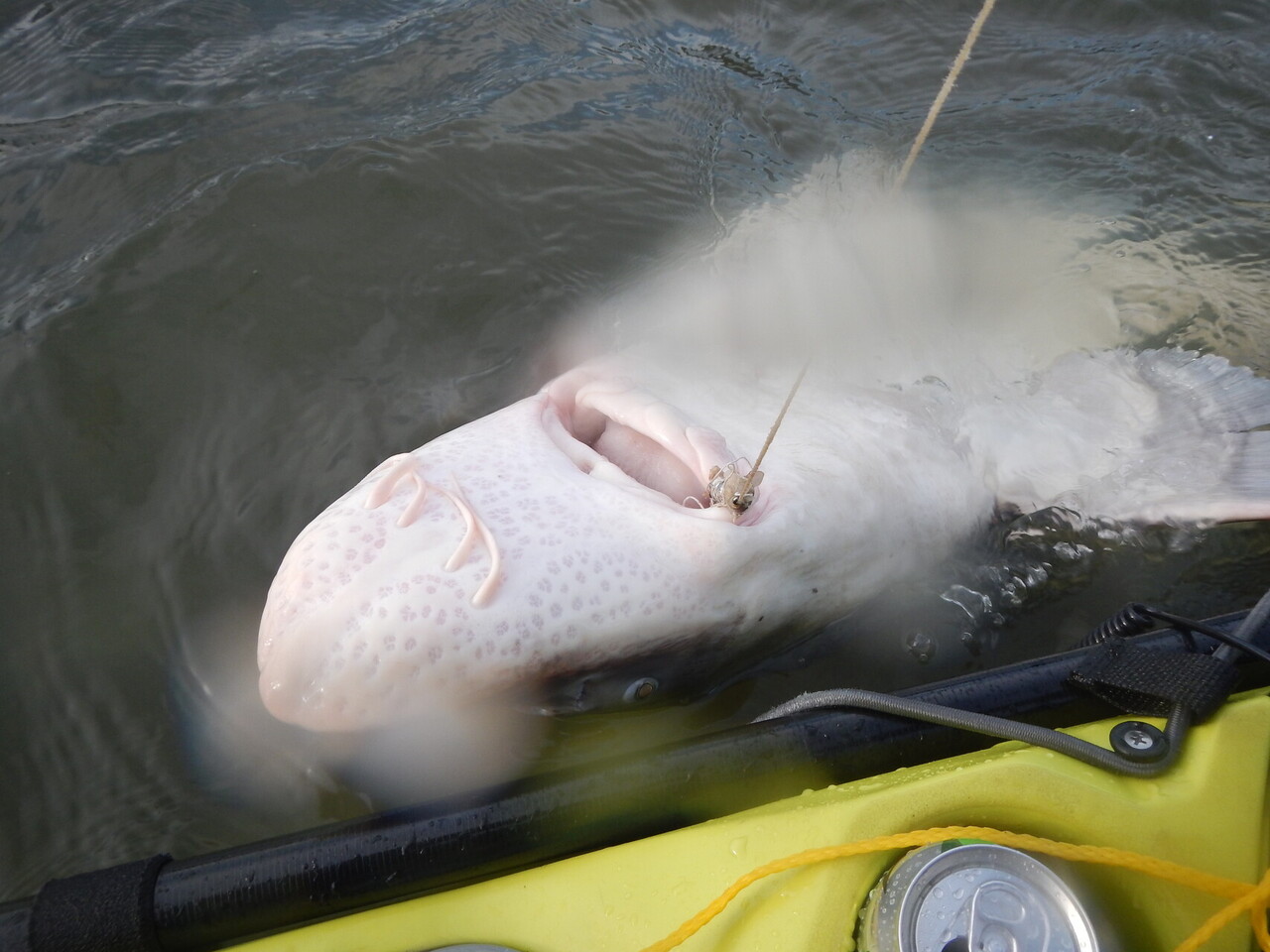 I got my tape measure out and it looked to be 79". A really nice fat and healthy fish. As I went to release it I turned my camera down so I could film it swimming away. After I get it go I looked at my camera and noticed that it was not on.
What a moron I was. I had turned it off when I crossed lines and had never turned it back on. The best part is how I adjusted the camera angle (the off camera) again and again during the fight. That was kind of par for the course for the day.
By then it was getting late and I was exhausted. I tied back up and just rested a bit before I turned my camera back on and cast back out. I got a keeper and a shaker on camera before I hooked another good fish that broke me off.
I decided that I was done at that point. I was exhausted from fighting the weather and those big strong fish. I slowly pedaled back to the ramp with a smile on my face.
Here is footage of just a few fish: