@portlandrain
and I hit the Willamette out of 10th street again on Sunday. Things did not look particularly promising as the river had come up a foot, current was stronter, it was a little murkier and the water temp had dropped by 2 degrees. To put the icing on the cake the grass/moss problem seemed even worse.
Fished similarly to the week before. Started off fishing points and flats along the shoreline and with a similar lack of success. I threw a crankbait, rattletrap, spinnerbait, swimbait and topwater without so much as a sniff. If I was a vegetarian though I would have been killing it. Lots of salad on almost every cast. I don't remember the grass/moss being this bad in the past. There are just non-stop balls of the stuff coming down the river.
This week though, I was a little quicker about moving out to mid-river humps but the bite there was really slow as well. I did pick up this guy on a swimbait but the bites were few and far between.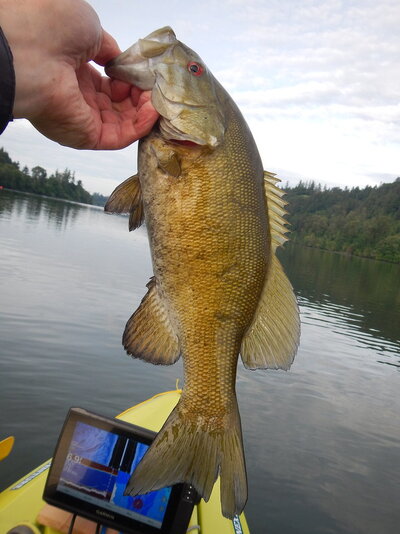 I also tried the deeper spots around the humps to see if the fish had perhaps moved off the tops of the humps. All I have to say is that if you want to go lunker salad fishing that is definitely the way to go. I thought I was getting a lot of grass when fishing the tops of the humps but depressions around them were the real sweet spot.
After a few failed attempts to fish deeper I went back to fishing the tops of the humps. That would occasionally yield a fish but most of those were dinks.
After struggling out in the main river we decided to head back into the slough.
@portlandrain
caught a really nice 2lb 7oz bass near the mouth of the slough! My best fish of the day was probably about a pound and a half.
As we fished our way up the slough (mostly throwing Ned rigs) one or the other of us would occasionally catch a fish. I eventually made my way as far back as I could to a little section that does not have any current flowing into it. The water temp there was all the way up to 60 degrees (the main slough was around 57 degrees and the main river around 55 degrees).
That little section is also very shallow and I was able to pick up a few fish on a Baby Bull Shad. That is a hard jointed swimbait that runs very shallow. It was fun watching the attack that bait, even though all those fish were dinks.
Overall it was a really tough day for me. 12 bass in 11 hours. Not really lighting it up. I sure hope the warmer weather gets the bite turned on and that the grass/moss starts to die off. I don't remember it being quite this bad in past years.
Here is a short video of a few of the day's fish: