Well-known member
Most Featured
I decided it was high time to give Jurassic Park (sometimes known as Swan Island) a try. I had not been there since October and I was looking forward to a fun-filled day.
I was also excited to try out my knew FF, a Garmin 106SV. A couple of the main reasons I upgraded are because I wanted to get a bigger screen for my old eyes, plus it was a huge increase in resolution, an extra SD card slot, better maps, BT connectivity. Just a sweet unit through and through.
I launched around 8:15 am and started heading out. As I passed through the harbor I marked 3 separate schools of fish. I decided not to stop and fish in the harbor first thing because I really wanted to spend a good bit of time cruising around with the new sonar and I was hoping there would be plenty of fish out in the current like there were back in October.
I made it to the mouth of the harbor but I was not marking any fish so I decided to just keep going and head down towards the RR tracks. Back in October I marked tons of fish down that way. I took my time, zig-zagging back and forth looking for some arches. All I got was a bunch of exercise.
I kept searching for quite a while but I just could not find anything. One of the cool things I did get to witness though was the big military boat that had been in the harbor heading off to sea.
Here it is being pushed and pulled out of the harbor:
Here it is underway on its own power: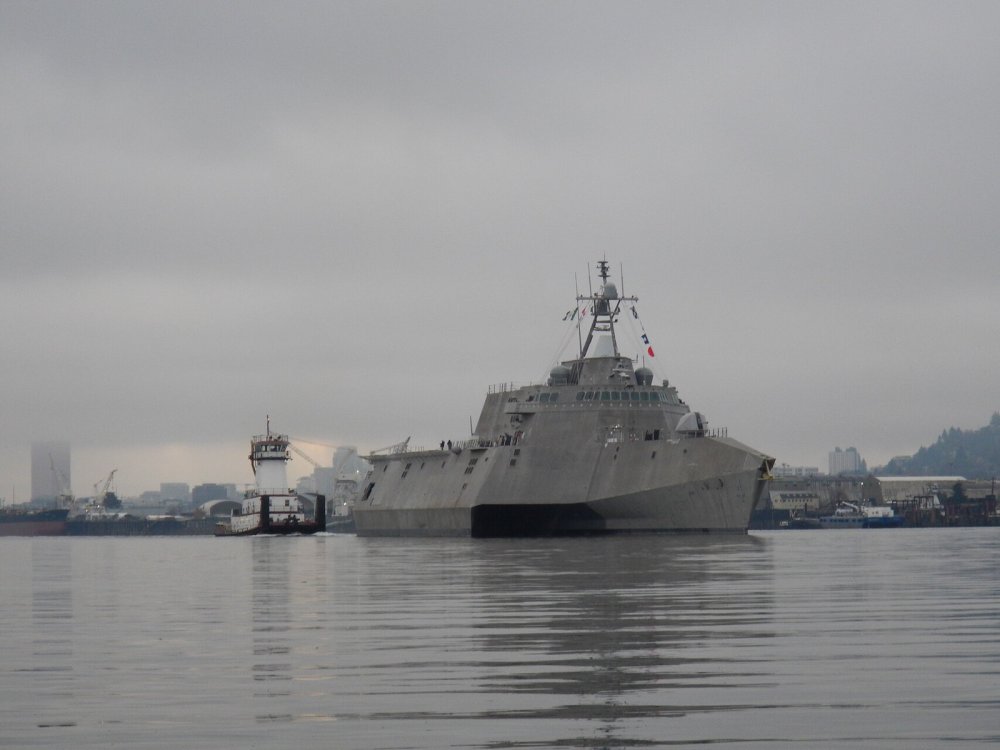 That was really cool and all but I really wanted to catch some fish. I decided I would run up to the deep hole off the Daimler building. That is a fair ways upstream (I had never gone that far upstream in my kayak before) but I was in the mood for some exercise.
That is a nice looking hole and I was marking a ton of fish there but after 3 hours up there, moving 1/2 dozen times, I only had two shakers to show for my efforts. A cool thing that happened was that when I was pulling my anchor the one time I had a couple of fish follow it up: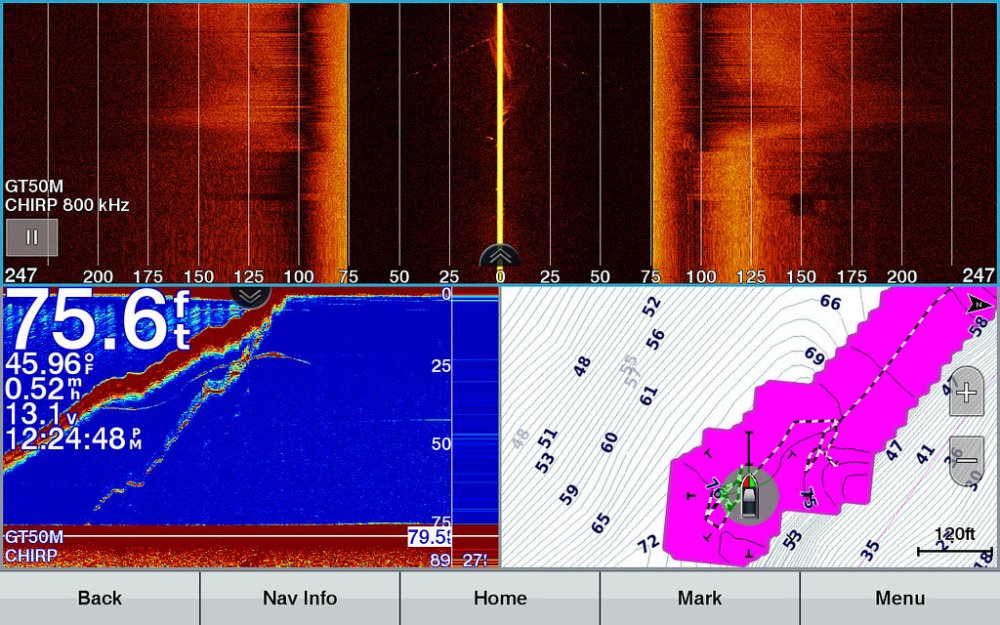 Perhpas I should leave the rods at home and just put a hook on my anchor
Eventually, I decided that perhaps it was time to head back to the harbor and hit some of the schools I saw on my way out that morning. I made my way back to the harbor getting, getting there around 1:30pm. So up to that point I had a total of 2 shakers for over 5 hours on the water.
When I got to the first school there were a couple of boats fishing one side of the school. I moved to the far side and started fishing. It did not take long to start catching fish. That felt sooooo good after the long drought earlier in the day. I never anchored up but instead just used my paddle to hold my kayak in position on the edge of the school. I feel that I do a lot better fishing the edge. Fish seem to bite better, fewer line rubs to distract me and when I hook a fish I can usually fight it away from the school which seems to help them keep biting.
Here is a screen capture of what I mean. There are tons of sturgeon to the left of the kayak and none to the right. There are some small suspended fish to the left (dots on sideview). I am guessing either shad or steelhead smolt.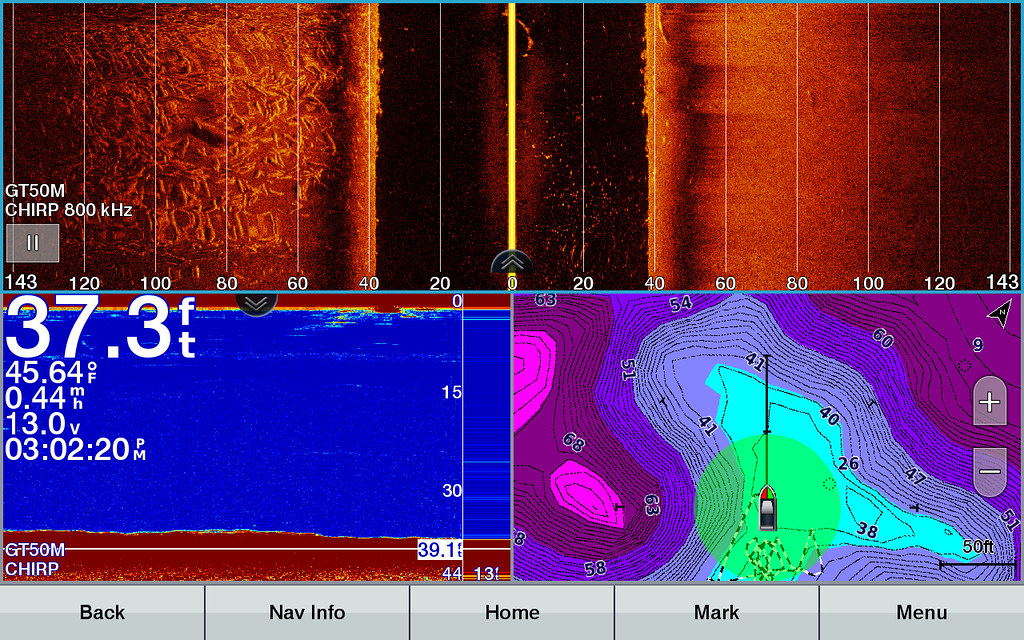 Once I get myself in that position, I rotate the kayak 90 degrees and make a short cast to the edge of the school. If you do it right you can keep them bitiing indefiinitely without spooking the school.
I caught a fish every 10 minutes or so for the two hours I fished before heading home. Here is one of the many I caught.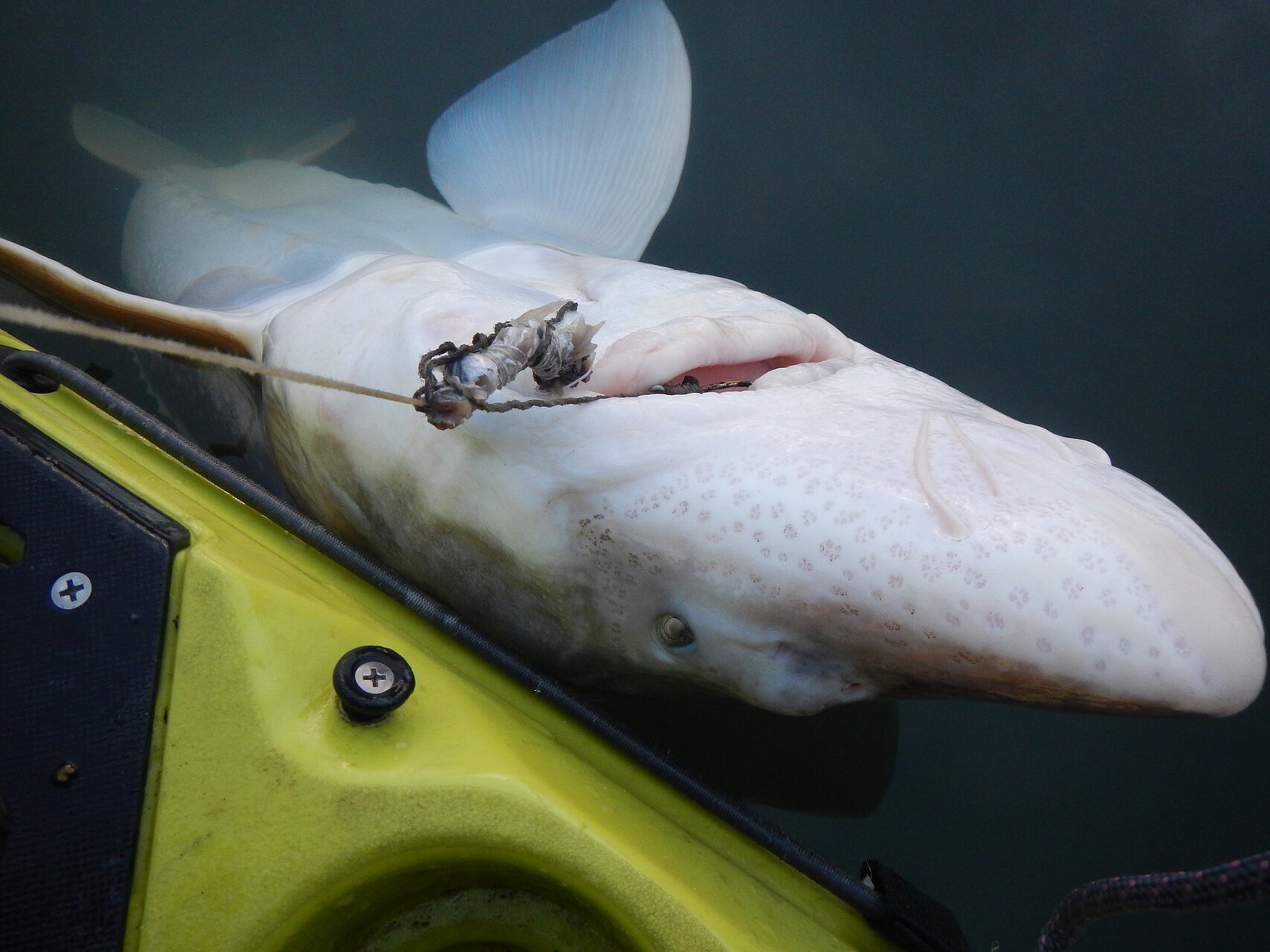 The fish ranged from large shaker size up to a little over 4'. No monsters, but my shoulders were OK with that! I measured where I went on Google maps and I had done about 7.5 miles on the kayak for the day. I got my good workout in and ended up with with some great fishing.
Here is a video of a few of the fish that I caught in the afternoon: